It's all about mineral activity at Amman Design Week 2019
The third edition of the fair comes to life inside schools, art foundations, abandoned 20th-century buildings and more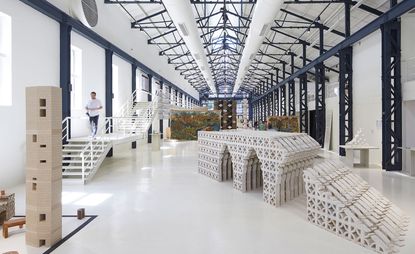 (Image credit: Edmund Sumner)
The third edition of Amman Design Week breaks many moulds. Under the heading 'Possibilities,' this is is not a generic display of design that may appear anywhere, or that may make a difference pragmatically reshaping the world through commercial offerings – there is no truly commercial arm to the fair. There are no professional 'buyers' as such. It is a journey of thought and process, a 'celebration of the fictional, incomplete and unresolved'.

Amman Design Week is a caravan in itself and its execution and purpose is highly considered by its director, Rana Beiruti, and by curator, Noura Al Sayeh-Holtrop. Its heart is at the Ras El Ain district, but the showcase takes place city-wide in schools, art foundations, and within glorious abandoned 20th-century buildings. The crafts district at Kabariti village exposes a wealth of traditional weaving and dyeing methods cultivated mainly by women and fit for contemporary use.
Jordan, translating to 'up, down' in Hebrew, is a young country despite its ancient history. A long narrow Arab country at the north bordering Syria — Damascus is just above — and not quite landlocked. There is the Dead Sea west of Amman, mineral rich, which is reducing by 1 metre each year, and the port of Aqaba to the south, an ancient trading post. Jordan borders five countries including Saudi Arabia and Iraq but its commodities differ. Jordan exports primarily phosphate and potash, both fertilisers, and the importance of sustainable exploration into food is evident in the comprehensive exhibition entitled 'Future food/ Future city' by Machiel Van Nieuwenhove. Here, the processes of hydroponics, aquaponics and aeroponics are detailed by active interfacing. A lemonade stall, a relief from the heat, has abundant lemons and mint growing on its roof.

The first striking impression of Jordan and its Design Week is the understanding of the terrain itself. There is no gas and oil, there is no timber industry, nor steel for that matter, so the discussion is not about materiality. There is no wooden furniture in this show but rather stone, concrete, ceramics – more 'minerality' which shows its face as we trek through the oeuvre on offer. Soil is the medium —the word exchanged at times with 'sand' – this is dampish sand, and it is ubiquitous. There are seven kinds of soil.
Imported exhibits come from participating countries Palestine, Bahrain, UAE, Lebanon, Egypt, Turkey, Morocco and Kuwait. At the Hangar, at Ras Al Ain, a stupendous and airy 1930s disused industrial building refurbished specifically for the occasion, is the crux of Amman Design Week. Among the frankly massive and luminous pieces was a pen with a nib and an arm that illuminates. The creators of this piece – two young men, one wants to be a lawyer, the other an engineer – explain they wanted to design an object that would enable them to do their homework in their camp (they are Syrian refugees) when the electricity failed. It was a good design because it worked.

Turquoise Mountain is another location worth a visit – a modern gallery and initiative head by American Shoshana Stewart and a permanent fixture embraced by Amman Design Week. The concept began in Afghanistan but now supports infrastructure in four countries including Jordan. I was reminded of the original Conran Shop and its ethos.
Highlights for me were the blown glass pieces by Bethlehem-based Palestinian Dima Srouji that precisely replicate excavated artefacts, now in the permanent collection at New York's Metropolitan Museum and Jordan Script Routes, by curator Huda AbiFares which explores the history of written language. In the student section at the Hangar, a fledgling clothing company Makhtoum sees sixteen year old Basem Tash using Hashemite postage stamps as inspiration and motif.

According to the curators of Amman Design Week 'the future is makeable' – and without stating the obvious, it is again clear that creativity was not born in a vacuum.
INFORMATION
ammandesignweek.com (opens in new tab)