Dutch Design Week 2019 captures the zeitgeist
What to expect from the 18th year of Dutch Design Week in Eindhoven, from social design to sustainable innovations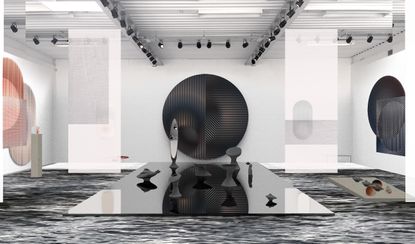 (Image credit: Rive Roshan)
Known for its focus on experimental, speculative and social design, Dutch Design Week returns from 19 – 27 October with a special urgency. This year's theme is 'If not now, then when?,' and the projects share a focus on innovative sustainable materials that can be scaled up, becoming part of circular or low-waste systems. The show delves into new technologies and concepts that can also help make our lives less resource-intensive.

Throughout the showcase, products made out of agricultural and industrial by-products such as dung, nutshells and bauxite feature, and the latest generation of products made from bioplastics, but there is space for more poetic installations too.

With 2,600 designers in attendance, 120 locations involved (including an atmospheric renovated former Augustine monastery), 450 events and themes ranging from artificial nature; bio design and material innovations; circularity; healthy textiles; privacy and gender/identity on the programme, the 2019 edition of Dutch Design Week is set to be big, exciting and very zeitgeisty. Here are five launches and shows not to miss.
Red Mud
Four designers from the Royal College of Art in London have transformed an industrial residue into functional tableware pieces and structural items that can be used for construction, such as pipes. Red Mud ( Red standing for 'residue enabled design') is the by-product of refining bauxite ore into alumina and its fiery colour reflects the fact that it is composed mostly of iron oxide. Over 150 million tonnes of 'red mud' are produced every year and currently left unused in giant pits around the world. Joris Olde Rikkert, Guillermo Whittembury, Kevin Rouff and Luis Paco Bockelmann worked with KU Leuven and Imperial College London to explore the potential of the material both as a ceramic and as a building material and developed their own clay bodies, slips, glazes, and concretes.
Rethinking Plastic
'Rethinking Plastic, design with a mission' is an exhibition that will show 25 projects and products by designers around the world who are approaching the plastic crisis as an exciting and crucial design challenge and keen to create a more circular way of life. From egg cups made of old waste egg shells to razors made of lemon peel and bio-resins and plates made out of corn, 'Rethinking Plastic' will focus on alternatives to plastic and showcase the latest developments in bioplastics.
Alissa + Nienke
A+N is a material research and design studio founded in 2013 by Alissa van Asseldonk and Nienke Bongers. At DDW they present their take on the future of window coverings, which will feature an alluring blend of craft and high-tech solutions including responsive woven window coverings that open and close based on the light of the sun. The pair will also show the outcome of a 3D weaving research project into the use of woven textiles for large-scale interior applications.
Stilled Life by Rive Roshan
Experimental design studio Rive Roshan will create an immersive experience for Dutch Design Week, a poetic space in which the sound of silence will be captured and 'the beauty of a fleeting moment'. This contemporary Zen-like garden installation will feature water, glass, sand and sculptures through which the visitor can walk and enjoy a moment of reflection and tranquillity. The studio worked with German start-up Sandhelden to make collectible stools, chairs and vases out of 3D-printed sand and with Moooi Carpets to make water-patterned and geometric rugs.
Studio Drift
DDW19 Ambassadors Studio Drift will show an interactive light installation that is inspired by the behaviour of flocks of birds and the patterns they make in the air. Flylight will take pride of place in a new venue for Dutch Design Week – Domusdela – a former monastery transformed into a vibrant cultural complex. Over at the van Abbemuseum, the artist duo will be showing a new project in its 'Materialism' series. 'Materialism – The bag project' will be an evolving and haunting sculptural installation made of blocks of extruded plastic bags that will bring to life the quantity of resources that go into the products we use every day
INFORMATION
Dutch Design Week; 19-27 October 2019. ddw.nl (opens in new tab)