Ruinart's 'Second Skin' packaging is made entirely from paper
Leveraging paper manufacturer James Cropper's Colourform technology, the champagne house proposes planet-friendlier gifting without compromising aesthetics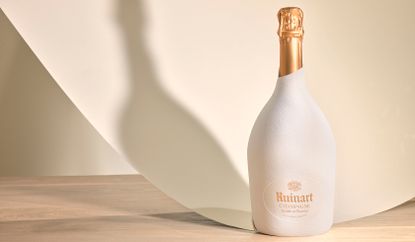 (Image credit: selfridges.com)
In a major step forward for responsible luxury, champagne house Ruinart is replacing its gift boxes with a recyclable casing made entirely from pulped paper. Eschewing a rectilinear form, the new packaging instead mimics the memorable curves of the champagne bottle, cradling its prize and protecting it from light and moisture.

Aptly titled 'Second Skin', it reflects two years of research and development by Ruinart, alongside English paper manufacturer James Cropper and Italian packaging specialists Pusterla 1880.
Colourform, a thermoformed packaging solution made from natural cellulose fibres (the main ingredient of paper), formed the basis of Second Skin. Launched by James Cropper in 2017 as a recyclable and attractive alternative to plastic packaging, Colourform has been received warmly by the beauty sector, but required adaptations on this instance. Paper – and white paper especially – tends to be permeable to light, and prolonged light exposure is known to taint the flavour of the champagne. So a new technique was developed to enrich the cellulose mix with a natural metallic oxide, which made the material more opaque.

A second challenge was to render Second Skin suitable for service use, including some contact with water. Through seven prototypes, Ruinart and its collaborators arrived at a design that is suited to refrigeration (and the condensation it entails), and can even maintain its integrity for several hours when stored in a bucket of ice.
The entire Second Skin is designed as a single piece of material, comprising two contoured halves that fold together along a rectangular strip that serves as a double hinge. Molds – the product of precise digital modelling – are engraved and dipped in baths of a liquid cellulose mix, then pressed to bring the fibres together in a three-dimensional form. A high-pressure waterjet cutting process, specially developed for Ruinart, accounts for the absence of sharp edges. Once closed up, Second Skin envelopes the bottle, and locks together satisfyingly by way of a snap button, embossed of course with Ruinart's Gothic capital R.

Second Skin comes with impressive sustainability credentials: 100% of its constituent cellulose is harvested from FSC- or PEFC-certified forests, while 91% of the water from its manufacturing process – drawn from the River Kent, adjacent the James Cropper factory – is clean enough to be released back into the river after use (half of the remaining 9% evaporates during the drying process, the other half remains as part of the final product). Compared to previous gift boxes, Second Skin sees a 60% reduction in carbon footprint, and is nine times lighter too, thus achieving additional carbon reductions in the shipping process. The lack of plastic or glue ensures that it can be easily recycled or composted.
Equally, Second Skin is an aesthetic triumph: it also accentuates the distinctive silhouette of Ruinart's product, rather than hiding it away. Its subtly striated white surface is pleasing to the touch, as well as evoking the famous Crayères, the medieval chalk quarries in Reims that Ruinart has used to age its vintages since the late 18th century. And the way it wraps around the bottle recalls a tradition at fine-dining restaurants, whereby maîtres d'hôtels would wrap a white serviette around a bottle of champagne.

'Marking a departure from the familiar visual codes and forms associated with the boxes used for champagne bottles, the new Second Skin breaks the category's traditional offering,' reflects Phil Wild, CEO of James Cropper.

Elegant and environmentally sensitive, Second Skin sets a fine example that other drinks brands would be wise to follow. And follow they can – Ruinart has unusually not sought to patent their design, in the hope that it will kickstart a revolution in industry practices.
INFORMATION
Ruinart Blanc de Blancs Second Skin, 750ml, £70; Ruinart Rose Second Skin, 750ml, £70. Both launched in September 2020 at London's Selfridges, as part of the store's Project Earth initiative, which celebrates design innovations, retail concepts and thought-provoking ideas in sustainability.
selfridges.com
ruinart.com
Receive our daily digest of inspiration, escapism and design stories from around the world direct to your inbox
TF Chan is a former editor of Wallpaper* (2020-23), where he was responsible for the monthly print magazine, planning, commissioning, editing and writing long-lead content across all pillars. He also played a leading role in multi-channel editorial franchises, such as Wallpaper's annual Design Awards, Guest Editor takeovers and Next Generation series. He aims to create world-class, visually-driven content while championing diversity, international representation and social impact. TF joined Wallpaper* as an intern in January 2013, and served as its commissioning editor from 2017-20, winning a 30 under 30 New Talent Award from the Professional Publishers' Association. Born and raised in Hong Kong, he holds an undergraduate degree in history from Princeton University.