Jonathan Anderson fills Ruinart's one-bedroom hotel with designs from his own home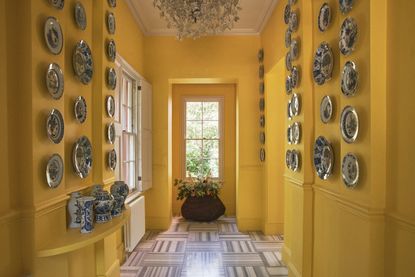 (Image credit: Rich Stapleton)
Jonathan Anderson has started small for his first hotel design project. The Loewe creative director and founder of JW Anderson has crafted a new one-bedroom hotel, Ruinart Hotel 1729, that opens today for just two weeks in London, following its inaugural iteration in Primrose Hill last year.

Located on one of Notting Hill's imposing residential boulevards – whose black iron railings and white-brick facades remain centuries unchanged – the townhouse looks like any other on the avenue; bar an out-of-sequence house number on the gate – '1729'; the year French champagne maison Ruinart was founded.

Deceptively bijou, Ruinart Hotel 1729 comprises just the one bedroom suite (which, granted, stretches the entire first floor), an open-plan family kitchen, formal living room, pretty courtyard garden, and roof terrace. The homely space allowed Anderson the opportunity to intimately express his working process and design ideals in the most personal of ways. To which end, he chose to fill it with beautiful art, tableware and furniture from his own home and personal collections, picking pieces that resonate with him and the French champagne house alike. The choices result in part from a recent trip Anderson took to Maison Ruinart, marking the designer's first time in the Champagne region, where he was inspired to learn more of the etiquette of eating, drinking and living at the time of Ruinart's inception.
A heavy door opens onto a sunshine yellow entrance hall (which is Pantone's Traditional British Stately Homes colour); where an impressive stack of Dutch Delftware plates, chargers and vases mosaic the wall in blue and white. They demonstrate how Holland was influenced by (and imitated) the Oriental style in the mid 18th-century – a fashion which was also exported to France and England during Ruinart's 1700's genesis.

Also in the hallway, an oversized wicker basket from 2018 Loewe Craft Prize nominee Joe Hogan sprouts spring blooms. Anderson previously commissioned Hogan to make several pods, which were displayed at the Loewe S/S 2019 show.
The living room mantelpiece clinks with a clutch of precious glass boots, fronted by a pair of rare Anglo-Japanese Rosewood coffee tables, one of which boasts foraged shipwreck ceramics – barnicles and all. Meanwhile, an abstract 2017 Martin Belou mobile gently rotates in the corner, signifying Anderson's deft ability to match the antique seemlessly with the new; or as he phrases it, 'nostalgia and contemporary innovation'.

'We are now in the moment of recycling, which I love,' he continues. 'There is a romance to glass, and other things that are second hand – and the same goes for champagne.' Of which, a history of antique champagne flutes scales the kitchen wall downstairs, in a tower of exceptionally rare tazzas, sweetmeat dishes and jelly glasses. One only hopes the dinner parties don't get too raucous.
Perhaps the piesta-de-resistance is the tableware; a personal joy of Anderson's. For the settings, he was inspired by the 1735 Jean-François de Troy painting Le Déjeuner d'Huîtres, (The Oyster Lunch), which sees a group of French noble folk supping on mountains of oysters, discarding pearl-like shells across the floor. 'I've been interested in the etiquette of eating ever since I was a child, so when I saw this painting, I thought… we do not live like this anymore, but there is something in the conceptualism of eating in this style today.'

The extravagant table dressing somehow reamins true to Anderson's unique form of minimalism, offering an intriguing way of valuing antiques in contemporary settings. More Japanese blue and white ceramics pile high, alongside English and Irish Regency period cut glass jugs, ice buckets and water bowls; which represent the height of 18th century sophistication when ice would have been an absolute rarity.
Blessing the tableware is head chef Luke Selby (previously of HIDE fame), who has developed a luxurious menu filled with treats (zestily-dressed oysters, buttery salmon with crisp apple scales, and charred duck breast) to complement a cellar of Ruinart wines.

With just one King-sized suite up for grabs; only 20 guests will have the opportunity to fold themselves in Ruinart Hotel 1729's floury Irish linen. However each evening, the residents can invite up to eight friends for a dinner party to remember – 18th century debauchery included. (Hide the Delftware).
INFORMATION
Receive our daily digest of inspiration, escapism and design stories from around the world direct to your inbox
Elly Parsons is the Digital Editor of Wallpaper*, where she oversees Wallpaper.com and its social platforms. She has been with the brand since 2015 in various roles, spending time as digital writer – specialising in art, technology and contemporary culture – and as deputy digital editor. She was shortlisted for a PPA Award in 2017, has written extensively for many publications, and has contributed to three books. She is a guest lecturer in digital journalism at Goldsmiths University, London, where she also holds a masters degree in creative writing. Now, her main areas of expertise include content strategy, audience engagement, and social media.