Piet Oudolf's Vitra garden opens in Weil am Rhein
Piet Oudolf creates a garden for all seasons at the Vitra campus in Weil am Rhein, Germany: we took a sneak first peek of the garden design project, now open to the public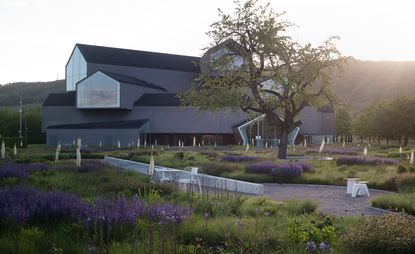 (Image credit: Julien Lanoo)
Renowned Dutch landscape designer Piet Oudolf has created a lush 4,000 sq m perennial garden for Vitra, bringing a touch of nature to the company's headquarters in the southern German town of Weil am Rhein. Its opening could not be more perfectly timed: having endured long stretches of domestic confinement in the past year, we now crave gardens, fresh air, and horizons afforded by wide open spaces.
Vitra Campus: a haven of architecture and design in Weil am Rhein
The Vitra Campus is a stone's throw from the Dreiländereck, where the borders of Germany, France and Switzerland meet. It's a corner of Europe rich with art and design institutional muscle; Fondation Beyeler, the Museum Tinguely, and Art Basel, when in session, are all less than a 15-minute drive away. Buildings on the campus include a fire station by Zaha Hadid, a Jasper Morrison bus stop, a viewing tower with a slide by Carsten Höller, a petrol station designed by Jean Prouvé, a conference pavilion by Tadao Ando, a geodesic dome by Richard Buckminster Fuller, a small cabin designed by Renzo Piano, and more. VitraHaus – the flagship store that Oudolf's garden surrounds – was designed and built by Herzog & de Meuron in 2010. The clean, exacting lines and modern fabrications of the architecture both contrast with and complement Oudolf's landscaping – his complex planting techniques favour texture and structure over frothy blooms, creating year-round ambience so natural as to appear free of human intervention.
'As we do not intend to construct new buildings in the foreseeable future, it seemed that a garden would be an interesting expansion of the campus' concept,' says Rolf Fehlbaum, Vitra's chairman emeritus. Fehlbaum had been impressed by Oudolf's work for the 2010 Venice Biennale and the High Line in New York. 'I found his approach fabulous, so when the theme of a garden on the Vitra Campus came up, I immediately thought of him.'
Integrating nature with architecture
Fehlbaum, who is no gardener and has no plans to become one, still extols the powerful 'potential of integrating nature in the campus, helping Vitra to go further and develop the whole campus as a cohesive landscape'. He points out that landscaping has incrementally become part of Vitra's HQ; first when Álvaro Siza designed the factory building and the adjoining parking lot, in 1994, and more importantly with the Álvaro Siza Promenade, in 2014.
Initially, the new garden was to be planted around the Frank Gehry-designed Vitra Design Museum, but Oudolf persuaded Fehlbaum, and his brother Raymond, a director at Vitra, that it would be more captivating set in front of the VitraHaus. 'They had this place with fruit trees in the front of the restaurant, and I thought it would be great if people coming in and out could see something dynamic with plants and flowers,' says Oudolf . 'You immediately take the visitors in.'
Captivating the audience is always Oudolf's starting point. A composer of sorts, he artfully crafts pathways through bushes of allium and echinacea, fluidly guiding visitors to experience and enjoy every inch of flora. 'The idea is that people can wander there, sit and spend some time, and experience the plants from all sides. I think that is important, especially in public spaces. You can walk around and lose yourself a little bit, it's not a straight path,' he says.
Piet Oudolf's garden design for Vitra
Oudolf's planting feels characteristically accidental, but is incredibly precise and intentional. The Vitra Campus garden uses more than 30,000 plants with many species and this takes expert organisation: feathery Asclepias tuberosa; reddish Sporobolus heterolepis; giant daisy-like Echinacea pallida; raspberry-coloured brush heads of Sanguisorba menziesii; violet fuzzy baubles of Echinops ritro; candy floss clouds of Filipendula rubra.
'I use many design narratives and concepts in one garden. Part of this garden is wilder with more grasses that are dominant, and there's an area where the plants are taller and more robust. Around the building we have a different concept, a "matrix" planting. There are many considered things you might not notice individually, but you can feel the ambience when you are in the garden,' he says.
When planning, Oudolf considers the calendar of the garden, creating points of interest that will flourish year round. 'Gardens should be interesting all year long,' he insists. 'The plants that I choose in my designs often have another life after flowering. The colour is only there for a month or two.' Part of Oudolf's genius lies in his appreciation of the architecture and structure of plants beyond petals, the framework they provide to an outdoor space.
RELATED STORY
He works by first of all sketching his designs on drafting paper, much like an architect, and will colour code the plants according to flowering schedule or their physical properties. Next, he draws a grid over the design, which will later be marked out on the ground using string, to create a guide that allows him to transfer the designs on paper to the soil, one square at a time.
Needless to say, the planting of a garden as intricate as this during the pandemic was challenging. Although planning began in October 2019 (in preparation for the full bloom grand opening originally scheduled for summer 2020), Oudolf was constrained to his home in Hummelo, the Netherlands, for most of the duration of the preparation. The plants, in their thousands, were positioned in situ under Oudolf's guidance via video calls. Although he has no employees, he works with a network of trusted individuals and organisations. A local planting team, led by the landscape architect Bettina Jaugstetter and supported by Jelle Bennema of Deltavormgroep, carefully executed his plans under his stewardship.

In July 2020, while the regional lockdown was temporarily lifted, Oudolf was able to drive the seven hours south from his home to the Vitra site. He met Jaugstetter on site and they reviewed the planting, noting any inconsistencies. 'Often there are varieties that get delivered incorrectly, misnamed by accident. If you buy or order from a grower, you have to account [for the fact] that they also buy from other growers,' Oudolf explains, observing that every industry has its supply chain issues. 'We made some adjustments and moved some plants around.
'In the fall of 2020, we had to prepare a bulb plan for crocuses, snowdrops and narcissi, so in February 2021 there would be something in flower. Perennials that grow in full sun start [to bloom] in May and June, and the main flowering period is August and September. In November 2020, pruning and more planting prepared the garden for a snowy winter so that it could emerge in spring 2021 in good shape, along with the rest of us.'
The past year has sparked an exodus from many of the world's major cities as residents pursue a newly discovered desire for more outside space. 'You hear, in general, that people want more greenery, and cities are spending more money on gardens and so on, and that happens more and more. You see that people that stay at home are starting to garden more, and you realise that we need more of this in our lives,' says Oudolf. 'I like gardens to be for everyone. I hope what I do inspires people to start with plants, and also inspires them to see the power of plants. You can only do that by creating a design that has a layer over it you cannot define, the thing that makes the garden so good and makes you want to stay. That is what I try to emphasise, to create something that is more than just plants.'
INFORMATION
ADDRESS
Vitra Campus
Charles-Eames-Straße 2
79576 Weil am Rhein
Germany
Receive our daily digest of inspiration, escapism and design stories from around the world direct to your inbox
Tilly is a British writer, editor and digital consultant based in New York, covering luxury fashion, jewellery, design, culture, art, travel, wellness and more. An alumna of Central Saint Martins, she is Contributing Editor for Wallpaper* and has interviewed a cross section of design legends including Sir David Adjaye, Samuel Ross, Pamela Shamshiri and Piet Oudolf for the magazine.