Why are gardens good for us? Vitra Design Museum's 'Garden Futures' explores the potential of green spaces
'Garden Futures: Designing with Nature' is on view at Vitra Design Museum until 3 October 2023, with an exhibition design by Formafantasma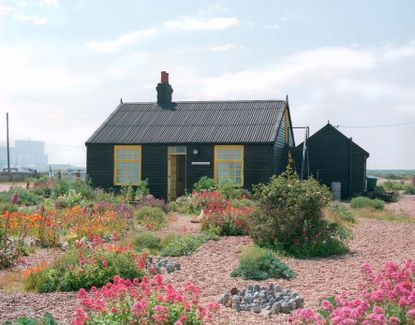 (Image credit: . Photo: Howard Sooley, 1993 . Courtesy Vitra Design Museum)
The exhibition 'Garden Futures: Designing with Nature' – a collaborative project by the Vitra Design Museum, Wüstenrot Foundation, and Nieuwe Instituut – delves into the rich history and potential of modern gardens. The exhibition (on view until 3 October 2023) redefines gardens as avant-garde spaces for social justice, biodiversity, and sustainability.
'Garden Futures': gardens as reflections of identities and visions
The exhibition poses questions about contemporary garden ideals and their role in shaping a liveable future. It showcases diverse examples, from urban farms to community gardens and works by renowned designers like Roberto Burle Marx and Derek Jarman. As soon as you walk inside the museum, on your left, you can see a selection of classic fences, garden tools and lounge chairs up on walls, while walking in the main room you are welcomed by Jurgen Bey's 1998 Tree-trunk for Droog Design, a bench made of a rough tree trunk with bronze backrests.
Designed by Formafantasma, the exhibition's architecture sets the stage for exploring gardens as reflections of identities and visions. It reveals how gardens combine practicality with profound symbolism, exemplified by the work of artists like Hans Thoma and Alvar Aalto. Gardens are not just personal retreats; they carry social, historical, and cultural influences.
The exhibition uncovers the colonial history intertwined with Western gardens and explores the integration of gardens into urban planning concepts. In the face of major global challenges like the climate crisis and social injustice, gardens become spaces for healing and learning.
On the upper floor, which is defined by a grass-like moquette, projects like Alexandra Kehayoglou's 'Meadow' (2023) – a huge, impressive carpet on which it is impossible to walk – highlight climate change threats, while Thomas Rustemeyer's scroll showcases innovative and traditional practices.
The exhibition's final section focuses on the future of gardens; 'Garden Futures' widens our perception of gardens as dynamic spaces that embody cultural and environmental aspirations. It inspires visitors to envision gardens as catalysts for a sustainable and equitable world. Gardens hold immense potential to shape a better future for all. And they are just good for all of us.
'Garden Futures: Designing with Nature' is on view until 3 October 2023
Vitra Design Museum
Charles-Eames-Str. 2
D-79576 Weil am Rhein
Germany
Receive our daily digest of inspiration, escapism and design stories from around the world direct to your inbox
Maria Cristina Didero is an independent design curator, consultant and author, who has contributed to many publications over the years; she is currently Milan editor of Wallpaper* . Didero has consulted for companies such as Vitra, Fritz Hansen, Lexus, Fendi, Louis Vuitton, Valextra among others. Based in Milan, she works internationally, curating exhibitions for institutions: some of her most recent projects include Nendo: The Space in Between and The Conversation Show at the Holon Design Museum, Israel; FUN HOUSE by Snarkitecture at National Building Museum, Washington D.C.; SuperDesign a project about Italian radical design, NY; Vegan Design, or the Art of Reduction by Erez Nevi and The Fish and The Crowd by Carlo Massoud, Milan. In April 2022 she curated a Mathieu Lehanneur exhibition at the Triennale in Milan called The Inventory of Life, while in July she debuted a project at the MK&G in Hamburg titled Ask Me if I Believe in the Future, alongside a series of ongoing collaborations. She was appointed 2022 Curatorial Director of Design Miami/. She is currently preparing two projects for Milan Design Week 2023.