Hauser & Wirth transforms a rural Somerset farm into a bold new destination for contemporary art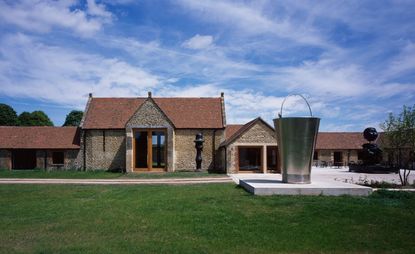 (Image credit: Photography: Hélène Binet)
Arriving at Hauser & Wirth's newly unveiled gallery at Durslade Farm (opens in new tab) in Somerset feels no different to driving into a working farm. You are almost lulled into a false sense of security as you approach a cluster of old barns - until Subodh Gupta's five-metre stainless-steel bucket comes into view, a nod to the 100-acre estate's original function as a cheese dairy.

Beyond it, writ large across a sober grey stone 18th century farmhouse, Martin Creed's neon tube signage reassures you that Everything is Going to be Alright (2011). Then - a rather wicked joke - you turn a corner into a sheltered courtyard and Paul McCarthy's eight-tonne black-bronze Ship of Fools, Ship Adrift (2009-10) confronts you, managing to dwarf the pristine restored barns surrounding it. This carnival ship at sea contains oversized, decomposing babies' limbs and heads with pipes ripping through them: a sight rarely seen in the rolling hills of Somerset.

No doubt Iwan and Manuela Wirth, the art world power couple with a chain of contemporary art galleries in London, New York and Zurich, thought carefully about the statement. Their new gallery - complete with a restaurant and bar, arts and garden education centre and acres of landscaped grounds - is a ship adrift indeed. A three-hour drive from London, it sits at the entrance to the tiny village of Bruton, deep in the countryside beyond Glastonbury and Stonehenge.

At the opening of the space on Friday, the gallerists seemed fully aware that the project was ambitious, perhaps even foolish. Their reasons for opening it were simple: 'We fell in love with the countryside, where exposure to contemporary art is limited,' says Iwan Wirth. The couple has worked closely over two years with a group of artists, landscapers and the Argentinian architect Louis Laplace, whom Wirth calls 'the silent architect'. 'For me, that's what it's about - working to enhance the art,' he says.

The result is understated and elegant. The higgledy-piggeldy nature of the old barns is intact. The four main galleries, all intimate spaces of different shapes and sizes, are connected neatly with glass doors and large windows that frame and anticipate the sculptures in the next room, garden, cloister, even piggery. There is a feeling of always looking beyond.

The gallery officially opens to the public today, with an inaugurating exhibition: new works by sculptor Phyllida Barlow hold court (opens in new tab) in the main gallery, which she says responds to the 'cycle of damage and repair' that inspired her on her visits there. Upon entering the Threshing Barn, visitors are greeted by a Technicolor installation of fabric pom poms, while adjoining rooms are dominated by a dense sequence of sculptural works.

The highlight, however, comes the moment you approach the rear of the barn, where the view frames the field beyond enormous glass doors. It is a garden of earthly delights: a gently sloping meadow enclosed by hedges containing 25,000 herbaceous perennials in a variety of shapes, colours and textures. It was designed by the legendary landscape architect Piet Oudolf (opens in new tab), and will open in September.

At the centre of the meadow is artist Anri Sala's Clocked Perspective, a large, skewed watch face - rather apropos, given the cyclical nature of Oudolf's planting. Oudolf believes in perennials and the self-replenishing, ever-evolving nature of gardens, saying, 'It's the spirit of the times.'

The art world's most in-demand landscaper after his work on New York's famous High Line (he's since completed gardens at the Serpentine Pavilion and the Venice Biennale), Oudolf was aware that he 'had to create a spectacle'. He also has his own exhibition, entitled 'Open Field', of drawings at Hauser & Wirth: complex maps of plants marked out in mad dashes, dots and symbols in brightly coloured felt-tip pens.

Of course there's also a large shop, and an artist-designed house available to rent - completed last year - which we first reported on in our November 2013 issue (see W*176). The restaurant, meanwhile, leads onto an 'oasis for cocktails', a bar installation built out of local reclaimed materials by Dieter Roth's son and grandson, Björn and Odder Roth.
ADDRESS
Hauser & Wirth Somerset (opens in new tab)
Durslade Farm
Dropping Lane
Bruton
Somerset BA10 0NL
VIEW GOOGLE MAPS (opens in new tab)