Ritesh Gupta's Useful School: 'Creative education needs to centre on people of colour'
Creative industry veteran Ritesh Gupta on launching Useful School, a new virtual learning platform that puts people of colour front and centre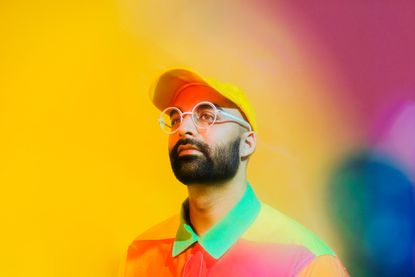 (Image credit: Portrait: Joel Arbaje)
The newly launched Useful School is a pay-what-you-can, online design school for people of colour, with an egalitarian ethos at the heart of its ten-week course and curriculum. Its founder Ritesh Gupta, a creative industry veteran who has worked for agencies such as Wieden+Kennedy, R/GA, Mother Design and Sagmeister & Walsh, was prompted to rethink the metaphorical wheel after seeing first-hand how businesses and communities can benefit from embracing a wider breadth of experiences and viewpoints. A mentee of Diversity in Design (opens in new tab)'s Forest Young, and a volunteer with Where Are the Black Designers? (opens in new tab), Gupta has a vision for Useful School that puts the people-of-colour experience front and centre. Everything down to the typefaces used on its website is by people of colour.
'I started Useful School because I think it's something that's needed in the industry. Helping more people of colour enter and thrive in the design industry is just the right thing to do. We know it's good for people and for business,' Gupta says. 'I knew that [our] curriculum had to fully centre on people of colour. That means the core experience is fully POC – instructors and guest speakers are POC, the examples we show in class are by POC, [and] the branding is done by POC.'
'My own design journey was challenging,' he continues. 'Design isn't traditionally revered in many POC cultures, including my own, so convincing my parents that it's a worthwhile pursuit where I could make a tangible impact and a good living was a very difficult battle. We like to joke that Indians have three career paths: doctor, engineer, or failure. The cultural challenge that many POC face is real – we need enterprises like Useful School, more mentors willing to put in the work, and more open and honest conversations about what a design career means.'
Useful School: a practical and affordable model
What Useful School offers is 'practical classes for people of colour'. Applicants can either apply to the beginner course, perfect for new entrants to the field of product design, or the advanced class, where currently practising product designers can grow or overcome career challenges. While the beginner level guides participants on practicalities such as how to conduct research, how to wield the interactive design tool Figma and how to build your own website, topics covered at the advanced level include how to divest from traditional design practices, how to deal with imposter syndrome, and how to brand yourself as a unique brand leader.
Open to anyone 18 and older based in the US, classes at Useful School will be limited to 12 in the beginner course and eight in the advanced. To make the school's affordable model a reality, the creative agency Mother Design has stepped in as sponsor of the inaugural two courses, not only sponsoring students, but compensating instructors and providing funding for other ongoing expenses.
'With design schools and classes remaining cost-prohibitive to many people, but especially the POC community, the Useful School model opens the doors to more people by allowing [them] to pay what they can afford – this is just one of the reasons why we wanted to be involved,' says Mother Design's managing director Danielle Horanieh.
Mark Sloan, head of Mother Design, NYC, adds, 'The idea of this being a business as opposed to a non-profit actually makes the sponsors more invested in the curriculum as well as the success of the school and its students, rather than it being a tax write-off at the end of the year. It's an interesting filter that this creates – ensuring sponsors who get involved are more invested and long-term partners, rather than one-offs.'
Ahead of classes starting in February 2022 (applications are currently being accepted until 15 January), we sat down with Gupta – who will serve as the school's first instructor – to find out just how impactful and different Useful School will be.
Ritesh Gupta on launching Useful School
Wallpaper*: How would you describe your background?
Ritesh Gupta: Professionally, I'm the founder of Useful School. As the lead instructor for the first cohort, I can't wait to share my experiences and POC-centred approach with incredible, rising POC talent to help them break into the industry, get promoted, and start their own practices. Currently I'm also the senior director for new product ventures at Gannett and a volunteer for Where Are the Black Designers? I've been in the creative industry for over ten years. I designed my first website 12 years ago and my own app eight years ago.
Culturally, I'm Indian-American. Both of my parents were born in northern India. They grew up around Haryana and Uttar Pradesh. My parents are entrepreneurs and my partner's parents are/were professors/deans of higher education. This experience has fuelled my interest in starting Useful School.
W*: What sparked the idea to set up an online design school?
RG: I started Useful School because I think it's something that's needed in the industry. I didn't want to create just another school, though – I knew it had to be practical, fun, affordable, and fully centred on people of colour. Helping more people of colour enter and thrive in the design industry is just the right thing to do. We know it's good for people and for business. Creative education needs to centre on people of colour. Businesses and the world of creativity at large has so much to gain from diverse talent bases.
W*: What is the overarching objective, the main issue you're trying to tackle?
RG: We know that design is still 73 per cent white. We know that people of colour have a more difficult time than non-POC breaking in, getting promoted, and starting their own practices.
W*: How would you describe your own design education?
RG: I'm self taught and first learned from designers who worked at Wieden+Kennedy. One individual who was particularly influential to me is [creative director] Serif Ozcan. Once he exposed me to the career path, I started buying and reading graphic design books that featured German and Swiss men, which made it difficult for me to see myself continuing in the industry. Nonetheless, I continued to press on. I've been fortunate enough to work with R/GA, Sagmeister & Walsh, and other amazing folx that have shown me that people of colour can really succeed in the industry.
I spoke of some of the challenges that face people of colour at the Brand New Conference in 2019, along with a nugget of a solution that eventually became Useful School. Forest Young encouraged me to seriously pursue it, and other colleagues, like Mitzi Okou, have helped me refine the idea.
W*: Why product design for the school's first programme?
RG: Product design is one of my specialties and I already knew many folx who could help support the school. It's also one of the industries where I see people struggle to break in, given how many sub-disciplines there are within product design: UX research, UI creation, and more. I'm hoping to offer classes focused on sub-disciplines of product design and other creatively focused classes, like branding, [in the near future].
W*: What was the process of creating the curriculum?
RG: I built Useful School from using a product design approach. I first started with answering what curriculum I would have wanted and needed when I was starting out. I also did a lot of research about what schools are currently offering and what issues people of colour are having. I then consulted an array of figures in the creative industry.
Prospective students and other POC folx who are particularly excited about the concept are also telling me what they want and need via the application, email, and LinkedIn messages. A lot of the responses have been particularly encouraging.
W*: Who will the special guest speakers and instructors be?
RG: Some of the guest speakers will be announced soon. They are all people of colour, have unique, helpful experiences to share with the students, and have a background and passion in the Useful School mission and model.
W*: How did Mother Design come on board as a sponsor?
RG: When I sent them the concept before going public, they were immediately interested and quickly became one of the first sponsors. They love the mission and model and were especially interested in sponsoring students for the entire curriculum, compensating the instructors and guest speakers, and funding other critical ongoing expenses. We are open to working with other select sponsors as well. Those interested can email me at ritesh@usefulschool.com.
W*: What has been the most impactful discovery of setting up the school?
RG: Receiving applications from hundreds of POC across a variety of identities has been the most impactful, validating discovery. We are encouraging POC folx from all intersections (including ethnicity, gender identity, sexual orientation, dis/ability status, economic status, age) to apply. I'm thrilled that Useful School will support the incredible talent that has traditionally been marginalised, in an inclusive and equitable way.
W*: What do you anticipate learning from the debut programme?
I plan on iterating on the classes based on everyone's feedback! Being a product designer, I will continue to listen and iterate based on all stakeholders involved – the graduates, prospective students, sponsors, individual contributors, friends, and family.
INFORMATION
usefulschool.com (opens in new tab)
Pei-Ru Keh is the US Editor at Wallpaper*. Born and raised in Singapore, she has been a New Yorker since 2013. Pei-Ru has held various titles at Wallpaper* since she joined in 2007. She currently reports on design, art, architecture, fashion, beauty and lifestyle happenings in the United States, both in print and digitally. Pei-Ru has taken a key role in championing diversity and representation within Wallpaper's content pillars and actively seeks out stories that reflect a wide range of perspectives. She lives in Brooklyn with her husband and two children, and is currently learning how to drive.