Formafantasma on their GEO-Design master's programme, and designers thinking big
The Italian design duo – and Designer of the Year in the 2021 Wallpaper* Design Awards – are among our featured visionaries in '5x5', Wallpaper's 25th anniversary project. They discuss their first year heading the GEO-Design master's programme at Design Academy Eindhoven, educating students for a changing world, and their pick of five creative leaders of the future who are expanding the practice of design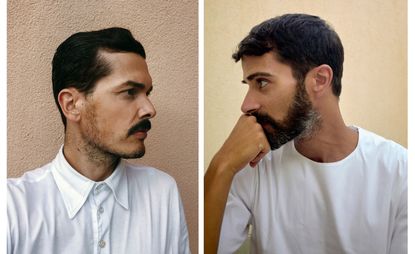 (Image credit: Caroline Tompkins )
Formafantasma, as its website describes, is 'a research-based design studio investigating the ecological, historical, political and social forces shaping the discipline of design today'. This mission statement is as ambitious as it gets. But it's apt for a studio that, for over a decade, has constantly pushed the boundaries of design practice and evolved our understanding of the field. From its 'Ore Streams' project (2017-19), which considered the recycling of electronic waste and how design can encourage more responsible use of resources, to the ongoing 'Cambio', which explores the governance and ecological impact of the timber industry, Formafantasma's work has inspired a new generation to see design not just as a styling tool, but also as a transformative force in an era of global uncertainty.
It is fitting that Design Academy Eindhoven would appoint the studio's founders, Simone Farresin and Andrea Trimarchi, as department heads for its GEO-Design master's programme. At its launch last year, Wallpaper* guest editor Paola Antonelli (as one half of Design Emergency) interviewed the duo on their plans to encourage students to 'go beyond the product and the object'. One year on, and following Formafantasma's selection as Designer of the Year in our 2021 Design Awards, we caught up with them on how the programme has unfolded, and their hopes for today's emerging creative talents.
GEO-Design: a pioneering programme at Design Academy Eindhoven
Farresin and Trimarchi were tasked with setting the vision for the department, and unsurprisingly, the programme description shares similarities with the stated goals of their design studio. 'It's about an attitudinal approach,' they explain. 'Tapping into the politics that shape not only the discipline of design, but also the way we produce and distribute things.' As they see it, the design industry has been focusing on delivering solutions to users, without having a sufficient grasp on wider implications: the infrastructures that it supports, the politics it contributes to, and of course its ecological impact. GEO-Design is about reframing the conversation so designers are taking on the issues arising from 'design's complicity across multiple industries, communication networks, and aesthetic cultures'.
The duo have been responsible for selecting both tutors and students, and creating the programme. The tutor line-up is impressive, including the founders of renowned European design studios, leading design curators, and even an ethnobiologist (Meredith Root-Bernstein, who led a project on conservation in the third trimester). Workshops have featured the Turner Prize-nominated duo Cooking Sections, who focus on the politics of food; artist Alexandra Daisy Ginsberg, who examines our relationships with nature and technology; and 'scientist of smell' Sissel Tolaas, who champions smelling as a way to communicate and to navigate the world, on par with seeing and hearing.
Formafantasma's Andrea Trimarchi and Simone Farresin, interviewed by Design Emergency co-founder and Wallpaper* guest editor Paola Antonelli on Instagram Live in July 2020
The guest lecturers represent even more disciplines. Among them are Teresa Castro, a historian who investigates the connection between cinema and animism; Philipp Pattberg, a political scientist who specialises in climate change governance; and Paulo Tavares, an architect and urbanist whose recent research delved into the role of colonial racism in Brasília's modern landscape. 'As a department, GEO-Design will grow as an octopus, with a complex central consciousness and individual far-reaching tentacles,' reads the programme description; the diversity of the curriculum certainly helps reinforce this goal.
This being a master's programme, there is a certain level of design knowledge expected of incoming students, and so most of the first cohort of 20 come from design, engineering and architecture backgrounds. But Farresin and Trimarchi are keen to point out that there's also someone who comes from the social sciences, and a chemist. 'We are open to other people who are interested in design and want to apply, and of course we can support them,' they say.
Design research: an evolving field
The programme offers a systematic induction into design research. The first trimester focused on how to develop one's position, the second trimester involved 'being more active in reflecting, analysing and criticising, and being transformative with design proposals', while the third trimester was more about collaborating with fellow students. The course load is deliberately heavy in the first year, so students go through plenty of different experiences and can draw on this variety as they decide on the focus of their graduation project in the second year.
The courses themselves are unusual: a highlight this year was Pedagogies of the Sea, led by design critic and curator Angela Rui and coinciding with her exhibition 'Aquaria – or the illusion of the boxed sea' at Lisbon's MAAT, which examined our relationship with the oceans. 'It explored how looking at a hyper object such as the ocean can foster the ability of designers to navigate through the ecology of thinking at multiple scales, recognising challenges, inequalities and interdependencies that still happen at sea,' writes Rui. A sampling of student projects, available on the course's Instagram feed (@pedagogiesea), includes a collection of postage stamps that interrogate the contradictory priorities of marine conservation policies; a book on Ciona (a genus of sea squirts) as a symbol of resistance to human exploitation of the sea; and an investigation into surimi, the imitation seafood product.
Ciona Are Doing Well, a research project by GEO-Design master's students Benedetta Pompili and Eleonora Toniolo, looked into Ciona (a genus of sea squirts) as a symbol of resistance to human exploitation of the sea
RELATED STORY
At the end of the course, students presented their outcomes as part of MAAT's public programme. Effective communication of ideas was key: 'They had to engage in how to make their work speak to an audience, and how to present in an exhibition space,' recall Farresin and Trimarchi. 'We had students who did small installations, students who did a meditation session, others who did a monologue interspersed with video. Some even did ritual performances where they used multiple mediums to perform their own ideas on stage. It goes to show that GEO-Design is about experimenting with the boundaries of your design education, transcending the design discipline itself and how it was theorised.'

This dynamic approach has certainly captured wider attention, and Farresin and Trimarchi say that other institutions have expressed interest in what they are doing at Eindhoven. This being said, they admit that 'education is an ever-changing organism', and there is some fine tuning they need to do, particularly so that the programme does not tend too much towards abstraction. 'There's a need to ground this in materiality,' they point out. 'So for the year ahead, we will have more of a making element. In the first trimester, there will be a ceramics workshop, and it will not be about contextualising ideas. You're just going to experience ceramics: mould making, creating shapes. Then it's up to you to link it with whatever else you're doing.'
Formafantasma on the purpose of design school
There is, of course, the question of what GEO-Design students would do once they have completed the programme. In their conversation with Antonelli last year, Farresin and Trimarchi had expressed the hope that beyond traditional design studios, their graduates would find roles at NGOs, as activists, or in the research and development departments of companies. ('I'm hoping they will become mayors or presidents, too,' countered Antonelli). Today, their answer is more open-ended. 'Next September, when our students present their graduation project, we are asking them to list a series of skills and qualities they want to highlight, so we can mentor them accordingly,' they say.

'But we are not here to professionalise people. The whole idea [of GEO-Design] is also to rethink the purpose of design school, right? And how we educate people for a changing world, and for a discipline that should change, though it's not necessarily changing.' Rather than shaping their students into a particular mould, to fill specific roles, Formafantasma want to nurture a flexible mindset.
Cambio: an ongoing investigation into the timber industry
Within their own practice, Farresin and Trimarchi have ably demonstrated the practical potential of this critical attitude. Following its initial, widely acclaimed presentation at Serpentine Galleries, 'Cambio' is now on view at the Centro Pecci at Prato, Italy, and will be travelling to the Museum für Gestaltung in Zürich later in the year; with every iteration its exhibition displays (themselves elegant and enlightening) are complemented by more and more real-world projects.
Among them is an invitation from Finnish furniture manufacturer Artek to study the arboreal forests in Finland. 'They are already virtuous by nature, but they don't necessarily have an R&D department that thinks about the future of their company in relation to ecology,' the duo explain. 'So they opened up their doors fully to us. We looked at everything that they do and presented our own vision for their ecological development, so they can evolve their approach to forestry.'
Expanding the practice of design
For our 5x5 anniversary project, Formafantasma's edit of creative leaders of the future run the gamut from emerging talents Johanna Seelemann and Irakli Sabekia (both their former students) to more established design studios such as Superflux and Studio Plastique. Naturally, all of them focus on design research, but their interests are varied, including industrial agriculture, geopolitical conflict, the climate emergency, and sustainable energy. Among them, Buro Belén, best known for investigating the relationship between humans and the sun, stands out for also being tutors in the GEO-Design programme: 'They have been thinking about material research for years, and doing it with a lot of consistency,' say Farresin and Trimarchi. The work of some of these creative leaders of the future may often be conceptual, yet to find practical applications. But it is not difficult to imagine these eventually making the same impact as 'Cambio', both in terms of industry practice and public perception.
They add that their experience with younger designers, whether through the GEO-Design programme or their own studio, should give us optimism for the future. 'The next generation is much less attracted to design because of a possible glamorous side to it. They're much more aware of the pitfalls of the discipline, and definitely much more engaged. They want what they do to be meaningful, and they are adamant to contribute to the world for the better.'
Meet Formafantasma's five creative leaders of the future:
INFORMATION
designacademy.nl; cambio.website; formafantasma.com
'Cambio', until 24 October, at Centro Pecci, Prato, Italy, centropecci.it
'Cambio – Tree, Wood, Human', at Museum für Gestaltung, Zurich, Switzerland, museum-gestaltung.ch
A version of this article appears in the October 2021, 25th Anniversary Issue of Wallpaper*, on newsstands now and available to subscribers – 12 digital issues for $12/£12/€12 (opens in new tab).
TF has been editor of Wallpaper* since December 2020. He is responsible for our monthly print magazine, planning, commissioning, editing and writing long-lead content across all our content pillars. He also plays a leading role in multi-channel editorial franchises, such as our annual Design Awards, Guest Editor takeovers and Next Generation series. He aims to create world-class, visually-driven content while championing diversity, international representation and social impact. TF joined Wallpaper* as an intern in January 2013, and served as its commissioning editor from 2017-20, winning a 30 under 30 New Talent Award from the Professional Publishers' Association. Born and raised in Hong Kong, he holds an undergraduate degree in history from Princeton University.