Irakli Sabekia on research and design as 'tools to attack reality'
Georgian designer Irakli Sabekia talks about the power of artistic work to confront complex subjects, while Formafantasma names him as one of 25 creative leaders of the future in Wallpaper's 25th Anniversary Issue '5x5' project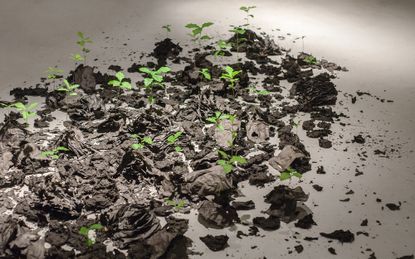 (Image credit: Irakli Sabekia)
Wallpaper* Newsletter
Receive our daily digest of inspiration, escapism and design stories from around the world direct to your inbox
Thank you for signing up to Wallpaper. You will receive a verification email shortly.
There was a problem. Please refresh the page and try again.
'Artistic work has a great power to open up complex subjects and make them approachable. It allows us to put down our shields and let the world affect and transform us,' states Irakli Sabekia. The Georgian designer and researcher has gathered growing recognition for his projects that cross art, design, and philosophy, while using experiences as a vehicle to spark powerful conversations.
Sabekia takes on weighty themes including frictions between humans and systems, and social and spatial justice. 'I think of my projects as artistic interruptions in the functioning of systems, aiming to create possibilities for reflection and re-evaluation of the existing structures,' he says.
A graduate of Design Academy Eindhoven, Sabekia began his career as a graphic designer in Tbilisi, Georgia before moving to Amsterdam to work independently. 'This step came naturally as it was the most straightforward path to developing my own way of working and exploring ideas,' he explains. 'My research and outcomes are my tools to attack reality and imagine worlds. Connecting with people through ideas and suggestions is at the core of my practice.'
Irakli Sabekia and Formafantasma
At Eindhoven, Sabekia caught the eye of Simone Farresin and Andrea Trimarchi, founders of Formafantasma and department heads for the academy's GEO-Design master's programme. The pair have named him among 25 creative leaders of the future in Wallpaper's 25th Anniversary Issue '5x5' project.
One of his most notable projects to date is Voicing Borders. 'In it, I had to address a complicated but also very personal topic of the ongoing occupation of large parts of Georgia by Russia. While working on my approach, having to face the hopelessness of the confrontation with this overwhelming force, core ideas of my practice were formed.' This resulted in the construction of a radio transmitter that transformed the attached razor-wire fence into an antenna that broadcasted the names and coordinates of Georgian villages brutally destroyed by Russian forces.
Another powerful piece is Spring, an installation exhibited in Eindhoven in 2017. Comprising 50 oak seedlings growing on ash produced by burning books, it symbolizes new ideas 'unburdened with the weight of bygone ideologies'.
Over the last year, Sabekia has been working on a new project titled Archive of Spatial Knowledge, which explores memories of spaces that have been erased. He will be exhibiting at Eindhoven's Van Abbemuseum in October 2021, as part of the Design Academy's GEO-Design platform, curated by Martina Muzi and Joseph Grima.
INFORMATION
'GEO-Design: Budget Airlines' design-research exhibition is at Van Abbemuseum, 9 October – 14 November 2021, vanabbemuseum.nl
A version of this article appears in Wallpaper's October 2021, 25th Anniversary Issue (W*270), on newsstands now and available to subscribers – 12 digital issues for $12/£12/€12.
Meet more creative leaders of the future nominated by Formafantasma here.
Receive our daily digest of inspiration, escapism and design stories from around the world direct to your inbox