New vision for Franco Maria Ricci's art publishing legacy
Italian art collector and publisher Franco Maria Ricci passed away in September 2020. His nephew Edoardo Pepino was entrusted with his artistic legacy, including the world's biggest bamboo maze and Ricci's eponymous publishing house, which is set for a relaunch in late 2021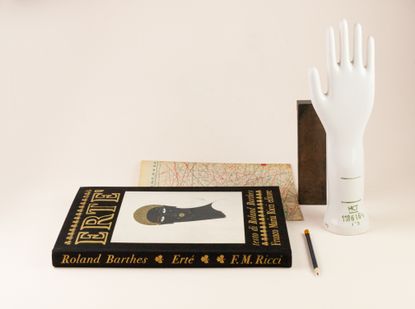 (Image credit: TBC)
Labirinto della Masone, in Fontanellato, Parma, opened in June 2015 as the world's biggest maze, thanks to the vision of eclectic art collector and publisher Franco Maria Ricci. He created the bamboo labyrinth at his estate, as a tribute to his friend and collaborator, Argentine writer Jorge Luis Borges, who saw mazes as a metaphor for the human condition.
The maze and estate, which includes architecture by Pier Carlo Bontempi and is also home to Ricci's art collection – some 500 works spanning five centuries – and library, are playing a central role in the late publisher's legacy.
A self-taught graphic designer, Ricci was best known for the line of lavishly produced art books (opens in new tab) he began publishing in the 1960s – among them a reprint of an 18th-century French encyclopaedia, tomes on artists such as Tamara De Lempicka and Antonio Ligabue, and an exploration of tarot art – with contributions from leading cultural figures of the time, from Italo Calvino to Gabriele d'Annunzio. He also launched an art magazine, titled FMR and focusing on the classics, in 1982.
Ricci's nephew, Edoardo Pepino, has been overseeing his uncle's empire since 2020, working to keep its tradition but refresh it with new ideas and projects. Labirinto della Masone, serving as headquarters of the Franco Maria Ricci Foundation and publishing operation, hosts performances, exhibitions, a museum, a restaurant and suites, while a redesign of the publishing brand is being unveiled in late 2021, when Pepino is also set to relaunch FMR magazine.
Wallpaper* met Pepino for a glimpse into the future of Franco Maria Ricci's legacy.
Wallpaper*: How does it feel to be in charge of such a relevant project as the Labirinto della Masone and the publishing house?
Edoardo Pepino: There is a work by Bartolomeo Veneto, an extraordinary portrait from the 16th century, preserved in the Fitzwilliam Museum in Cambridge, UK, which represents a man with a mysterious identity. He is elegantly dressed, a warrior, I guess, from the sword he holds with both hands, with a proud look, the privileged heir of a mission, or of the defence of a kingdom… who knows. There is a labyrinth embroidered on his garment, which is the only clue of his undertaking and of the responsibility that has been assigned to him.
Here, every now and then, I imagine myself to be that unknown young man, champion of a tradition, or rather, of a profession to be projected into the future, and guardian, together with other talented young people, of a place of delights halfway between dream and reality: the Labirinto della Masone. This is why I chose this portrait as the cover image of our exhibition on the theme of the labyrinth.
W*: Tell us about Franco Maria Ricci's legacy, and how you are carrying it on in your own way.
EP: The design of a new website is a necessary and creative intervention. Before, all communication relating to our editions took place through the Labirinto website for two reasons. First, to give initial visibility to the Labirinto as soon as it opened to the public [in 2015], being able to count on the name of a publisher known all over the world. But also to [give context to] the publishing activity that really takes place at the Labirinto della Masone, among the works of art of Franco Maria Ricci's collection, at the centre of the largest bamboo maze in the world.
Now that the volume of this activity is increasing, it is important to create new channels dedicated exclusively to the publishing house, but in constant dialogue with its home sweet home, the Labirinto. We chose curator Livia Satriano and Milan's Pop-Eye Studio not only for their affinity to our aesthetic criteria and the refined tone of communication, but also for the special care and deep interest they had in the past of our business and our graphic archive. I think the work will be excellent, a wonderful surprise for lovers of art, books, graphics.
W*: Speaking about Franco Maria Ricci's cultural heritage, is there anything you would like to change, or something you would like to improve?
EP: Not exactly. Ricci's cultural heritage resides in the classics. It is impossible, for example, to perfect Antonio Canova, Giambattista Bodoni, or to correct Giovan Battista Piranesi. I think the same is true for Franco Maria Ricci. It does not mean that there have not been, during his long and prolific activity as publisher, moments of weakness. [There are] some books that I would not repeat today; this is part of the normal genesis of a publishing house that has gone through time and trends, through different decades, during which Franco Maria Ricci has always managed to stand out.
W*: You are working on a new magazine, to be launched in autumn 2021; could you tell us something about that?
EP: There is a lot of anticipation about the new FMR magazine. Laura Casalis, who is directing it in terms of form and content, will tell us more in the summer. With Ricci, who was her companion in life and work, she had shared the idea and the successes of the magazine since its first release in 1982. Contributors include Giorgio Antei, Massimo Listri, Stefano Salis, Gabriele Reina, and Vittorio Sgarbi, [and we are] inspired and supported by a large group of illustrious names in art and culture – among them Pierre Rosenberg, Alvar González-Palacios, Patrik Mauriès, Oscar Tusquets Blanca, Héctor Abad Faciolince. The new FMR will be the same but not the same.
W*: Could you tell us a personal anecdote, a memorable experience that you shared with your uncle?
EP: Ironic and likeable, the conversation with Ricci was almost always edifying; it reflected on the quality of things, on the scrupulousness of his work. He never woke up before 11 in the morning, yet he was a hard worker, a workaholic. Attention to quality permeated everything he said. He often said to me: 'The most important thing is to be able to recognise is if a thing, whatever it is, is good or bad.' For him, it was not just an aesthetic fact, linked to art and publishing, just as it is not for me. It is a moral principle, a value. He taught me that it's easy to fall into the banal, the sloppy. Instead, we must take seriously even the small details, the habits we take for granted. I remember a few years ago, during one of these conversations, he and I stayed at my house late. It was time for dinner. So I made a pasta with what little I had in the refrigerator. The first bite was enough and he said to me with a smile: 'Look, even eating is a serious matter.' And then he took me to a restaurant.
INFORMATION
francomariaricci.com (opens in new tab)