In memoriam: Charles Jencks (1939-2019)
Remembering Charles Jencks – architectural historian, co-founder of the Maggie's Centres and landscape visionary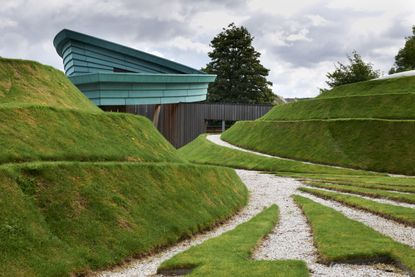 (Image credit: Nick Turner)
'Architecture is a better profession than doctors, lawyers, bankers, accountants and all the other options', said Charles Jencks, who died last Monday at his London home. Certainly in his hands, it was a training that led to numerous strands of activity: Jencks was a theorist, historian, landscape designer and critic, and occasionally turned his hand to architecture, too.

His first building – the Garagia Rotunda – was a series of forms from readymade materials, constructed for just for $5000, as a family getaway on Cape Cod. It combined both improvisational brio and an homage to Palladio, with repetition on an axis that mirrored the design of the Renaissance master's Villa Rotunda. With his second wife, Maggie Keswick, Jencks also devised the network of Maggie's Centres – intimate places of respite for cancer sufferers, built in hospital grounds across the UK.

Charles Jencks was born in Baltimore in 1939, studied English literature at Harvard, and by 1970 had completed his doctorate in architectural history at University College London, studying under Reyner Banham. By 1971, he had published his first book, Architecture 2000, which broke modernism down into six tendencies, with a classification system that owed much to the French anthropologists, then at the apogee of fashionable thinking. By 1979, he had written The Language of Post-Modern Architecture, becoming the de facto owner of the term.
He decried the dogmatic application of modernist principles, and advocated architecture as a more fluid form of communication. By 2005, he was already suspicious of a new noisy architectural form, typified by the Gherkin, bristling in cities all over the world, that declaimed the ego of the architect and the desire of the developer to have a landmark structure. He wrote The Iconic Building to make his point (and there are at least another 30 books under his name besides).

His own house in Notting Hill displayed his discursive tendencies, in both conversation and design. He devised its interior with architect Terry Farrell between 1979 and 1985 to express cosmic time (the seasons, the sun and moon) and cultural time (civilisations), a sort of John Soane Museum revisited. 'Charles' house is full of humour and intelligence and surprise', says Sam Jacob, the architect formerly part of FAT, who visited regularly when FAT and Jencks were invited in 2010 to produce a one-off issue of Architectural Digest, called Radical Post-Modernism. 'You'd go into this bright yellow kitchen and Charles would grandly say: On your left, "the Temple of Ice!", pointing to the Zanussi fridge'. (The home now is Grade 1 listed and there are plans to open it to the public, by appointment).

The departing director of the Design Museum, Deyan Sudjic, remembers being asked to visit. 'He and Terry were having trouble assigning credit for who'd done what. They asked me, a neutral observer more interested in modernism than their aesthetic attitudes, to provide an objective view', recalls Sudjic. 'Charles was always interested in what other people had to say'.
Later in life, Jencks started to create extraordinary landscape works. One of the best is at the Jupiter Artland, outside of Edinburgh, completed in 2011 (pictured top). There, eight man-made hills call to mind micro versions of exquisite terraced farming, or ancient burial burrows, biological cell formations, or cosmological maps, and provide an other worldly introduction to the sculpture park beyond.

But it is perhaps with the Maggie's Centres that Jencks will leave the most behind. The scheme began in 1995, as his wife was dying from cancer and together they commissioned a pastoral space to be built at Edinburgh Hospital, where she was receiving treatment. There are now 20 scattered across the UK, designed by architects including Rem Koolhaas, Richard Rogers, Norman Foster and Frank Gehry, as well as younger practitioners, including Dow Jones' recent example in Cardiff. Each is an exercise in contemporary architecture as a tool for caring, each built according to the brief drawn up by Charles and Maggie Jencks.

The most recent – designed by Ab Rogers Design – is planned to open officially in 2020 in the grounds of the Royal Marsden Hospital in Sutton, not far from London. 'There was one meeting with Charles, which lasted three hours,' says Rogers. 'And it was the best crit I've ever had, he got right under the building's skin and questioned everything with delicacy and rigour'.

'He was a real intellectual, fascinated by ideas and by the way things worked', continues Rogers. 'He never stopped smiling, he made you feel like his complete equal. And then you came away realising you'd been in the presence of an absolute master'.
Receive our daily digest of inspiration, escapism and design stories from around the world direct to your inbox