Marina Abramović in London: death, Maria Callas and breaking the rules of Opera
Ahead of her dramatic operatic takeover in London, we spoke to Marina Abramović about 'Seven Deaths', her multifaceted homage to soprano Maria Callas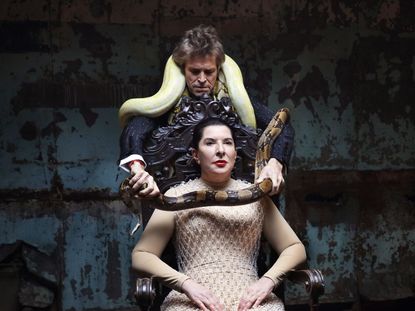 (Image credit: Marco Anelli, Courtesy of the Marina Abramovic Archives )
'I am an international gypsy with two suitcases running from place to place!' enthuses Marina Abramović only moments into our conversation. Halfway through a four-month trip that includes 19 stops, the indefatigable artist is back to her nomadic ways after an unplanned sabbatical – prompted by the Covid-19 pandemic – of reading books, growing vegetables, and planting trees in the countryside.
For now, the Serbian performance artist is in London to open a duet of solo exhibitions across Lisson Gallery's spaces on Cork Street and Lisson Street, the culmination of her lifelong preoccupation with Greek American opera singer Maria Callas. An immersive film installation, Seven Deaths, captures a series of heart-rending demises that Abramović undergoes on-screen, to the soundtrack of seven Callas solos.
The artist's fascination with the ill-fated diva began in her grandmother's kitchen in Belgrade, when she was 14 years old. From the radio, an unfamiliar voice – Callas' voice – pierced the space. 'I remember standing up in the middle of the kitchen and starting to cry. It was immediately emotional. And I have no idea why,' she says. Now 74, Abramović has spent much of her life endeavouring to make a work in tribute to the woman who inspired her.
Ideas for the project percolated in various guises over the decades, from film to a theatre play. Abramović settled on an opera – an unlikely medium for the radical performance artist – with 7 Deaths of Maria Callas, which debuted in Munich last year. 'I am secure in my skin as a performance artist, so I was interested in doing something new, to go into a world that I had never been to before,' says Abramović of her first foray into the traditional art form. 'The opera world has such strict rules – so it's a good thing to break them.'
And break them she does. Joined by long-term collaborator, actor Willem Dafoe, the artist adds a new twist to the macabre fates she meets in the course of an hour and 50 seconds in her film homage at Lisson: from consumption (set to La Traviata); to jumping (Tosca); strangulation (Otello); harakiri (Madama Butterfly); knifing (Carmen); madness (Lucia di Lammermoor) and self-immolation (Norma). Here, Abramović commits to her different characters – herself, Callas, or the jilted bride, among others – with abandon.
In the opening act, Dafoe tends to Abramović, who lies bedridden and wan in a faithful recreation of Callas' bedroom, down to the Madonna in front of her bed and the sleeping pills next to her telephone. The roles are reversed in the second scene, when Dafoe appears lifeless in the artist's arms before she takes a fatal leap from a skyscraper (the only vignette which required more than one take, she notes). In her reimagining of Otello, Abramović is suffocated by a snake, while the ritual suicide of Madama Butterfly is replaced with the artist ripping off a hazmat suit and exposing herself to radiation.
The work reaches its climax as the pair – dressed throughout in custom Burberry looks designed by Riccardo Tisci – walk in tandem at a glacial pace into a raging fire. 'Willem taught me so much about what acting means, because it is completely contrary to performance art,' explains Abramović. 'He showed me that you can get into the role so deeply that you become that role, and that was a new teaching for me.
RELATED STORY
The Lisson exhibition continues at Cork Street, where Abramović is exhibiting an ethereal series of photorealistic alabaster sculptures relating to her dramatic killings. The works mark a departure from her 'normally immaterial' practice: 'We tried many different things and finally ended up using alabaster because it has rigidity, but also transparency – it both keeps the light within and can be illuminated by light.'
Abramović's kinship with Callas reaches deeper than their shared classical facial features, painful relationships with their mothers, tumultuous love lives, magnetic personalities, and a shared star sign (the two Sagittariuses were born almost exactly 23 years apart). 'What I admire about Callas is her incredible courage, strength and fragility, which exist at the same time,' says the artist. 'She was so strong on the stage and yet so lonely and unhappy in her life.'
Callas' death, while not as overtly dramatic as Abramović's cinematic representations, was just as tragic. The soprano died suddenly and alone in her Paris home in 1977 from a heart attack, aged 53. A recluse in her final years, the gifted Callas led an extraordinary life mired with personal tragedies: among them, blackmail by her mother, theft by her husband Giovanni Battista Meneghini, and physical and sexual abuse by her paramour Aristotle Onassis. 'The fact is, she simply lost the will to live,' reflects Abramović. 'In my case, I was also deeply in love once in my life. We both almost died from a broken heart – but my work saved me.'
Like Callas, Abramović's personal life has been punctuated with turmoil – much of it public and part of her art. In spite of this grief, both on screen and off, is Abramović a romantic? 'The Slavic soul is so romantic. We always suffer – if we don't suffer in our private life, we suffer for eternity, for the universe,' she says. 'I always believed that nobody makes any good artwork from happiness because happiness is a state that you don't like to change. But the suffering is where you really become creative.'
Her solo exhibitions at Lisson Gallery coincide with a recent pop-up experience presented in collaboration with WeTransfer's digital arts platform, WePresent, at Shoreditch's Old Truman Brewery. A virtual time capsule of sorts, Traces comprises five objects that the artist wants to carry into the future, such as an essay by Susan Sontag, a Martian rock and the resurrection plant Rose of Jericho. (The physical iteration of the project is now closed but can be experienced online.)
Elsewhere in London, Abramović will debut new and recent works in 'Humble Works' at Colnaghi gallery alongside friends and frequent collaborators Fyodor Pavlov-Andreevich and Nico Vascellari, created in response to and presented in dialogue with a series of masterworks including a Veláquez portrait and an Etruscan burial urn.
Abramović's London moment this autumn offers a tantalising prelude to a career-spanning survey of her work opening in 2023 at the Royal Academy, where she will be the first female artist to have a solo show across the entire Main Galleries. The retrospective's title, 'Afterlife', suggests the always forward-thinking Abramović is looking beyond our mortal coil: 'I'm done with dying,' she quips.
NFORMATION
'Marina Abramović: Seven Deaths', 14 September – 30 October 2021, Lisson Gallery, lissongallery.com (opens in new tab)
Traces, Abramović's immersive project with WePresent, can be experienced online, wepresent.wetransfer.com
'Humble Works', 17 September – 22 November 2021, Colnaghi gallery, colnaghi.com