London in lockdown: photography of a pandemic-struck city
Taking to the deserted City of London streets during lockdown, Hannah Starkey captured a new urban reality. Here, the photographer describes her experience of 'an ecosystem that has lost its pulse' and ponders a return to more populous times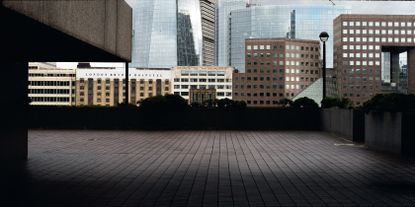 (Image credit: Hannah Starkey)
For four months at the end of last year, I walked the streets of the City of London with my camera and dog. As the inaugural Artist in Residence at Guildhall, I was producing a body of work for the Guildhall Art Gallery to celebrate women working in the City.

It was a privileged way of immersing myself in the energy of the famous Square Mile, and a stark contrast to what was to come. Within a matter of days from hanging the show, I witnessed the desertion of its streets. Lockdown was rapid and ruthless. It's as if a spell has been cast on the kingdom. Everyone has left this place... just gone.
So I start to walk again, dog and camera in tow. As a flâneuse*, my role now is to try and make sense of it all through the prism of art. Each day, people get fewer, until just security guards, key workers and the unfortunate homeless walk with me. They are kind to each other.

I'm now starved of human interaction. I realise I photograph the way I do because it's not buildings but people that make up my landscapes. My City of just a few weeks ago is simply no longer here. Though the place has not fallen silent; the buildings still whirr with computers, busy with phantom operators who have no need for the City's pavements.
I surprise myself with how sad the abandonment makes me feel. The weather is glorious and spring has sprung in the parks and green spaces. Perfect flowers wait to be appreciated, with few to appreciate them. I'm realising something else. Now with just frontline workers visible, the minority has become the majority. The City workers of the 'new normal' are Black, or ethnic, or poor. Their business can't be done from home.
RELATED STORY
The energy, atmosphere and code of existence of the old City was very different from anywhere I'd spent time. Now it's different again. This new City is a sad and lonely place. An ecosystem that has lost its pulse. I've become a light-catcher. A handy skill in an empty City.

Spring is turning to summer and the flower beds are parched. I'm glimpsing the new 'new normal'. Distancing, masks and suspicion. Tentatively, the streets are filling. In come joggers and cyclists, and on their heels, the photographers. I want to welcome them. Without mouths, eyes must do all the work. When wearing a mask, eyebrows literally dance together, as if choreographed.
The weather was good for a lockdown. Now that it's over, we're realising the resuscitation is surprisingly slow. 'I want to see people breathe life into the old girl and awake her from her gentle slumber.' I read this in an article and liked the analogy for future work on the new normal in city life, seen from a female perspective.

Until then, I think about how nature might be better without humans. Cities are the complete opposite. Without humans, they have no purpose.

*The flâneuse, as defined in essayist Lauren Elkin's book of the same title, 'considers what is at stake when a certain kind of light-footed woman encounters the city and changes her life, one step at a time'.
INFORMATION
This article originally appeared in the October 2020 issue of Wallpaper* (W*258) – on newsstands now and available for free download here
A major survey of Hannah Starkey's work will open at The Hepworth Wakefield in November 2022. hepworthwakefield.org

Starkey's Celebrating City Women series can be viewed at celebratingcitywomen.co.uk/hannah-starkey
Receive our daily digest of inspiration, escapism and design stories from around the world direct to your inbox