10 best art exhibitions to see in 2023, picked by Wallpaper* arts editor Harriet Lloyd-Smith
To usher in the new year, Wallpaper's arts editor Harriet Lloyd-Smith highlights the best art exhibitions to see in 2023, and there's a lot to look forward to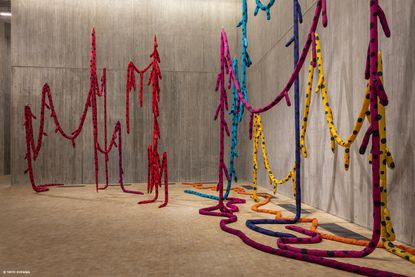 (Image credit: Lok Cheng M+. © Yayoi Kusama)
Today, we welcome a new year, and with it, a renewed excitement for all things art in 2023. If 'see more art' found its way onto your New Year's Resolutions list, look no further than our pick of the best global art exhibitions to catch in January 2023.
BEST ART EXHIBITIONS TO SEE IN JANUARY 2023
1. 'David Hockney: Bigger & Closer (not smaller & further away)' at the Lightroom, London
Legendary artist David Hockney will launch an ambitious, immersive art show in London this month, transforming his iconic paintings, rarely-seen pieces and newly created work into a multisensorial experience. 'David Hockney: Bigger & Closer (not smaller & further away)' at the Lightroom in London will use digital projection and audio technology to offer a journey through Hockney's world. Until 23 April 2023
2. 'Theaster Gates: Young Lords and Their Traces' at the New Museum, New York
Theaster Gates' first US museum show is a moving homage to the creative forces who came before, as well as his native Chicago. 'Young Lords and Their Traces' at The New Museum, is what Gates describes as 'a personal pantheon' and 'a kind of memorial for different individuals who had an impact on my life and culture'. Until 5 February 2023
3. Monica Bonvicini 'I do You' at Neue Nationalgalerie, Berlin
Monica Bonvicini's much-anticipated exhibition 'I do You' is nothing short of monumental. Through site-specific, architecturally transformative works which range from the 1990s until today, the show spotlights Bonvicini's signature modes of feminist and architectural inquiry, specifically tailored to the Mies van der Rohe-designed building. Until 30 April 2023
4. 'Art Here 2022' at the Louvre Abu Dhabi
For the second edition of the 'Art Here' exhibition, the Louvre Abu Dhabi presents a multifaceted celebration of contemporary art from across the UAE and wider GCC (Gulf Cooperation Council) region. 'Art Here 2022', coinciding with the museum's fifth anniversary, features work by ten artists shortlisted for the Richard Mille Art Prize 2023. Until 19 February 2023
5. 'Yayoi Kusama: 1945 to Now' at M+ Hong Kong
'Yayoi Kusama: 1945 to Now' at M+ is one of the first major retrospectives of the Japanese artist's work in nearly a decade. From early sketchbooks to iconic pieces (yes, there are Pumpkins) and work created during the pandemic, the show offers potent reflections on mental health, hope, and the enduring, universal power of Kusama's art.
6. Art commissions at the Sydney Modern Project, Art Gallery of New South Wales
To mark the opening of its Sydney Modern Project, the Art Gallery of New South Wales unveiled a series of nine site-specific art commissions (some on view permanently) displayed inside and outside the new SANAA-designed building. Commissioned artists include Francis Upritchard (who we spoke to ahead of the opening), Adrián Villar Rojas, Lisa Reihana, Lee Mingwei and Yayoi Kusama.
7. 'In Search of the Present' at Espoo Museum of Modern Art, Finland
What is intelligence, where it can be found, and where it can go? asks EMMA's group show 'In Search of the Present'. 16 artists including Rafael Lozano-Hemmer, Refik Anadol, Raimo Saarinen and Sougwen Chung dissect the intersections of nature, technology and art. As well as cutting-edge AI, the show also spotlights the often underestimated power of intelligence in the natural world. Until 15 January
8. Zizipho Poswa 'uBuhle boKhokho' at Southern Guild Gallery, Cape Town
Ceramic artist Zizipho Poswa is known for an expansive art practice that draws on ancient African traditions. Her latest show of ceramics and photography, continues her exploration of traditional African hairstyles, drawing inspiration from the elaborate art of hairstyling not just in her native South Africa but across the African continent and the diaspora. Until 2 February 2023
9. Laure Prouvost, 'Above Front Tears Oui Float' at The National Museum, Light Hall, Oslo
Turner Prize-winning artist Laure Prouvost has filled the cavernous space at the top of Oslo's new National Museum. Prouvost's is the first in a series of artist commissions and turns the iridescent marble space into an ethereal, experiential world that imagines nature taking over. Until 12 February 2023
10. Takashi Murakami at Perrotin Dubai, ICD Brookfield Place
Perrotin Dubai and ICD Brookfield Place have partnered to present Takashi Murakami's first exhibition in the city, bringing together some of the artist's most iconic works. Highlighting the artist's signature blend of high and low culture, the show sees traditional Japanese painting techniques and aesthetics collide with the language of consumerism, nostalgia and childhood obsessions. Until 28 January 2023
Receive our daily digest of inspiration, escapism and design stories from around the world direct to your inbox
Harriet Lloyd-Smith was the Arts Editor of Wallpaper*, responsible for the art pages across digital and print, including profiles, exhibition reviews, and contemporary art collaborations. She started at Wallpaper* in 2017 and has written for leading contemporary art publications, auction houses and arts charities, and lectured on review writing and art journalism. When she's not writing about art, she's making her own.