Through the lens of Wallpaper* contributor Norman Wilcox-Geissen
Introducing our new monthly series in which we throw the spotlight on emerging photographers who are Wallpaper* contributors. Every month one photographer is commissioned to capture the upfront Newspaper section – an artist's residency in print form – here we explore their vision further.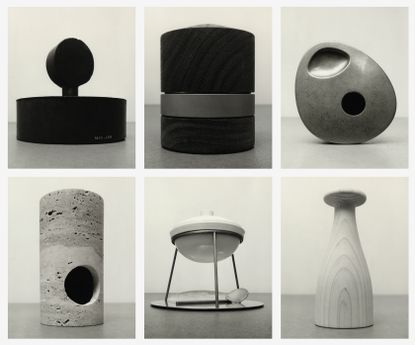 (Image credit: Norman Wilcox-Geissen)
Wallpaper* Newsletter
Receive our daily digest of inspiration, escapism and design stories from around the world direct to your inbox
Thank you for signing up to Wallpaper. You will receive a verification email shortly.
There was a problem. Please refresh the page and try again.
Norman Wilcox-Geissen was commissioned to shoot a variety of objects, including digital prints, scent-making apparatus, surfboards, and kaleidoscopic Manolos, for the Wallpaper* October 2018 Guest Editors' issue. Born in Frankfurt, he was raised in Scotland and is now based in London. We caught up with him to hear about his working practice.

Wallpaper*: Describe your style of work and process.
Norman Wilcox-Geissen: Calm, simple, measured and sometimes poetic. I try not to get too bogged down in style as it feels less important to me than a particular voice or tone. Variety is important to me and I like to attempt to embrace different processes, technologies and techniques. I am conscious of the apparatus and our relationship to the medium and its implications, and this is something I like to explore self-consciously. Similarly, I like the crossovers within the commissioned and the personal as they often bleed into and influence one another.

While I work with various formats, my preferred choice is large format which is a very static medium and requires time to consider and compose each aspect and element of the shot and its making. For me, it really reinforces the idea of making an image, as I like the sense of duration it instils within the still frame. I like that the medium or apparatus can have such an overriding emphasis on the different qualities of its output.
At the same time, I feel it's better not to obsess over technical aspects and details. I am conscious of the need to interrupt the methodical process with an element of chance, so as to be able to see the whole again from afar. I like employing contrast, such as tones, textures, tactile qualities, synthetic and natural, high and low, far and close – and I think these all play out well within the frame of the photograph, enriching the image and its position within a series.
I recently started a creative partnership with my partner that involves photography, creative direction and graphic design and a large part of this practice is research, which means continuously looking at images.
W*: Who or what made you want to be a photographer?
NW-G: Cinema – it was my initial and very brief pursuit before turning to study photography as an intended precursor to cinematography. My attraction was to the capacity of both mediums to lift up and monumentalise fleeting moments within the everyday. This is similar to what I love about surrealism and its off-shoots in their excavation of the relationship between image (imagination) and world – specifically, the infinite potential for the eruption of possibility within the narrative of progressive time.
Other influences include: Richard Prince for his seductive obsession with the image and its embodiment of our subjective and collective consciousnesses and the blurring of the two; Hans Peter Feldman and Fischli/Weiss for their special take on the serial nature of photography as it exists in the world; Erwin Blumenfeld for the daring and childish fascination within his approach and his blending of commercial and fine art practices; and Irving Penn for the beautiful simplicity he employs in capturing a subject through the arrangement of its parts, uncomplicated and never forced.

W*: What's on your radar at the moment?
NW-G: I just came back from some time off in the Swedish countryside where I spent time reading Luigi Ghirri's The Complete Essays 1973-1991 and watching films by Agnes Varda. §

See more from the Wallpaper* October 2018 Guest Editors' issue
INFORMATION
For more infomation visit the Norman Wilcox-Geissen website
Receive our daily digest of inspiration, escapism and design stories from around the world direct to your inbox
Harriet Lloyd-Smith is the Arts Editor of Wallpaper*, responsible for the art pages across digital and print, including profiles, exhibition reviews, and contemporary art collaborations. She started at Wallpaper* in 2017 and has written for leading contemporary art publications, auction houses and arts charities, and lectured on review writing and art journalism. When she's not writing about art, she's making her own.