Photographer Mahmoud Mfinanga: 'eBay is still one of the purest places on the internet'
'Through the lens' is our monthly series that spotlights photographers who are Wallpaper* contributors. Here we explore the vision of Mahmoud 'Mo' Mfinanga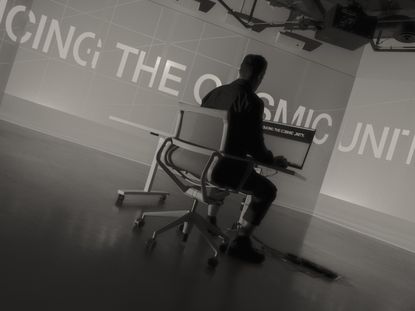 (Image credit: PHOTOGRAPHY: MAHMOUD MFINANGA)
Mahmoud 'Mo' Mfinanga is a multidisciplinary artist born in Detroit, and now based in Brooklyn. Notably, he founded Emmazed, a platform for community-driven projects designed to empower artists and encourage transparency. For our June 2022 issue, he took us on an enigmatic visual tour of The Serena Williams Building, the latest addition to Nike's world HQ in Oregon.
Here Mfinanga talks about abstraction, influences, architecture and eBay.
Wallpaper*: Describe your style and process
Mahmoud Mfinanga: My style carries an abstract lensing on materials and textures. There's not a dominant presence of people in the photographic part of my practice since so much of the work I do through my platform, Emmazed, focuses on people. So with my photography, at least right now, I approach it as a form of transcribing how I interpret objects and spaces and the emotional volume they hold. A lot of my influences come from improvisational domains like jazz, where there's a sustained dialogue with room for urgency and calmness to crash. So I'd hope, visually, that my process of working fuses influences like that within the limits of photographic instruments. Though I've practised as a photographer for nearly ten years now, I still treat my relationship with [photography] as a student, so as much as I can say what my style or process is or was, it's not exactly fully realised yet, but maybe that's always going to be the case – the pursuit of a defined style and process.
W*: How did you approach our June 2022 issue story on the new Serena Williams Building at Nike HQ?
MM: My interest in architecture precedes my photographic practice. So the study, the awareness of a building's range of utility and spirit was something I wanted to respect in this story. After getting glimpses of what the building looked like, and the fact that it was just over a million square feet, I knew I wasn't going to be able to fully give service to how massive it was, but maybe I could lens enough parts of the space that holistically communicate its visual language. It's sort of how I lens cars at times, where different parts of a car become a series of vignettes that flatten any spatial hierarchy.
W*: What's the most interesting thing happening in photography right now?
MM: 'Most' is a tricky, absolute word, but one of the interesting things I've noticed [about photography] as a medium is that it's flattening so many oppressive mechanisms of communication. As a practice, it's going through a sort of cultural puberty or negotiation. It's a young artistic medium compared to others, and I think there are a lot of ways people are crossing out archaic rules and writing new ones, but we're in an intermission of thought and action, respectfully. It'll be interesting to see what type of forest will come about from the seeds so many practitioners are planting and have planted. It's one of the many interesting things that's happening right now in photography, this dance of patience and praxis. But there's a lack of harmony in our praxis which concerns me. Maybe we can attribute this absence of harmony to a lack of principles that many aren't privileged or empowered to carry, because the reality is that, collectively, we're still thinking and acting vertically instead of horizontally.
RELATED STORY
Photography, as a practice, is flirting with what types of liberation could look like in a variety of 'cities', but we don't have enough systems to support practitioners who have the 'mayoral' capacity to change the fabric of this young practice yet. So the possibility, the journey, of doing it interests me a lot, but it would be naive to say that we've seen radical change during the pandemic – but hopefully soon in the next decade.
W*: What's on your radar?
MM: I think what I've been interested in is decentralising my anthropological curiosity towards photography and placing it on other domains like music, whether that be modal jazz or Detroit techno, social rights, architecture, and the likes. But to keep it real with you, one of the most exciting things on my radar is my eBay watchlist. eBay, thankfully, is still one of the purest places on the internet and I spend hours some nights sucked into looking at vintage lamps, lighters, flatware, books, etc. God bless that place.
W*: What's next for you this year?
MM: I've really valued the power of solace and the space it allows me to rekindle and realise what my desires in life are; what fulfils me and what doesn't. I think not only for this year, but for every year ahead [I will] look for fragments of peace that can collectively allow for mechanisms that let me, those I appreciate and respect, heal from as many adverse situations in our practices and life. Because what affects me, to an extent, also affects my friends and contemporaries, respectfully.
I'm carefully working on the direction I'm going to take Emmazed next as it has reached this intersection of curiosities I'd like to materialise. But until then, I'm staying low and being more intentional about what and who I align with. I've been very thankful to share space(s) with people I admire already, so I'm in no rush right now to meet other people, to find new neighbourhoods, since I've sped through so many parts of my life already with little time given for myself. So again, this year, and the subsequent ones, are about preserving my energy for the projects that won't be seen for another one, five or 15 years; the projects that require patience and living to be produced gracefully.
INFORMATION
momfinanga.com (opens in new tab)
Sophie is currently Photography Editor at Wallpaper*. Sophie joined the team following the completion of her photography degree in 2018, and works with Photography Director Holly Hay, where she shoots, commissions, produces, and writes on photography. Alongside this, she continues her art practice as a photographer, for which she was recently nominated for the Foam Paul Huf Award. And in recognition of her work to date, Sophie was nominated by the British Journal of Photography for the Futures photography platform in 2021.
With contributions from