Thomas Struth on the day he photographed the Queen and Prince Philip: 'It was an experiment'
To mark the Queen's Platinum Jubilee, German artist Thomas Struth looks back on the moment he created a portrait of Queen Elizabeth II and Prince Philip: 'It's an exotic part of my oeuvre because of who they are'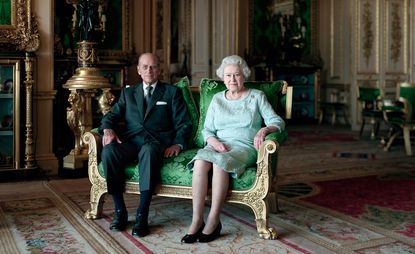 (Image credit: PHOTOGRAPHY: THOMAS STRUTH)
Queen Elizabeth II: there is hardly a more extensive legacy or recognisable face.
Speaking of crowns to bear, they don't tend to come with more gravity than capturing the essence of such a figure through photography; a task as formidable as it is career-defining. Few have been given the opportunity over her 70-year reign; even fewer have risen to the occasion with a portrait that holds longevity in the public imagination.
One such rarity is German artist Thomas Struth, who, in 2011, was commissioned to photograph a joint portrait of Queen Elizabeth II and Prince Philip, Duke of Edinburgh, for an exhibition marking the Queen's Diamond Jubilee. Struth's photograph would be the final portrait.
So far, so conventional. But one thing to note about this scenario is that Thomas Struth is not really a portrait artist. He's known for epic, genre-bending, meticulously executed photographs spanning science, nature and family; city streets, people in churches, people gazing at paintings in museums, industrial landscapes, factories, laboratories, rain forests, and family portraits. 'They wanted to commission a new portrait and thought I was the best candidate, which made me laugh because I don't make portraits of famous people! It was sort of an odd choice.'
It was, and it wasn't. Struth has taken photographs of people before, most notably for his acclaimed Family Portraits series. But these stretch beyond photographs of people; they are depictions of the psychological dynamics between family members, often in their homes; intimate, private moments rendered in forensic precision.
Three days after receiving the call from Paul Moorhouse (senior curator at the National Portrait Gallery), Struth decided to accept the commission. 'It was such an interesting choice to ask me I couldn't say no. It was an experiment.'
Struth had some conditions for the sitting: he needed an hour, and wanted to choose the location and the Queen's dress. 'They suggested Buckingham Palace so we went to look at the rooms available and found it was not a good place,' he recalls. 'There were hundreds of tourists outside; it was too nervous in a way. For them [the Queen and Prince Philip] it was normal, but it just wasn't right.' Fortunately, Windsor Castle proved more suitable, and Struth selected the Green Drawing Room ('green is a complémentaire colour').
For the dress, Struth liaised with the Queen's senior dresser (

Angela Kelly) and selected a subdued blue option. 'She likes these very bright, highly saturated colours. If it's bright yellow, red, or pink, the whole body becomes one graphic form, and I thought it needed some structure,' he says. 'She was wearing it when she came in and I thought bingo! That's perfect. It didn't make her body look like a puzzle shape, or flat.'
RELATED STORY
To prepare for the portrait, Struth read a biography of the Queen – focusing particularly on her younger years – to 'understand more about who she is and what it is about the sense of duty'. He also spent many hours in the National Portrait Gallery with existing portraits 'to see what I did not want to do'.
'In most portraits, The Queen and Prince Philip didn't really appear as people, but in their role. I didn't want to deny it [their role], but I wasn't going to ask them to go into the kitchen or somewhere where they normally wouldn't be, I thought that would be fake.' Struth approached the portrait of the Queen and Prince Philip as he would any other. 'I want people to be surrounded by what belongs to them, and their usual environment, and be as present psychologically as they can be.'
In a 2017 retrospective exhibition at Haus der Kunst in Munich, Struth exhibited the piece alongside others from his Family Portraits series. He has received portrait requests off the back of the now-iconic portrait, but he's turned them down. 'It's an exotic part of my oeuvre because of who they are. I don't regret doing it, but many other pictures are much more important for me as an artist.'
'Many people who have formed an opinion about the piece have not seen the photograph in its real size, which makes a big difference,' Struth shot the work on an 8x10, large-format camera, to create a work that measures an imposing 64x81in. 'It's a big print and it's very sharp and immediate. He [Prince Philip] definitely has an eagle eye in it, and she looks rather friendly somehow, even though she isn't smiling, she looks a bit curious.'
Although Struth has never found out what the Queen makes of his shot, he did receive some feedback from the Duke of Edinburgh. 'Paul Moorhouse told me that after he gave it to Prince Philip in Edinburgh, he said he found it "arresting" and [asked] "how did he do that?", which was rather a big compliment!' recalls Struth.
In Prince Philip, Duke of Edinburgh and Queen Elizabeth II, Struth captures a modern monarch and her prince, leading an evolving monarchy. But this is a portrait that goes far beyond roles, royalty and duty to present something far more captivating: humanity. 'I don't know what I hoped for,' he says. 'This is the Queen of England and Prince Philip, but they're also two human beings and I'm just a curious historian and artist.'
INFORMATION
mariangoodman.com/artists/64-thomas-struth (opens in new tab)