Thomas Struth on four decades of art: 'I know more, I see more, and I suffer more'
German artist Thomas Struth has looked deeply and widely into the relationship between people and their environment. With concurrent exhibitions in New York and Berlin, the artist tells us about his fusion of science, nature and family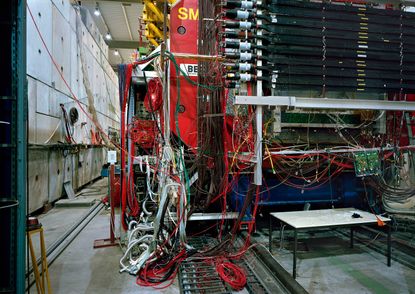 (Image credit: Thomas Struth)
Growing up in postwar Germany in the aftermath of the Holocaust, with a father who had been a soldier in Hitler's army, it's perhaps no surprise that for artist Thomas Struth 'the existential questions were very close'. As a young man, Struth turned to family photo albums in search of the truth. 'I was looking for answers, beyond what the older generation would tell us.'
Struth initially studied painting under Gerhard Richter at the Düsseldorf Academy of Fine Arts but switched to photography in 1976. He became part of the first cohort of artists trained by Bernd and Hilla Becher, the husband-and-wife duo who pioneered a vision of industrial architecture and influenced an entirely new movement in photography.
Struth's own work has evolved considerably in its own right since – but he has stuck solidly to three monumental themes: science, nature and family. All three are present in the artist's 16th solo exhibition with Marian Goodman Gallery, currently showing in New York, a series of new works, spectacular in scale and exquisite in detail.
There are huge landscape photographs, waxed inkjet prints, taken near Struth's country house, for example, where he spent eight months with his wife and son during the pandemic. Schlichter Weg, Feldberger Seenlandschaft, 2021, is perhaps the centrepiece of this body of work: an emotive two-by-four-metre scene of snow-covered shrubbery and tangles of branches. Like many other images by Struth, it is desolate and destitute yet somehow hinting at hope. 'I walked along that road to the forest near our country house very often. On a very cold day I was on a walk, saw this location and I made some tests with my phone – and that became my Covid picture. It's very dramatic, very still, the bushes are collapsing but at the same time trees are reaching up to the sky. It's like a battle scene. It expresses what I was feeling during the pandemic.'
Also showing in New York are what may be the last pictures in Struth's 12-year investigation into technology, taken during four visits to CERN (the European Organisation for Nuclear Research) between 2019 and 2021. Just as his best-known series, the Museum Photographs, ended with pictures of crowds at the Prado, Struth's photographs of CERN, the largest scientific research centre of its kind in the world, might be the perfect culmination for the technology series, documenting retired detectors and X-ray telescopes that bear witness to the human quest for knowledge and the desire to analyse, categorise and control – qualities that share an affinity with the pursuit of photography.
Family Portraits – featuring Struth's only figurative pictures – is a series ongoing since the 1980s. It first evolved from a collaboration with a psychoanalyst he met who used family photographs to explore the psyche of his clients – photographs as expressions of how family life was. Concurrent to the New York show, Struth is also exhibiting new Family Portraits and photographs taken at CERN across two spaces of Galerie Max Hetzler, Berlin.
Over the years, Struth has developed a few simple rules for portraits – the subjects are photographed in their own homes, and Struth sets the frame, with minimal background details – not too much to distract from the gazes. The subjects are then told to pose as they want. 'When you don't act, when you do nothing, thoughts and feelings come and go, and you're in this constant flow which you then can observe. That moment interests me,' he says. In the latest pictures are people very close to the artist – his neighbours of 13 years, old friends, and his brother and his family. They are simultaneously intensely intimate and distant from the viewer – asking the audience, perhaps, to reflect on their own family rather than inviting them to know the subjects in front of them. 'I think I've always wanted to do work that is universal and not connected to time, aside from the fact it's a photograph – I am most interested in making exemplary images,' Struth says. These are, in a way, portraits of portraits, rather than depictions that try to capture some truth about the subjects.
This is perhaps the thread that connects all three of Struth's distinct bodies of work – a fascination with time and photography's particular relationship with it: 'Photography arrests and elongates something that is immediately past,' he reflects. 'My motivation has to do with the question, how do we live with history?' There is little in the pictures to reveal when and where they were taken – but as you stand in front of them, there is a sense of time sifting, fragile and transient.
So what has photography taught Struth, now 67, over these four decades?
'I know more, I see more, and I suffer more,' he reveals, 'but I also value and enjoy the people I love even more, and appreciate every instance of positive action, every opportunity for an embrace and expression of love.'
INFORMATION
Thomas Struth's solo exhibition is at Marian Goodman Gallery, New York until 23 April 2022. mariangoodman.com (opens in new tab)
Charlotte Jansen is a journalist and the author of two books on photography, Girl on Girl (2017) and Photography Now (2021). She is commissioning editor at Elephant magazine and has written on contemporary art and culture for The Guardian, the Financial Times, ELLE, the British Journal of Photography, Frieze and Artsy. Jansen is also presenter of Dior Talks podcast series, The Female Gaze.
With contributions from