Daragh Soden: 'I may be gagged, bound and naked under the heel of a queen, but I am in control of the image'
Photographer Daragh Soden discusses his compelling series Ladies & Gentlemen, now on show at PhotoIreland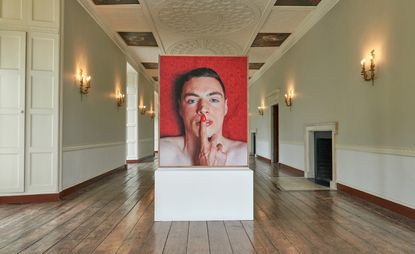 (Image credit: Daragh Soden / Installation image: PhotoIreland 2022)
Irish-born Daragh Soden's practice spans fashion photography, fine art, moving image, prose and poetry, often drawing on universal themes through a personal lens. In recent years, the Paris-based artist has exhibited throughout the UK, France and Ireland; been awarded the Grand Prix du Jury at the prestigious Hyères Fashion and Photography Festival; and had his Looking for Love series commissioned by The Photographers' Gallery. His powerful series Ladies & Gentlemen is currently on view at PhotoIreland festival (until 8 August 2022). The project explores how, in the complex and sometimes contradictory world of drag performances, binary gender roles can be both subverted and affirmed. As he says, 'despite its sometimes superficial and flamboyant appearance, drag has a history as a deeply personal and political act'.
Wallpaper*: Where did the inspiration for Ladies & Gentlemen begin?
Daragh Soden: Ladies & Gentlemen began a number of years ago when I was trying to express something, but I had trouble finding the words to do so. I found myself drawn to drag artists, whom I would see in queer clubs, for how they express themselves visually. My initial approach was to make portrait photographs in a traditional way, but very quickly found the results drifting towards exotic cliches.
So instead of hiding behind the lens, I decided to play out my role in front of the camera, addressing the sometimes awkward relationship between the author and the subject. Like the individuals in drag, I both subvert and confirm the roles expected of me. Whether as an admirer, collaborator, narcissist or voyeur, I explore different dynamics with each sitting, ranging from alpha-male dominance to passive servitude.
W* What questions are you asking with this series?
DS: Just as the drag artists were questioning traditional gender roles, I set out to question myself. As a queer person, I could relate to the subjects, however, there always remained a 'distance' between subject and photographer. Paradoxical elements of the work are hinted at throughout. I may be gagged, bound and naked under the heel of a queen, but I am in complete control of the image. Confronting and provoking the viewer with my gaze, questions about the picture-making process are posed. The idea of the photograph as a kind of mirror of the world and the idea of the mirror as an object of self-knowledge are played upon. The subjects may even stand behind the camera, seen through their reflections, while the photographer sits awkwardly in front of the lens.
W*: Why is important to exhibit the series in this way?
DS: It was very important for me to exhibit this work as a series of individual large format prints because each image tells a story. When PhotoIreland approached me about exhibiting Ladies & Gentlemen, they very kindly offered the opportunity to install the work in Rathfarnham Castle in Dublin, a protected building dating back to the Elizabethan period.
The stunning interiors of the castle provided a timeless context for the works, which were positioned in a way in which the viewer could look at just one image at a time. The exhibition plan also allowed time and space for viewers to reflect while walking through the different rooms of the castle.
W*: Photographer-subject relationships can be complex. How did this develop with your subjects/collaborators?
DS: Each image began life as an idea in my mind, which I would then try to sketch on paper to explore a certain dynamic. I would then approach a potential collaborator with an idea.
The people I worked with were very interested in the ideas and at times provided invaluable insight. Because there are no clear messages throughout the series, but rather a set of ideas to be questioned, the extent of the collaboration between subject and photographer is not always apparent.
The power relations inherent in the act of photography are disrupted and dismantled. In one image the subject holds authority through the shutter release. It is left to the viewer to decide who is the author and who is the subject of the work.
W*: What are you up to next?
DS: At the moment, I am busy with fashion and commercial work. At times it can be both exciting and creatively satisfying to work within the boundaries of different briefs. My personal work allows me the complete creative freedom to express myself, so a balance between commissioned work and self-initiated projects keeps me on an even keel.
As for Ladies & Gentlemen, there are a few possibilities for the works to travel for further exhibitions and there are also a number of images yet to be revealed. This body of work has been in the making for over six years, so I see it as a kind of long-term relationship that I hope will continue to grow and flourish.
INFORMATION
Ladies & Gentlemen is on view at PhotoIreland festival (until 8 August 2022), festival.photoireland.org (opens in new tab)
daraghsoden.com (opens in new tab)
Sophie is currently Photography Editor at Wallpaper*. Sophie joined the team following the completion of her photography degree in 2018, and works with Photography Director Holly Hay, where she shoots, commissions, produces, and writes on photography. Alongside this, she continues her art practice as a photographer, for which she was recently nominated for the Foam Paul Huf Award. And in recognition of her work to date, Sophie was nominated by the British Journal of Photography for the Futures photography platform in 2021.
With contributions from