Wolfgang Tillmans on shaping photography as we know it: 'I want to lay reality bare'
As Wolfgang Tillmans' retrospective 'To Look Without Fear' opens at MoMA, we interview the acclaimed photographer about 35 years of activism, breaking conventions and capturing 'the weight of existence' through the everyday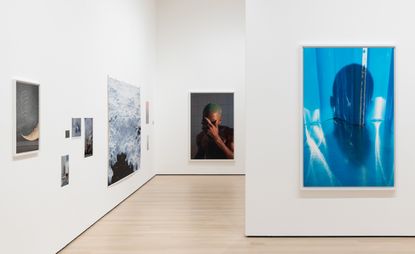 (Image credit: Emile Askey)
Wolfgang Tillmans has shaped the world of photography as we know it. Over a prolific, 35-year career, the German photographer has infused an unvarnished intimacy and a playful sense of observation into his images. Today, his fascination with the everyday is emulated in so much of the imagery that envelopes us. The full extent of his wide-reaching influence is palpable when walking through his first major survey in New York, now taking over the entire sixth floor of the Museum of Modern Art. Titled 'To Look Without Fear', the stunning retrospective brings together approximately 350 photography, video and multimedia works, displayed in a loose chronology for the first time.
Curated by Roxana Marcoci, MoMA's senior curator of photography, the exhibition is a profound and emotional look back on Tillmans' career. Spread over 11 galleries, it charts the artist's depictions of identity, sexuality and gender, his political and social engagement and activism, his fascination with astronomy, science and technological advancement, as well as his passion for music, instrumentation and composition. An accompanying catalogue and a separate tome of interviews and writings, titled A Reader, complete this deep dive into Tillmans' multifaceted practice.
A culmination of eight years of work – including five devoted to shaping the show and over a year-long delay due to Covid-19 – 'To Look Without Fear' is intricate and multilayered. It begins in 1986 with early abstract experiments with a photocopier, including Tillmans' first self-portrait, and soon gives way to images chronicling the development of his non-confrontational style, representing sexuality and gender in the mid-1990s. Among the notable bodies of work are his odes to club culture, as seen in Chemistry Squares (1992) a series of intimate close-ups taken on a single night at the weekly Chemistry party at London's Soundshaft nightclub. Elsewhere, the artist's obsession with Concorde is captured in a wall grid of 56 photographs from 1997, documenting the plane's take-offs and landings. There is a beautiful tension in directing attention to the mundane – instead of elevating it, Tillmans recognises it for what it is.
'That insistence on being honest was at the core of what I wanted to convey in the early 1990s,' Tillmans says, a week before the opening. 'To take an honest look at life and to take me and my generation seriously, not to look at us as a passing phase or as crazy young people, but to look at the seriousness of life, which now I say without fear. I felt all the joy and exuberance of partying, but I also felt the weight of existence. It's hard to be alive and hard to bear that hardship. I guess that's what sets [those pictures] apart. It's not something one can claim, because it can't be faked. I want to lay reality bare. Somehow, the pictures show reality and life in its complexity and its beauty, but it's also not embellished.'
This authenticity is especially pronounced in the way Tillmans has configured the exhibition, which he personally installed over 16 days with his studio team. In defiance of institutional conventions, the work oscillates between being taped, hung with bulldog clips and mounted in frames on the walls. There are also magazine pages and the artist's collections of newspaper clippings that have been printed and exhibited with equal reverence. The scales and formats at which images have been printed and displayed are also specifically designed for MoMA, reflecting Tillmans' push for creating a visual democracy. By ignoring institutional norms and signals, the installation reassigns values to the works on view.
'I like the viewer to attribute value [to images in] the way they see things themselves, and not to guide them by a system [like] the biggest picture is the most important and the smaller ones are some flotsam or side dish,' he says, while explaining how a small picture of a Shaker building in Maine (Shaker Rainbow, 1998) was actually presented as a 12-foot-tall print in another major museum exhibition. 'It's really a question of play; I wanted to retain a playfulness in the process of making this exhibition because that element has also led to other exhibitions which people loved, and only because I did those exhibitions, did I end up at MoMA. Not being burdened by the exceptionality of the setting was important.'
He adds, 'When discussions first started, MoMA was still holding two concurrent exhibitions on the sixth floor. In 2019, that policy changed with the opening of the new building [by Diller Scofidio + Renfro], and since then they have occasionally opened solo shows on the entire floor. I feel incredibly lucky that I was taken forward as the first exhibition to reopen the sixth floor, [which] had been shut since the Donald Judd exhibition [in 2020].'
'Now that I look at 35 years of work, it's become justifiable for me to actually order it chronologically, which I normally don't do in exhibitions,' he continues. 'A large part of the audience will not have been old enough, or even born, to have seen my exhibitions in the 1990s, so I wanted to give people this experience to see the work in the context of its own time, and to revisit its relevance.'
With so much of Tillmans' past and present work focused on forging togetherness and human connections, there's an added poignancy that comes with the retrospective opening after people have endured prolonged periods of isolation. The first rooms of the show and being met by a plethora of candid portraits and documentary images depicting youth subcultures, fashion and music from the late 1980s and early 1990s, revives the original subject matter with a deeper resonance, simply by capturing what we have been recently deprived of – revelry, spontaneity, physical contact.
'The friendliness of people going out and sharing a safe space in a club is something quite spiritual,' Tillmans reflects. 'I've often felt that a loving club moment is not so dissimilar [to a spiritual experience] because there's a sense of solidarity, which is the only thing we have. The word sounds kind of socialist, but solidarity is actually only putting yourself in the shoes or in the mind of someone else.'
Empathy is a grounding element in the artist's work, even beyond Tillmans' portraiture. His 'Silver' works from the 2000s, where photographic paper is fed through a developer that has purposefully not been cleaned, capture unpredictable chemical reactions, encounters and reflections, which are then enlarged, prompting introspective contemplations about existence and humanity. There are also new additions to Truth Study Center (2005-present), which features collections of photocopied news articles, printed online stories, photographs and other ephemera that mingle together collage-style on architectural display tables, and continue the artist's interrogations of what we think of as truth.
The survey also notably includes Tillmans' first ever listening room, where his inaugural full-length album, Moon in Earthlight, primarily made during the pandemic, makes its debut. Each of the album's 19 tracks is accompanied by a video work, ranging from footage of hermit crabs on the beach to strips of paper arranged on the bed of a photocopier, creating a full, sensorial experience that digs into the interpersonal, while articulating both the strength and fragility of relationships.
'Wolfgang's interest in new forms of technology comes from his very early engagement with astronomy and his passion for understanding his own position [in] on a larger planetary context,' says exhibition curator Roxana Marcoci. 'You can truly appreciate how his work crosses genres and is about the intersections between nightlife and portraiture, cameraless abstractions and documents of the social.
Regardless of format or medium, Tillmans continues to bring authenticity and sincerity to his images, which is especially potent in an era where there is a camera in almost everyone's hand.
'As I look through the [MoMA] show, I can really say why something is where it is and what it signifies in this ongoing consideration of thinking [about] what pictures mean today, and what making pictures mean. When I started, I had no idea that photography would be so at the core of everyday life, and [that] the work [would] still have its own territory,' he reflects. 'I've always felt that I want my photographs to look like what it feels like to look through my eyes.'
INFORMATION
'To Look Without Fear' is on view at the Museum of Modern Art, New York from 12 September –1 January 2023, moma.org (opens in new tab); tillmans.co.uk (opens in new tab)
Pei-Ru Keh is the US Editor at Wallpaper*. Born and raised in Singapore, she has been a New Yorker since 2013. Pei-Ru has held various titles at Wallpaper* since she joined in 2007. She currently reports on design, art, architecture, fashion, beauty and lifestyle happenings in the United States, both in print and digitally. Pei-Ru has taken a key role in championing diversity and representation within Wallpaper's content pillars and actively seeks out stories that reflect a wide range of perspectives. She lives in Brooklyn with her husband and two children, and is currently learning how to drive.