As Frieze Los Angeles 2023 opens, here's your ultimate guide to the fair and shows around the city
As Frieze LA 2023 opens for preview day (16 – 19 February 2023), we spotlight the 11 most exciting shows to see under the California sun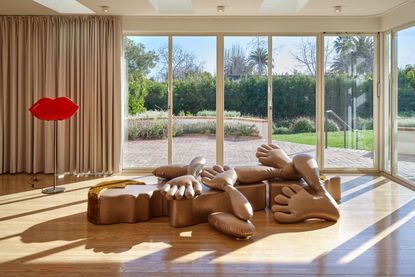 (Image credit: Photo by Paul Salveson. Courtesy of Frieze; Nicola L. Collection and Archive; and Alison Jacques, London)
When it comes to this year's art festivities, few are doing it quite like Frieze Los Angeles 2023. This week, the art world glitterati have flocked to the city for a mega-moment on the art calendar; it's all systems go for Frieze Week (16–19 February 2023)
Continuing the city's art gold rush, a host of major galleries and auction houses have recently, or will soon open new outposts, including Philips, David Zwirner, Lisson, and Karma. Four art fairs will run concurrently in February during what is now dubbed Frieze Week Los Angeles. They include the headliner Frieze Los Angeles, Felix LA, Spring/Break Art Show LA and newcomer Photo Forward Los Angeles.
It's time to dig out your most extravagant garb, brush up on your art-themed anecdotes, and gear up for the most thrilling week on the LA art calendar. To sufficiently prepare, we would suggest taking the art fair personality test to work out what type of fairgoer you are.
There's a lot to see, so we've whittled down a selection of 11 LA art exhibitions we're most excited about during Frieze Los Angeles 2023.
What to see during Frieze Los Angeles 2023
1. Frieze Los Angeles 2023: the fair
The Frieze Los Angeles 2023 fair is the series' biggest show in LA to date and sees a return to pre-pandemic capacity, with the new location of Santa Monica Airport cementing the fair's ever-expanding might. Some 120 galleries representing 22 countries will take over the airport's Barker Hangar, a separate exhibition tent, and the outdoor space surrounding the airfield. The 2023 fair will offer a newly expanded Focus section (for galleries aged 12 years and younger), welcoming artists from across the US. As Christine Messineo, Frieze's fair director, Americas, stated: 'In 2023, we will also push beyond the borders of the fair and encourage our visitors to explore everything LA's West Side has to offer, from major institutions to smaller spaces that form the fabric of the city's art community.'
2. Refik Anadol: Living Paintings
14 February – 8 April 8 2023
Jeffrey Deitch
If you're connected to the art world and have an Instagram account, it would be rare for you to have avoided the mesmerising, AI-driven work of Turkish artist Refik Anadol. For his upcoming show at Jeffrey Deitch, 'Living Paintings' (his first in LA and coinciding with Frieze Los Angeles 2023), the artist will showcase the artist's California-related datasets that blend urban life, nature and futuristic reflections on effective collaborations between humans and machines.
3. Anne Imhof: 'EMO'
15 February – 6 May 2023
Sprüth Magers LA
After she gripped the Venice Biennale with a divisive yet Golden Lion-winning German Pavilion in 2017; Paris with her Palais de Tokyo Carte Blanche in 2021; and most recently, London, with her psychological thriller 'Avatar II', German artist Anne Imhof is about to offer similar treatment to visitors during Frieze Los Angeles 2023. 'EMO' is the artist's first LA show, and largest in the US to date, combining media-spanning work with industrial found objects to probe the dark underbelly of contemporary culture to disorientating effect.
4. George Condo: 'People Are Strange'
Hauser & Wirth, Santa Monica Boulevard
15 Feb – 22 Apr 2023
The title of George Condo's show at Hauser & Wirth 'People Are Strange' on during Frieze Los Angeles 2023 is taken from the hit 1967 song of the same name by Los Angeles band The Doors. It's a fitting summary of a show that draws on the seductive incongruities of Los Angeles society and demonstrates Condo's deft and distinctive approach to figurative painting and sculpture in which bulgy-eyed, contorted-limbed characters are at once monstrous, whimsical and psychologically searing. Condo's is the inaugural show at Hauser & Wirth's second LA space, located on Santa Monica Boulevard in West Hollywood.
5. Christine Sun Kim: Bounce Back
ICA LA
11 February – 10 September 2023
Berlin-based American artist Christine Sun Kim will soon adorn the façade of the ICA in a new large-scale mural that engages with the limits and possibilities of language (spoken, signed, or scripted). Bounce Back (2022) takes debt as its subject, signed in American Sign Language (ASL) by one index finger tapping the open palm of the other. The piece explores how one sign can carry a number of nuanced meanings in ASL, as well as layered issues of systemic inequity and the experience of those in debt.
6. Simone Forti
MoCA
15 January – 2 April 2023
Surveying six decades of the American-Italian artist's work, Simone Forti is the first exhibition on the West Coast to explore the monumental career of an artist known for reframing the dialogue between visual art and contemporary dance. The show includes works on paper, videos, holograms, and performance ephemera and documentation, and will be punctuated by weekly performances of her Dance Constructions, featuring a cast of Los Angeles-based artists and creatives.
7. 'William Kentridge: 'In Praise of Shadows'
12 November – 9 April 2023
The Broad
William Kentridge is South Africa's most influential contemporary artist, creating compelling work that holds a mirror to the limits of human intervention in society, not just in South Africa but worldwide. 'In Praise of Shadows', spans 35 years of Kentridge's practice, featuring more than 130 works in an engaging and interactive design by Belgian designer Sabine Theunissen. The show is the latest in a series of major moments for the artist globally, which included an acclaimed show at London's Royal Academy of Arts.
8. Nadia Yaron: 'For the flowers and the clouds and the wind and the trees'
Francis Gallery
Until 25 March
Nadia Yaron's show at the newly-opened Francis Gallery is an ode to the natural world. The artist, who works from a 19th-century barn in Hudson, NY drew directly on her surroundings for 32 sculptures in wood, stone and metal. 'I work mostly outside from spring to autumn and am immersed in nature. This show is a tribute, a way to say thank you to these elements for their beauty and wisdom and all the joy they bring to our lives,' she says.
9. 'Cine São José', by Estúdio Campana
Friedman Benda
15 February – 15 April 2023
As the design community continues to reflect on the life, work and contributions of Fernando Campana, who died in November 2022, a show at Friedman Benda to coincide with Frieze Los Angeles will honour Estúdio Campana's monumental impact on 21st-century culture. 'Cine São José', which Deyan Sudjic describes as a 'recalibration' of objects in contemporary design will highlight key moments from the first 15 years of the studio's existence and present a selection of new works.
10. Zora J Murff: 'We Here For Some Jive Conspiracy'
Webber Gallery
18 February - 31 March 2023
Webber's inaugural Los Angeles exhibition, 'We Here For Some Jive Conspiracy' by Zora J Murff is a continuation of the American artist's exploration of America's labyrinthine racial complexities. This time Murff homes in on Los Angeles, with an amalgamation of mixed media approaches. As Murrff turns our attention towards OJ Simpson, Kanye West and Bobby Seale, parallels and contrasts are drawn between police violence, celebrity and protest, oppression and resilience. On the walls of the show, visitors will read the artist's powerful words, 'We have the power to transcend divisions and to free Ourselves and others, but liberation necessitates action over sentiment. What can you find here past cultural entertainment? What messages do you take from what you see? This is a confrontation.'
Writer: Sophie Gladstone
11: Frieze Projects: 'Against the Edge'
'Against the Edge' is a five-part constellation of shows that have popped up in culturally significant sites across LA and imagine new dialogues between site and artist, history and fiction. Taking its name from an interview in The Idea of the West, a book by Fritz Haeg and Doug Aitken in Aitken's book, the project has been curated by Jay Ezra Nayssan and Del Vaz Projects. The five locations are the Santa Monica Pier, Thomas Mann House, Beyond Baroque, Villa Aurora, and Del Vaz Projects.
Frieze Los Angeles 2023 runs from 16-19 February 2023 at Santa Monica Airport, Los Angeles. frieze.com (opens in new tab)
Harriet Lloyd-Smith is the Arts Editor of Wallpaper*, responsible for the art pages across digital and print, including profiles, exhibition reviews, and contemporary art collaborations. She started at Wallpaper* in 2017 and has written for leading contemporary art publications, auction houses and arts charities, and lectured on review writing and art journalism. When she's not writing about art, she's making her own.