At home with George Condo
In our profile series, we find out what artists are making, what's making them tick, and the moments that made them. To mark his new show 'Ideals of the Unfound Truth' at Hauser & Wirth London, we revisit our 2020 interview with American artist George Condo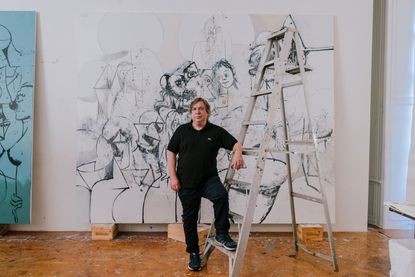 (Image credit: Jake Naughton)
Since surfacing on the East Village art scene in the early 1980s, George Condo's career has never been short of attention. He worked in Andy Warhol's 'Factory', designed an album cover for Kanye West and invented his own visual language, 'Artificial Realism'. He introduced a new mode of figurative painting to the world: bulgy-eyed, contorted-limbed characters that are at once monstrous, poignant and psychologically searing.

Coinciding with Frieze Week 2021, Condo will open 'Ideals of the Unfound Truth' at Hauser & Wirth London. In new paintings and drawings, the artist layers faces on faces, creating weblike portraits in fractured psyches.
Condo simultaneously riffs on art historical motifs and deploys his inventive visual language of impish characters, dislocated teeth, eyes and breasts and vibrant, deconstructed fragments of colour. In Shanghai, the artist is also staging a major 200-work retrospective at the Long Museum, curated by Massimiliano Gioni.

Here, we revisit an April 2020 interview with the artist covering Basquiat, boxing matches and his 'Drawings for Distanced Figures', created during the height of the Covid-19 pandemic.
Wallpaper*: Where are you as we speak?
George Condo: I am sitting in the kitchen with my laptop on the counter. I get better service in here. Out my window, there is a magnolia tree about to blossom. It's a very bright blue day, 10:50 am and I'm out on Long Island. I left New York City about four weeks ago, just to randomly take a break from work, and I'm sorry for what is happening there now but glad not to be in the midst of it.
W*: Looking back, how do you feel your work or approach to art has evolved since the 1980s?
GC: Well, my approach to art began a lot earlier than the 1980s to be honest. I really started when I was a child of about three years old and kept going ever since. In fact, many of the pictures I made in my teens, like in 1975, were shown in the museum exhibition 'The Way I Think' at the Phillips Collection in Washington DC and The Louisiana Museum of Modern Art in Denmark. And the Tate Modern acquired one from 1976. The reason I mention this is because in 1984 I did my first of a series of paintings I called the 'expanding canvases.' The MoMA has the first one, called Diaries of Milan. It's an all-over compositional approach similar to Pollock, but instead of gestures there is this microcosmic interconnection of thousands of actual things, like what you think you see when you look at a Pollock or at static on a television screen, but in my case, it's delineated. A stream of conscious type of painting basically unedited as I go through it. A bit influenced by Kerouac and the way he would just write a manuscript from start to finish.
W*: Which artists have had the biggest impact on you?
GC: I would say Kandinsky, Picasso, Caravaggio and then about a million others. The reason for the first three is that each of them created their own language which was somehow comprised of everything that came before them and took it to a new level. That's my intention as an artist.
W*: Which career moment will you never forget?
GC: When I first met Basquiat, because he was the first guy I met in New York that was an artist and he told me to move there. So I did in 1979, late December after Christmas, and I remember waking up on 1 January, 1980 and saying 'this is where I live, thank you Jean.'
RELATED STORY
W*: Can you tell us about how your classical music training might have informed the way you work?
GC: My interests in music ran parallel with painting for a while in my early teens. I started on classical guitar then. It was kind of a revival moment; musicians like Julian Bream were becoming quite popular. I listened to everything from Benjamin Britten's nocturnes to Luciano Berio's sequenzas. I found it so interrelated and challenging. There were pieces written for the guitar I liked, but mainly they were for the lute, by Dowland and Bach. I thought about learning the lute. It was very difficult music: Dowland's Forlorn Hope Fancy is so modern, with a very Anton Webern-like chordal thing at one point. Pedagogically, it was too difficult to play Bach fugues then turn my wrist to hold a pencil and draw. So I started to play the tenor viol, where lines were significantly reduced.
I've been together with violinist Leila Josefowicz for about two years and she only plays 20th century music. Contemporary composers have written masterpieces specifically for her: John Adams, Thomas Adès, Colin Matthews, and others. She would have performed a new piece by Helen Grime with the London Symphony Orchestra but all concerts are cancelled. Orchestral musicians are totally out of work and great pieces being written as we do this interview will have to wait for their premieres. My heart goes out to all of them. They make the world a sonic place.
W*: How are you adapting your way of working to the period of social distancing?
GC: I'm just doing my thing, getting through this without thinking too much about how horrible it all really is. I miss my friends, my kids, Leila, and regular life and I feel terrible for those who are suffering worldwide with the virus.
W*: Can you talk a little about the portraits for your new online exhibition 'Drawings For Distanced Figures' at Hauser & Wirth?
GC: They were part of my daily routine. To get up, have coffee and just draw. They are works related to a group of large paintings I'm currently working on. They represent the fear and sadness of the distancing we all have to be a part of.
W*: What's the most interesting thing you've read, watched or listened to in the last few weeks?
GC: The Lennox Lewis vs. Mike Tyson boxing match on YouTube, and lots of other boxing matches. The reason is simply visceral and the connection to boxing is because it's the way I want to paint. I'm also watching animal fights, like lions and hyenas. The faces are extraordinary.
W*: During the isolation period, have you developed any new interests?
GC: Well, I would say no, unfortunately. I'm too busy being a housekeeper. My big challenge is how to fix a broken doorknob.
INFORMATION
George Condo, 'Ideals of the Unfound Truth', 13 October - 23 December, Hauser & Wirth London. hauserwirth.com
Receive our daily digest of inspiration, escapism and design stories from around the world direct to your inbox
Harriet Lloyd-Smith was the Arts Editor of Wallpaper*, responsible for the art pages across digital and print, including profiles, exhibition reviews, and contemporary art collaborations. She started at Wallpaper* in 2017 and has written for leading contemporary art publications, auction houses and arts charities, and lectured on review writing and art journalism. When she's not writing about art, she's making her own.