Frieze celebrates 20 years of putting art lovers in the picture
Frieze London director Eva Langret looks back on 20 years of the pioneering art fair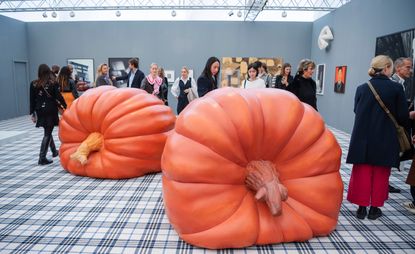 (Image credit: Linda Nylind, Dominick Tyler, Mark Blower, courtesy Frieze)
With Frieze London 2023 hitting town this week (11 – 15 October), we look back on 20 years of Frieze.
When Frieze magazine held its first art fair back in 2003, it solidified what had been happening on London's contemporary art scene for the last decade. The city was buzzing, attracting people from around the world, but until Frieze, there had been no single location to bring them all together.
After the arrival of the YBAs in the late 1980s, galleries like White Cube, Sadie Coles HQ and Victoria Miro were on the ascendency, but a central meeting point was needed that could match the verve of what was happening in the galleries. 'Right from the outset, it was about blurring boundaries and thinking about Frieze as not just a trade fair,' says Frieze London's director Eva Langret. 'It's also a commissioning outfit with the artists' projects, it's an educational platform with the talks programme, and it's a meeting place for the wider arts community.'
Since its inception, the fair has been innovating the experience through citywide collaborations and free public initiatives like Frieze Sculpture. And 20 years down the line, galleries still bring new ideas to Frieze before trying them elsewhere. Whether it's a colossal sale price, or the meticulous recreation of an iconic artist's studio, the fair has been grabbing column inches for two decades.
Eva Langret on 20 years of Frieze
In 2003, reading about the first edition from her parents' garden in France, Langret remembers wanting to attend. Having spent time as an Erasmus student in London, she had already tapped into the city's creative buzz. Two years later, she would be there.
'The first Frieze I went to was in 2005. That's the first year I came to London, and I remember that it was my boss from Brixton gallery 198 Contemporary Art & Learning who kindly paid for my ticket. I got dressed up to the nines and was completely overwhelmed by the sheer quantity of everything that there was to see and how global it was already.'
Like so many people who now work in the industry, she saw something that she wanted to, and could, participate in. The fair's founders, Amanda Sharp and Matthew Slotover, had filled a much-needed gap that pushed the art market forward. Frieze brought creativity and commerce closer together, blurring the lines between art and its buyers. This later evolved into also offering live music and talks, as well as events that spilled out into other parts of the city.
'I think that's what put Frieze on that trajectory and set us apart,' says Langret. 'It was the vision of Matthew and Amanda, and it's one that we're all still carrying through 20 years later, in what is now a wildly different artistic landscape with so many art fairs.'
Frieze fair veteran Alison Jacques is opening a new 6,000 sq ft space on Cork Street to accompany the gallery's existing Fitzrovia gallery this autumn, launching it during Frieze Week. 'In 2003, Frieze felt like one of the most exciting things to happen to London since the opening of Tate Modern three years earlier,' says Jacques. 'There was a buzz that reminded me of the energy of the YBA years and the opening of "Sensation" at the Royal Academy in 1997. Everyone in the international art world came into town for the week. The biggest names in the collecting world and major museum curators flew in to look and buy. It was an exciting time for galleries, and it changed the local market in London, cultivating many new collectors.'
In 2021, Frieze added a permanent exhibition space to its portfolio, opening up No. 9 Cork Street. The gallery, headed up by Selvi May Akyildiz, will this year host shows by Australia's Sullivan & Strumpf, New York's Charles Moffett, and LA's Night Gallery. 'In addition to our exhibition programme, this summer, No. 9 organised the first Cork Street Carnival, a celebration of Afro-Cuban music with dance workshops and street food vendors,' said Akyildiz. 'I can't wait for everyone to visit these incredible shows and help us celebrate 20 years of Frieze London.'

The UK capital provided the blueprint, but more incarnations soon followed: Frieze Masters, which shows work made before the year 2000, and Frieze New York both launched in 2012, while Frieze hit LA in 2019 and Seoul in 2022. When looking to expand, the Frieze team looks for a certain ecosystem. Says Langret, 'We choose the cities we work with because they have a thriving artistic community, as well as their own restaurant and fashion scenes. Then the mission is to work out how the fair can sort of be a pinnacle moment in the city's cultural calendar.'
Frieze has also taken its financial successes and stepped in to help cultural institutions in the UK, taking the fair out of the tent and into the year-round fabric of the city. Acquisition initiatives with Tate and Camden Art Centre have long been a great help to both institutions when acquiring work at the fair. And now, in a new venture, Artist-to-Artist the fair has invited a group of leading artists, including Olafur Eliasson, Tracey Emin and Wolfgang Tillmans, to nominate an artist for a solo exhibition at Frieze London, tapping into the creative community and pushing for Langret's passion, a more diverse art landscape.
'I think to continue to be supportive of the wider ecosystem is something that's quite unique to us, and we're in the privileged position to be able to share the energy and success of the fair,' says Langret. And as the city changes, so does Frieze. Although it can always be found in its regular October spot, much like London, it has never stopped evolving to survive.
Frieze London and Frieze Masters are on show from 11-15 October 2023 in Regent's Park, London NW1, frieze.com
This article appears in the November 2023 issue of Wallpaper*, available in print, on the Wallpaper* app on Apple iOS, and to subscribers of Apple News +. Subscribe to Wallpaper* today
Receive our daily digest of inspiration, escapism and design stories from around the world direct to your inbox