Tracey Emin interview: 'If I hadn't made art, I would be dead by now'
We speak to British artist Tracey Emin in her hometown of Margate, where she has created a new painting to raise funds for TKE Studios, a pioneering complex serving the next generation of radical creatives. 'I don't want to die being an artist that made really interesting work. I want to make a future.'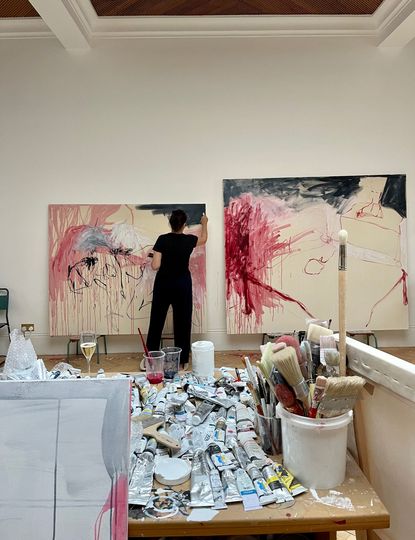 (Image credit: Harry Weller)
Wallpaper* Newsletter
Receive our daily digest of inspiration, escapism and design stories from around the world direct to your inbox
Thank you for signing up to Wallpaper. You will receive a verification email shortly.
There was a problem. Please refresh the page and try again.
Above the Harbour Arm in Margate, a pink neon sign reads, I Never Stopped Loving You. The 2010 signature piece by Tracey Emin is an apt declaration to the town where she grew up. While living in London for over three decades, Emin's connection to Margate was never far, punctuating her work throughout her career. She eventually moved back to the coastal settlement in 2016 and today is a champion of its renaissance. 'I've come back to Margate as a different person, and I've come back to a different Margate. So it's like, we are both in tandem, in tune with each other,' she said as we tour her new artist's studio complex, a 10-minute walk from her neon installation.
The pioneering complex, named TKE Studios for her allonym Taki Karima Emin, is located in the former Edwardian bathhouse a short walk from her home and atelier. Within it is a network of 12 professional artist studios, exhibition space, a folly which will turn into a mini conservatory, reception, and speciality bookshop. Ample amounts of natural light find their way into each of the generously sized studios, with sunlight flooding the main exhibition space through the vaulted skylights. Major utilities are already provided, with some studios being additionally subsidised by Emin herself. 'Most artists in big cities have been chased out by developers,' she says. 'Margate and Thanet are totally welcoming artists. They want artists here. They want creative energy.'
On the ground floor, with a separate entrance through the future sculpture garden, Emin is set to open the Tracey Emin Artist Residency in January 2023. Organised with photographer Elissa Cray, every two-year residency will foster up to 20 aspiring and early-career artists committed to furthering their creative discipline. The guest lecturers programme includes art critics Matthew Collings, Jonathan Jones, Jerry Saltz, artists Jake Chapman, David Dawson, Kenny Schachter, and Vivienne Westwood. Emin hopes to create a stirring environment for the artists, emphasising a rigorous exhibition cycle and intergenerational dialogue through spirited debate and critique. 'Everyone I've spoken to is keen to do it because we all know that the educational system is extremely difficult at the moment,' she explains. 'How I got through then, with every grant under the sun and every scholarship I could get, was difficult enough. There is no way I could possibly ever do it today. If I hadn't made art, I would be dead by now. So everything I'm paying back into society would've been lost. When I was ill, I thought I was going to die. A part of me asked, what's it all about? What am I here for? What am I doing? I knew I could do so much more, but I wasn't sure what it was. And then the whole thing made perfect sense. If we can get one person here that becomes a really good, amazing artist, I've done my job.'
To help fund this dream initiative, Christie's presents the artist's highly personal painting, Like A Cloud of Blood (2022). The artwork will be exhibited in London from 6-13 October, head of Christie's 20th Century & 21st Century: Evening Sale on 13 October at a handsome estimate of £500,000-700,000. The painting is one of the first pieces Emin created after recovering from bladder cancer in 2020. 'I hadn't painted properly for so long. All my muscles just got eaten away when I was ill.' Emin says. '[In recovery] I started swimming and everything got stronger. When I started painting again, I couldn't believe it. I was so excited. All my colours were different. Everything was different.' The painting features Emin's iconic figurative study of her body under an abstract pink Margate sky. 'It's about love and feeling love; it's about desire. Even with cancer, still feeling those emotions and passion and feeling all those things.'
Emin's work has never shied away from the visceral and deep-seated emotions of the human condition. Be it fifty double-hung insomniac self-portraits, dripping canvases of bereavement, an 18-tonne bronze sculpture honouring her mother or a simple and sweetly handwritten love poem to Margate, her oeuvre traces a complex and tumultuous existence. One that compels and captivates. 'Throughout her career, Tracey Emin has invited viewers to share in the most intimate aspects of her life,' said Katharine Arnold, head of post-war and contemporary art, Christie's Europe. 'With extraordinary candour and a vivid vision, in Like a Cloud of Blood she lets us into her world following her cancer diagnosis. The searing honesty we are accustomed to in her oeuvre resonates with her audience even more so in this painting.' The studio complex has already been purchased outright, so all the additional funding from the sale of the piece will go towards developing new artists through the residency and reinvesting into TKE Studios for the future.
Emin says, 'I don't want to die being an artist that made really interesting work. I want to make a future. If my art can make something happen for the future, then I'm doing the right thing. I've been all the way around the world in all directions and come back again. And this, Margate, is what I've chosen.'
INFORMATION
Like A Cloud of Blood by Tracey Emin will be exhibited at Christie's London from 6-13 October, and included in the 20th Century & 21st Century: Evening Sale on 13 October. christies.com
Receive our daily digest of inspiration, escapism and design stories from around the world direct to your inbox