Year in review: Wallpaper* arts editor Harriet Lloyd-Smith picks top 10 art stories of 2021
Wallpaper's Harriet Lloyd-Smith selects her top 10 art stories of 2021, from profiles on Ai Weiwei and Theaster Gates to photos of Apple packaging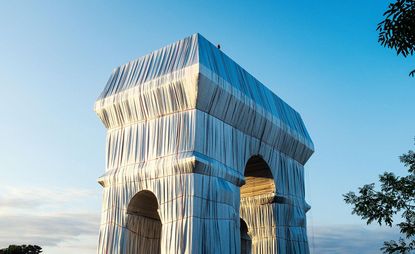 (Image credit: Christo and Jeanne-Claude Foundation)
What exactly would a normal year in the art world look like? New-normal, paranormal and business as (ab)normal – this year had it all.
There was a tentative transition from URL to IRL. Exhibitions got physical again, and art fairs – along with the rest of us – were freed from the pixelated confines of OVRs (online viewing rooms).
Artists dissected recorded histories and rediscovered those overlooked. They sparked socio-political debates, squared up to social injustices and shed a stark and critical light on the future of our planet.
The Turner Prize 2021 brought more firsts, 'immersive art' reached new depths, and we all, at least once, took to Google and typed: 'what is an NFT?'
Here's a snapshot of 2021 in ten art stories:
01. Sexual taboos, myth and montage: Linder's provocative collages
In a show of new work in Stockholm, Linder plunged viewers into a world of Greco-Roman mythology, autoeroticism, and sexual taboos. We were smitten. Disparate clippings rubbed up against each other in an orgy of desire in its many guises as Linder discussed the almost undiscussable. There was a lot to digest between the creases of these photomontages, but perhaps the overriding myth here is not that of taboo classical exploits, but a myth of heteronormativity.
02. Theaster Gates: London, urban reform and exemplars of Black excellence
Ahead of a multi-faceted cultural takeover in London, Wallpaper* editor TF Chan spoke to Theaster Gates about the history of clay, art as a social force, and nurturing the next generation. As part of Wallpaper's 25th-anniversary project '5x5', Gates also put forward five of his creative leaders of the future – all of them creators of elegant, distinctive forms who are advancing a social message with equal confidence.
03. Ryoji Ikeda exhibition review: a sensory assault course
Emerging from the industrial brutalist labyrinth that is London's 180 The Strand, it's customary to feel like your senses have been through the wash a few times. But after Japanese artist Ryoji Ikeda's solo show, your eyes could hear, and your nose could see. Ikeda didn't politely request our attention, he got inside our heads and played our eardrums like snares. This did not feel like an exhibition, it felt like a sensory assault course that one does not view, one survives.
04. Judy Chicago on revolutionising art history: 'I just didn't fit'
At the age of 82, and after 60 years of spearheading feminist art, Judy Chicago received her first retrospective in 2021. Puzzling, perhaps, that it took so long, but in understanding Chicago's relatively recent institutional acclaim, one must first appreciate what it took to arrive there. We spoke to the art icon about an epic career, filled with patriarchal battles, fierce self-belief... and a lot of smoke.
05. Mark Bradford's epic show put Hauser & Wirth Menorca on the map
Mark Bradford excavates the past through art. His works, larger than mere wall maps, vibrate with crisscrossed gestures that simulate the energy and urgency of global matters. In 2021, Bradford inaugurated Hauser & Wirth Menorca with 'Masses and Movements'. The artist was profiled by Hunter Drohojowska-Philp in the July issue, for which he also designed the limited-edition cover: 'With everything that I was experiencing and especially with the protests and the much-needed conversations around race in this country, I chose a map that said for the first time, "America,"' he said. 'What does the word America mean for an African American? It is all there.'
06. Photography series shed new light on Apple packaging
Clean lines, whiter-than-white elegance and direct, no-fuss minimalism. These are the qualities that give Apple its unmistakable Apple-ness. But Apple's product packaging seems to involve almost as much artistic consideration as the device it shrouds: superfluity is a sin, and simplicity is ecstasy in a messy world. This formed the subject of an intriguing photo series by Johann Clausen, who gave Apple's packaging, not its products, the floor.
07. At home with Ai Weiwei
Experiencing the art of Ai Weiwei is like biting into a scorpion. Plenty of sting, searingly sharp, and hard to swallow. And so it should be. The Chinese artist has dedicated his life, career and freedom to some of the most pertinent issues facing humanity. From his bold and unwavering criticism of censorship and authoritarianism in China to documenting the escalating migrant crisis, cultural stereotypes, and the darker caverns of history. For our ongoing 'At home with' profile series, we interviewed the artist about his life, work and blending the two in his much-anticipated memoir.
08. Marina Abramović: death, Maria Callas and breaking the rules of Opera
During Frieze London 2021, Marina Abramović staged a dramatic operatic takeover. The artist opened a duet of solo exhibitions across Lisson Gallery's spaces, focusing on her lifelong preoccupation with Greek American opera singer Maria Callas. Writer Jessica Klingelfuss interviewed the artist ahead of her London moment, which offered a tantalising prelude to her 2023 survey opening at the Royal Academy, where she will be the first female artist to have a solo show across the entire Main Galleries.
09. Jakob Kudsk Steensen on how VR can bring us closer to nature
In July, Danish artist Jakob Kudsk Steensen took over the hallowed halls of Berlin's Berghain (yes, that one) with his immersive VR installation Berl-Berl, a vast virtual swampland. Drawing from meticulous fieldwork in Germany's Spreewald, archival research and collaborations with biologists, linguists, sound artists and creative technologists, Berl-Berl encouraged viewers to contemplate the forgotten complexity and beauty of wetlands. As Kudsk Steensen told Wallpaper's TF Chan, 'I want to direct the eyes at the world beyond our human domain, to bring a sense of mystery, imagination and fascination.'
10. At home with Jeff Koons
2021 has demanded reflection, and no artist has used this motif in more variety, or notoriety, than Jeff Koons. The artist has a knack for reflecting the idealism in human history; reflecting contemporary times, in all their mass-consumerist, superficial and voyeuristic banality; and making work that literally reflects, consumes and warps its surroundings, and all those who observe. We Zoomed the artist ahead of his major show at Florence's Palazzo Strozzi titled 'Shine'.
INFORMATION
Receive our daily digest of inspiration, escapism and design stories from around the world direct to your inbox
Harriet Lloyd-Smith was the Arts Editor of Wallpaper*, responsible for the art pages across digital and print, including profiles, exhibition reviews, and contemporary art collaborations. She started at Wallpaper* in 2017 and has written for leading contemporary art publications, auction houses and arts charities, and lectured on review writing and art journalism. When she's not writing about art, she's making her own.