Review: Ryoji Ikeda's London show is a sensory assault course
Exhibition review of Ryoji Ikeda's epic intervention at 180 The Strand, London. The Japanese artist's solo show is an intense fusion of sound and vision. Warning: videos include flashing images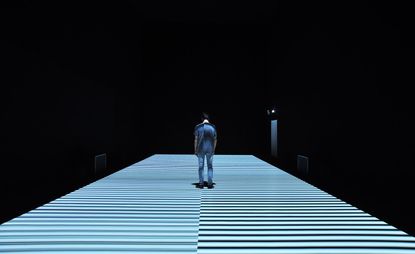 (Image credit: Ryoji Ikeda)
Surfacing from the industrial brutalist labyrinth that is 180 The Strand, it's customary to feel like your senses have been through the wash a few times. But after Japanese artist Ryoji Ikeda's new solo show, your eyes can hear, and your nose can see.

This does not feel like an exhibition, it feels like a sensory assault course that one does not view, one survives.

Presented by The Vinyl Factory and Fact magazine in collaboration with Audemars Piguet Contemporary, this is Ikeda's largest show in Europe to date. Five years in the pipeline, it features six global premieres and five works shown in the UK for the first time. Under normal circumstances, an artist might adapt their work to fit a building; in this case, the building has been reconfigured for the artist. But as we soon learn, there's little normality to be found here.
The first thing of extraordinary visual note in this subterranean maze happens in 'room 3'; spectra III, co-commissioned for the 2019 Venice Biennale, is a tube-like corridor saturated on all sides with searingly white LED light. The experience verges on optical pain, but never quite crosses the threshold. It's an addictive discomfort that leaves you hungry for more, and oh my, does Ikeda oblige.

In the following room, a wasp gets inside your ear. A (continuum) is a sonic work that plays what it says on the tin: six 'super directional' SB-1 Meyer speakers tuned to the note of A (concert pitch) modulate and undulate in a semi-abrasive soundtrack unique for each visitor. That would explain the wasp.

Next up, an unavoidable void pulsates at you: point of no return turns out to be both the title and a warning. As Ikeda explains, 'point of no return is a very simple, very intense piece. I paint a black circle on a wall and project light around it, and this intensifies its blackness. It feels like it's always firing, you get a bit scared. It becomes overwhelming.' If these are the words of its creator, there's little hope for anyone seeing this for the first time. Is this abyss, nirvana or purgatory? Whatever it is, it's strobing so hard you can't stay for long. This must be a pitstop to elsewhere, but soon even that becomes a recurring thought.
Film of point of no return at 180 The Strand. WARNING: VIDEO CONTAINS FLASHING IMAGES
Now that we are officially past the exhibition's point of no return, we may as well accept our fate, which first arrives in the monumental form of data-verse trilogy, commissioned by Audemars Piguet Contemporary in 2015. Of the works so far, this is the least physically intrusive. Conceptually, it's a different story. Ikeda has condensed the whole world onto three screens; a symphonic, data-driven suite attempting to encompass all scales in nature, from elementary particles to the universe.

The artist uses colossal scientific data sets from a variety of sources, including Nasa, Cern, and the Human Genome Project, which are then processed, transcribed, converted, transformed, de/re/meta-constructed (no, me neither) and orchestrated to form sonic and visual output – so pretty straightforward stuff.
The screens almost shudder with computer code, which seems to snarl as it scrolls; then come bones, bodies, motherboards, sped-up brain scans, graphs and coordinates, webs, maps and molecules. Suddenly it all feels too medical, too data-ry, too current, too soon.

In a marginally similar thematic vein, the penultimate room hosts data.flux, a brand new piece created specifically for the show. This is yet another example of Ikeda's mathematical precision, technological prowess and deep understanding of the human sensory system and its limits. Using genome and DNA codes, the artist offers a physical and sensory exploration of the data that surrounds, informs and shapes our existence, and it's all happening on the ceiling.
Ikeda leaves the showstopper until last: test pattern is what we all came to see, the artist's populist masterwork. He describes the piece as 'like a concert. It's very physical and abstract. The soundtrack is a signification of pure data, it's very brutal, very strong.' Viewers are invited to physically step onto, or into, a floor flickering with black and white imagery that floats and convulses in barcode and binary patterns harvested from text, sounds, photos and films. When you finally step off, it's like experiencing solid ground after three hours on a trampoline.

With this show, Ikeda doesn't politely request your attention, he gets inside your head and plays your eardrum like a snare. In brief, the whole experience might be comparable to watching sci-fi thriller Cube (1997) to a soundtrack by Crystal Castles while at the tail end of a bad trip.

When you eventually emerge, there's euphoria. Not just because you've seen good art – which you undoubtedly have – but because you're alive.
Film of Ryodi Ikeda discussing his piece test pattern, now on show at 180 The Strand, London. WARNING: VIDEO CONTAINS FLASHING IMAGES
INFORMATION
'Ryoji Ikeda', until 18 September 2021, 180 Studios, 180 The Strand

180thestrand.com
ADDRESS
180 Strand
London WC2R 1EA
VIEW GOOGLE MAPS (opens in new tab)
Harriet Lloyd-Smith is the Arts Editor of Wallpaper*, responsible for the art pages across digital and print, including profiles, exhibition reviews, and contemporary art collaborations. She started at Wallpaper* in 2017 and has written for leading contemporary art publications, auction houses and arts charities, and lectured on review writing and art journalism. When she's not writing about art, she's making her own.