Multigenerational homes for family get-togethers this Lunar New Year and beyond
Multigenerational homes make the perfect setting for extended families to come together – in daily life and for special occasions, such as the upcoming Lunar New Year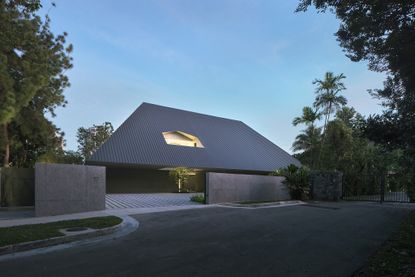 (Image credit: Fabian Ong)
The considerate, futureproof architecture of multigenerational homes celebrates living alongside grandparents and children. It is especially fitting to explore right now, as, across Asia, family spirit is being commemorated during Lunar New Year, with reunion dinners that spur the largest annual travel rush in the world. Our growing need for deeper connections with relatives, along with rising costs of housing, childcare, and elderly care, has prompted architects to explore spatial configurations and living arrangements to fit the needs of three or more generations.
Often, the most sustainable intergenerational houses are designed to be inclusive for all members of the family, accommodating access throughout the various stages of life. Many studios play with the balance of togetherness and privacy, creating smooth corridors of transition between communal areas and secluded bedrooms.
From India to China, Singapore to South Korea, the tradition of multigenerational living is conserved and developed through projects like the ones below. The unique gathering spaces of a home reveal the heart and soul of a family, with the following examples having been tailored to meet the distinct wishes and tastes of different households.
THE BEST MULTIGENERATIONAL HOMES
Jalan Chengkek, Singapore, by alittlepractice
Clad in reclaimed bricks and cooled by tropical air passing through a central courtyard, Jalan Chengkek provides a humble sense of respite for a growing family. The home was designed to be 'elderly-friendly and able to accommodate both sides of grandparents and children', say Alittlepractice architects Low Ming Fang and Lin Huiying. The open living areas let the grandparents easily keep watch over their young granddaughter as she wanders and plays independently around the house.
Residence of Three Generations, Hong Kong, by MINORlab
The Residence of Three Generations was designed to be a house 'where people agree to disagree, meet and relate as a family, and naturally form strong emotional bonds'. Nestled in the outskirts of Beijing, this update of a childhood home respects the privacy of its family members with independent bedroom suites and fosters meaningful cross-generational interactions through its permeable courtyard and patios.
Plain Ties, India, by Matharoo Associates
Challenging the design conventions of a living room, a circular central lounge with moveable concrete walls illuminated by an adjoining skylight is the highlight of Plain Ties, a minimalist home in the Gujarati port city of Surat. The physical, mental, and spiritual wellness of the family is strengthened by a meditation space, temple, and gym, and opportunities for 'communal collision' are created along the house's curved concrete stairs.
Bojeong Dong House, South Korea, by The System Lab
This generous, curvaceous home, a short journey from the capital city of Seoul, is the brainchild of local architecture practice The System Lab and was designed around the needs of an extended family. Carved out of flowing concrete, this house was conceived to house three generations of a wider family group brought together by three sisters.
SN House, India, by Rajiv Saini
A returning client commissioned Mumbai-based designer Rajiv Saini to create architectural interiors for a new multigenerational Indian home for an extended family in New Delhi. Called SN House, the home now contains two discrete but interconnected units – a larger one, for the client's family, and a two-bedroom living space for the grandparents, all set within an expansive 15,000 sq ft residence. Having worked together since the 1990s on homes in Delhi, Udaipur, Singapore and London, the design-client team had an established, strong and fruitful relationship of trust and collaboration. Space to breathe and varying levels of privacy were both important in the new design – all wrapped in the refined, contemporary design that is a key signature in Saini's work. 'Having been friends for over 25 years meant we were really able to discuss and share with complete frankness, our views and ideas, on every aspect of the project,' he recalls. 'It was about pairing disparate materials together, and creating drama... and then there is the art!'
The House of Remembrance, Singapore, by Neri & Hu
This residence, by Shanghai based design and architecture studio Neri & Hu, is built around the traditional Chinese courtyard house or siheyuan. Offering a contemporary interpretation of the genre, and adapted to its Singapore site, while replacing an existing family home, this multigenerational house accommodates the needs of three adult siblings, and includes a small memorial garden space for their late mother. An extroverted ground level with swathes of glass and open-plan arrangements, contrasts with an emphasis on privacy upstairs, in this two-storey home.
Shiyuan by Days, China, by Days in Yard Studio
This modern hutong house design in the heart of Beijing sits between two ancient temple clusters – the north-east watchtower turret of the Palace Museum and the Zhizhu Temple. In such a historical and precious environment, the architects at Days in Yard Studio knew they had to think long and hard about their approach when they embarked on the redesign of a Chinese hutong house – hutongs being the alleyways with clusters of small-scale dwellings found in parts of Beijing, of which now only a handful remain intact – into a contemporary family home. The result, named Shiyuan (as such traditional courtyard houses as known), is an elegant feat of sustainable architecture, maintaining its period character while employing 21st-century Passivhaus principles. Traditionally, the courtyard of a hutong house serves both as a private space and a meeting place, the architects explain. Similarly, in this modern rework, the studio kept the outdoor area at the core of the plan open. It is visible from most parts of the home, becoming the heart of the domestic space. The project fittingly combines a residence for an architect's extended family, with extra space for a design office and more social areas, which the creative uses for events and cultural activities.