Matharoo Associates' concrete response to multigenerational living in India
A new home in India by Matharoo Associates, Plain Ties in Surat, is a machine for multigenerational living, offering spaces to both meet and retreat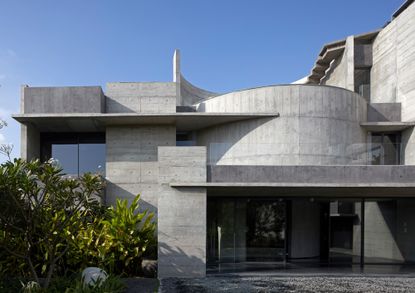 (Image credit: Edmund Sumner)
Inside the typical Indian home, you can usually find grandparents scurrying behind their grandchildren while business meetings happen in private quarters. In this part of the world, three – sometimes even four – generations often live under one roof, creating a complex interplay of daily lives. While cultural attitudes towards multigenerational living are gradually shifting, and families now often choose to set up independent units, Matharoo Associates, an award-winning practice based in Ahmedabad, Gujarat, has retained this traditional living arrangement in its latest project, Plain Ties.

Set in Surat, a Gujarati port city known for its diamond-cutting workshops, Plain Ties is a sophisticated 9,130 sq ft residence that bridges modernity, tradition and a sense of experimentation. This is a house that places innovation at its core, quite literally. Gurjit Singh Matharoo, who founded Matharoo Associates in 1991, is known for his expertise beyond the world of architecture, designing motorcycles, cars and even mobile blood banks (W*125), which enabled the firm to create a circular central lounge with moveable concrete walls that skilfully divide and unify the rooms.

This raw, minimalist space, delicately illuminated by an adjoining skylight, is the heart of the home. 'This is the default space, where everyone comes together and feels connected,' explains Komal Matharoo, the principal architect on the project and Gurjit's wife. 'The walls become space-making elements and act as an origin point for the horizontal and vertical axes of the building,' she says. Around this zone are a kitchen, dining area, living room, verandas, and bedrooms for the grandparents, which all look out onto the garden.
The multigeneration dwelling is situated in a quiet neighbourhood that is free of compound walls. 'The project's name has a dual meaning as it speaks to the rhythmic horizontal bands on the concrete surfaces, and the deep sense of kinship that permeates the building,' says Gurjit. The scheme is a masterful array of freestanding concrete planes gracefully tied together by slender weather shades, creating a welcoming home that belongs to everyone. Komal aimed for each member of the household – a couple, their parents and two sons – to feel connected while simultaneously having areas to 'retreat'.

The home is oriented towards an expansive public garden to the south, away from the towering apartments to the east and lofty compounds to the north. 'We intended to design a structure that would turn its back to the built context and open up towards the rich landscape,' says Komal. As you walk along the tree-lined main road to reach the house, it achieves a scale that is both human and inviting.
RELATED STORY
The site's unstable black cotton soil meant the scheme required deep foundations. This allowed Matharoo Associates to create a meditation space, temple, gym, storage and staff areas, and a small private medical practice for one of the grandparents, all below ground. Streaks of light filter down as naked concrete walls playfully come alive through calculated sunken courts.
Inside, the slender concrete steps of the main staircase lead to a small light-filled library overlooking the open central space and main gathering point. Here, crisp Burma teak panels complement the robust black Cuddapah stone flooring. 'From this space, there is a strong diagonal connection to the heart of the building,' says Komal. Upstairs, the elegant curving stairs strategically tie together several bedrooms and eliminate the need for space-guzzling corridors. This produces opportunities for 'communal collision' as family members meander through the dwelling.

By teaming up with structural design firm Rushabh Consultants, Matharoo Associates achieved clean columnand beam-free rooms that create a strong open feel. This sense of fluidity is reinforced by Plain Ties' lack of doors and meticulous use of daylight. As you travel up towards the apex of home, you are greeted by a spacious roof terrace that provides impressive views of the surrounding foliage. Acting as a private alcove, the top of the house is a well-needed haven from the bustle of the lower levels.

A contemporary interpretation of the traditional Indian home, Plain Ties strikes an intricate balance between seclusion and interdependence. Through its refined central space, cleverly shifting walls and flowing interiors, it provides moments of togetherness while achieving pockets of privacy. At a time when multigenerational living is slowly fading in popularity, Matharoo Associates has successfully created a strong, contemporary house that preserves close-knit family ties.
INFORMATION