Hotel Marcel: the sustainable rebirth of a Marcel Breuer original
Hotel Marcel, a Marcel Breuer-designed, modernist architecture original, launches as sustainable hospitality in New Haven, Connecticut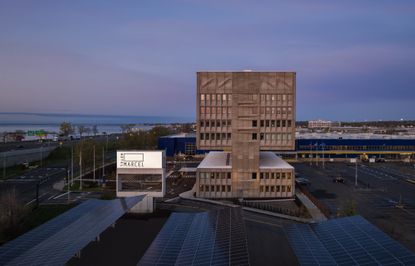 (Image credit: Seamus Payne)
Hotel Marcel was originally designed to house the HQ of the Armstrong Rubber Company (one of America's premier tyre production companies) – and now, the modernist architecture building has opened as a carbon-neutral design hospitality hub with much flair. Completed in 1970 by the renowned Bauhaus designer and architect Marcel Breuer, this beauty of a building was just primed and ready for this reinvention.
Welcome to Hotel Marcel
As you drive through the coastal city of New Haven on US Interstate 95, the concrete behemoth appears as if floating due to its distinctive form, which is broken vertically into two parts. It's also the reason why the building serves so perfectly as an on-point demonstration of Breuer's approach to separation of function: a two-storey void partitioning the base of the building from the office block above. Listed on the State and National Register of Historic Places, the 'Pirelli Building', as it soon became known, has survived several plans to demolish it – first to build a mall, then to replace it with a parking lot. Nevertheless, it persisted.
Designed by Brooklyn-based branding and interiors firm Dutch East Design, in collaboration with developers, architects and owners Kraemer and Bruce Redman Becker of Becker + Becker, Hotel Marcel is an amalgamation of Breuer's brutalism with a hospitality-focused interior. Art plays a key role too. A range of female Bauhaus-era artists – such as Anni Albers, Gunta Stölzl, and Benita Koch-Otte – dot its halls.
'I was grateful to have a like-minded counterpart on the ownership side. Kraemer Becker, who is a fine artist in her own right, understood how the delicacy of our approach was essential in creating delightful guest experiences, beyond the building's persona and sustainability measures,' said Larah Moravek, partner at Dutch East Design.
'While iconic, the building is somewhat intimidating. I was inspired to offer warmth and approachability – to leave a mark that exhibits a gestural and dynamic quality, speaking to Bauhaus sensibilities and executed with an honesty in materiality. The design was an interplay of delight forged between Bauhaus and brutalism,' says Moravek.
The notable building is now also the country's first net-zero-energy hotel, having received a LEED Platinum certification and pursuing Passive House status too. It features 165 guest rooms and suites; a fossil fuel-free operation of a full-service new American restaurant and bar; a lounge; and 7,000 sq ft meeting and event space with a penthouse courtyard and galleries.
On top of its lavish amenities and design, the hotel is also all-electric, impressively generating 100 per cent of its own electricity and energy for heat and hot water with a rooftop solar array and solar parking canopies. Notable indeed, as it can now also serve as a model of environmental sustainability for the entire modern hospitality industry.
Daniel Scheffler is a storyteller for The New York Times and others. He has a travel podcast with iHeart Media called Everywhere and a Substack newsletter, Withoutmaps, where he shares all his wild ways. He lives in New York with his husband and their pup.