Year in review: transport editor Jonathan Bell picks top 10 stories of 2021
Wallpaper's Jonathan Bell reveals his top 10 transport stories of the year, from Virgil Abloh's Project Maybach to Paul Smith's electric Mini and VanMoof's high-speed e-bike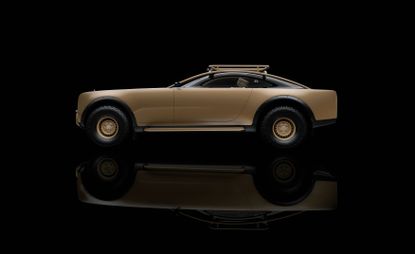 (Image credit: Virgil Abloh)
Not only did car sales take a dive during the pandemic, but the traditional motor show faded almost to oblivion over the course of 2021. Neither of these things slowed down the inexorable switch to electric vehicles, something that has been many years in the making and will continue to blossom throughout the decade. The downturn also didn't stop car companies from working on spectacular collaborations and concepts; we still need a little bit of future-facing escapism. Here's our selection of the top ten transport stories that did most to stir our soul during 2021.
Top 10 transport stories of the year
01. Virgil Abloh's take on the Mercedes-Maybach is functional, fun and future-facing
The Project Maybach show car is a collaboration between the late Virgil Abloh and Mercedes-Benz chief design officer Gorden Wagener. It was unveiled during Miami Art Week at the Rubell Museum, in homage to the creative polymath, who passed away on 28 November 2021 following a battle with cancer. As with many of Abloh's projects, this is as much an effort to track and overtake the slippery signifiers of luxury as it is a design exercise. Like Project Geländewagen, the one-off G-Class created in a previous Abloh/Mercedes collaboration, Project Maybach, as it is tagged, plays with the trappings of luxury and luxury travel in the tricky space where they meet the quieter language of function and utility. Writer: Nick Compton
READ MORE (opens in new tab)
02. Polestar Design Contest 2021 winners reimagine future living
Concept designs are a good way of exploring a company's mindset. For the second annual Polestar Design Contest 2021, the EV company continued to push the idea of 'progress', inviting professionals and design students to 'showcase innovative thinking that encourages positive change in society, including responses to the ongoing climate crisis'. Writer: Jonathan Bell
READ MORE (opens in new tab)
03. Mathieu Lehanneur's Suite N°4 Renault concept car is a 'mobile hotel room'
The 'room on wheels' is a popular conceptual trope in automotive design, spurred on by the promise of autonomous driving and the sad recognition that we spend way too much time in our cars. Renault has approached the idea of cars as architecture from a slightly different tack, teaming up with French designer Mathieu Lehanneur to create new Renault concept car Suite N°4, a radical reinterpretation of one of the brand's most iconic designs of all time, the Renault 4L, now celebrating its 60th anniversary. Writer: Jonathan Bell
READ MORE (opens in new tab)
04. VanMoof's V is a next-generation high-speed e-bike for the city
VanMoof is bringing high performance to the world of e-bikes with a new model designed for long-distance riding. The Dutch company hopes the forthcoming VanMoof V model will be swift, safe, and far-reaching enough to serve as a true car replacement, especially in countries like the Netherlands, where there's already a substantial infrastructure in place and the only constraints on journeys are stamina and battery power. Writer: Jonathan Bell
READ MORE (opens in new tab)
05. Creative campervans: innovative designs for elevating escapes
One of the many side effects of the pandemic era has been the surge in interest in camper vans, roaming homes, and off-grid living. The trend already had considerable social media momentum, in the form of the many photogenic couples and individuals dedicated to capturing the perpetually shifting utopian panorama of 'van life'. The staid, conservative image of the traditional camper van and recreational vehicle is a world apart. However, the latter has certainly influenced the former, with contemporary campers becoming more compact and better suited to a long life on and off the road, rather than serve as vast glorified vacation cabins replete with cantilevered bedrooms, over-stuffed couches, and a flat screen on every wall. Writer: Jonathan Bell
READ MORE (opens in new tab)
06. Paul Smith takes the new electric Mini for a spin
When Oliver Heilmer, head of the Mini design studio in Munich, called Paul Smith last spring to talk about working together on a new project, neither of them knew quite what they were letting themselves in for. Heilmer had loved Smith's stripey version of the original Alec Issigonis-designed Mini, one of three commissions (Kate Moss tattooed hers with spider's webs, while David Bowie went for an all-over mirror finish) unveiled at London's Design Museum to celebrate the Mini's 40th birthday in 1999. So he asked Smith to come up with something similar for the new electric Mini. Writer: Deyan Sudjic
READ MORE (opens in new tab)
07. Classic electric restomods: iconic car designs with electric power
What started out as an extremely niche business is fast becoming a firm fixture in the classic car universe. Whether it's a simple conversion for an everyday sports car or a full-on rebuild that creates a silent super-luxury machine, here's our selection of companies dedicated to classic electric restomods – taking old cars into the 21st century and beyond. Writer: Jonathan Bell
READ MORE (opens in new tab)
08. The brilliant Honda e: (near) perfection in a small package
The new Honda e is, remarkably, one of the first modern era electric cars to be explicitly pitched at urban drivers. Electric cars have been around for around 130 years but it wasn't until the 1960s and 1970s that entrepreneurs started to outfit microcars with rudimentary battery packs to help ride out the era's oil crisis and the imminent demise of the internal combustion engine. Things didn't pan out that way, leaving cars like the Zagato Zele and the Fiat X1/23 concept as intriguing design dead-ends that might have led to a very different future. Writer: Jonathan Bell
READ MORE (opens in new tab)
09. Hermès hits hyperdrive with a one-off car design for McLaren
The latest project to cross the historic threshold of Hermès is this spectacular transformation of a McLaren Speedtail. There's nothing remotely off-the-shelf about the Speedtail, the current flagship of McLaren's Ultimate Series of hypercars. McLaren has decades of experience of handcrafting the fiendishly complex and advanced components that go into a Formula 1 car; its Ultimate Series translates that know-how into a machine for the road. Following on from the first Ultimate Series car, the Senna, the Speedtail is a limited-edition, hand-built, hybrid-powered three-seater, with just 106 units going into the garages of well-established collectors around the world. Hewn from carbon fibre and with a list price of £2.1m, the car doesn't come with any optional extras – McLaren simply assumed that every customer would want to add their own personal touch. Writer: Jonathan Bell
READ MORE (opens in new tab)
10. Hyundai and Kia charge ahead in the design stakes
What drives Hyundai? A combination of design, desire and ability. Korea's Hyundai Motor Company stands a good chance of becoming the first truly modern mobility corporation of the post-automobile era. Over the past two decades, a combination of industrial muscle, superior design chops and a will to innovate have seen the brand become a global player. In addition to the eponymous car brand, Hyundai also owns a substantial chunk of Kia Motors, along with its luxury division Genesis, and newly announced IONIQ and HTWO sub-brands for electric and hydrogen vehicles respectively. Even with a pandemic raging, in 2020, the company sold 3.7 million Hyundai vehicles, and 2.6 million Kia vehicles, putting it high up the list of major players. Writer: Jonathan Bell
READ MORE (opens in new tab)
Jonathan Bell has written for Wallpaper* magazine since 1999, covering everything from architecture and transport design to books, tech and graphic design. He is now the magazine's Transport and Technology Editor. Jonathan has written and edited 15 books, including Concept Car Design, 21st Century House, and The New Modern House. He is also the host of Wallpaper's first podcast.