Virgil Abloh's take on the Mercedes-Maybach is functional, fun and future-facing
Mercedes-Benz unveils Project Maybach, its second collaboration with Virgil Abloh (1980 – 2021), in homage to 'a visionary, trusted partner and collaborator'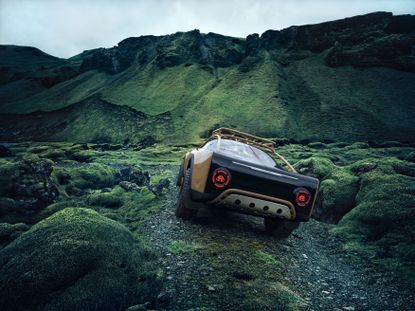 (Image credit: press)
Whilst Louis Vuitton's understandably outsize tribute to Virgil Abloh has dominated coverage of Design Miami 2021, another Abloh side-project has quietly gone on display at the city's Rubell Museum. The launch of the creative polymath's second collaboration with Mercedes-Benz, which only went ahead after consultation and a green light from his family, provides more evidence of Abloh's unique ability to twist a brand's design language into fresh and future-facing shapes.
In 2020 Abloh created a one-off re-working of the Mercedes G-Class, Project Geländewagen, but the new project, for Mercedes-Benz's luxury Maybach division, is an entirely new design. Again a collaboration with Mercedes-Benz chief design officer Gorden Wagener, and celebrating the 100th anniversary of the Maybach brand, the new show car is essentially a two-seat, off-road electric coupé, a 6m-long grand tourer with SUV ambition.
Project Maybach by Virgil Abloh and Mercedes-Benz
As with many of Abloh's projects, this is as much an effort to track and overtake the slippery signifiers of luxury as it is a design exercise. Like the one-off G-Class, Project Maybach, as it is tagged, plays with the trappings of luxury and luxury travel in the tricky space where they meet the quieter language of function and utility (in that, it shares a kind of common purpose with the North Face x Gucci collaboration from early 2021, and the new Jil Sander Arc'teryx range).
The exterior, in a sandy monotone and wrapped in a roll bar, talks of high-stakes adventuring, though fundamentally the car remains a sleek luxury coupé, including a slick, sci-fi chrome grille.
The Maybach brand, though, is really about the cabin experience, the luxurious glide to your destination, as much as it is about the externals or the driving experience (they presume a hired hand will do the driving for now, and an AI will do it in the future).
Abloh and Wagener have imagined the interior as a kind of modular hotel room, with seats that fold down to become a first-class flat bed. Polished aluminium is contrasted with super-soft sandy leather (tanned naturally, with coffee shells) and a jacquard houndstooth-finish headrest doubles up as a blanket, while compartments open to reveal reading lights. The seats can also be packed up, suitcase-style, and removed, should you wish to install them in your high-end tent.
Mostly, Abloh and Wagener were having fun here. See the Maybach branded axe, for use in emergencies only. At the same time, they have, in places, reinvigorated and tightened up the sloppy tropes of luxury car design and pointed a perhaps tired typology in new directions. Mercedes-Benz may say that Project Maybach is a modest contribution to Abloh's design legacy, but there is little to be modest about.
INFORMATION