Louis Vuitton pays tribute to Virgil Abloh in Miami
The French luxury maison – of which the late Virgil Abloh was men's artistic director until his passing on Sunday 28 November 2021 – held a show in Miami in tribute to the creative innovator, titled 'Virgil was Here'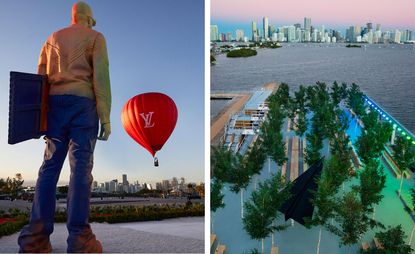 (Image credit: press)
A hot-air balloon hovering in the sky, red lights illuminating the motif of a paper aeroplane mid-air, fireworks exploding into slivers of colour, the symbols and signs at Louis Vuitton's menswear show at the Maritime Marina in Miami on 1 December were ones of freedom, liberation and ascension.
The show, held during Design Miami and Art Basel Miami Beach 2021, was originally planned as a S/S 2022 spin-off, incorporating 30 new looks into the brand's upcoming offering. Following the passing of the maison's men's artistic director Virgil Abloh on Sunday 28 November, after a private battle with cancer, the show was revised as a celebratory tribute to the self-professed 'image-maker' and not 'designer' – a creative polymath, one of the few Black male figures to lead a luxury French house, and the first to lead Louis Vuitton.
Possibility has always been at the heart of Abloh's shows for the house, a visual representation of his coming of age, a symbol of universal wall-shattering success for so many. His debut S/S 2020 show for the house – complete with a rainbow runway – referenced the fairytale world of The Wizard of Oz. Post-show, Abloh left a message of optimism for millions of young creatives globally, posting an image of himself at the head of the Palais Royal garden catwalk, with the caption 'You can do it too'.
Louis Vuitton's show films – broadcast at the onset of the Covid-19 pandemic, also championed community. For his original S/S 2022 show, Abloh brought together Black musicians and poets including Goldie, Saul Williams and Lupe Fiasco, in a story focused on passing down concepts and traditions through generations.
'Virgil was Here'
The Miami show – live streamed worldwide – opened with Abloh's own words: 'I've been on this focus in terms of my art and creativity, of getting adults to behave like children again. That they go back into this sense of wonderment.' That sense of naivety, childhood liberation, and unrestricted imagination was conveyed in silhouettes that were genre-breaking and fanciful: neon and tie-dye suiting, puffball skirts and kilts, LV monogram sportswear, looks that defied convention, referencing both rave culture and formal wear.
The show closed with Abloh's eternally poignant words: 'Life is so short that there's no point wasting a day subscribing to what someone thinks you can do, knowing what you can do.' Fireworks exploded in flashes of red and orange across the water, and the words 'Virgil was here' illuminated the sky.
INFORMATION
louisvuitton.com (opens in new tab)