Hyundai and Kia charge ahead in the design stakes
What drives Hyundai? A combination of design, desire and ability.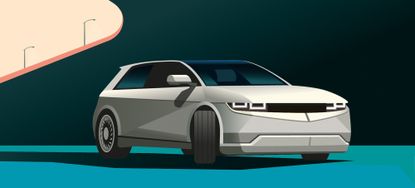 (Image credit: Artwork: Peter Greenwood – Folio Art )
Korea's Hyundai Motor Company stands a good chance of becoming the first truly modern mobility corporation of the post-automobile era. Over the past two decades, a combination of industrial muscle, superior design chops and a will to innovate have seen the brand become a global player. In addition to the eponymous car brand, Hyundai also owns a substantial chunk of Kia Motors, along with its luxury division Genesis, and newly announced IONIQ and HTWO sub-brands for electric and hydrogen vehicles respectively. Even with a pandemic raging, in 2020, the company sold 3.7 million Hyundai vehicles, and 2.6 million Kia vehicles, putting it high up the list of major players.

Hyundai is also a towering example of Korea's family-orientated business culture. The current chairman, Euisun Chung, is the grandson of Juyung Chung, who founded the Hyundai Group in 1946. The car company was founded in 1967 and owed its early success to a team of former British Leyland employees. They oversaw the very first Korean car, the 1975 Pony, styled by no less a talent than the master Italian automotive designer Giorgetto Giugiaro.
Hyundai: a history
Although Hyundai Motor is one of many businesses to hive off from the original company over the years, it still benefits from the latter's halo effect. The Hyundai name is attached to all forms of construction, as well as shipbuilding, shipping, electronics, finance and tourism, while also being active in philanthropy and global relations. Under Juyung Chung, Hyundai became an engine of Korea's economic revolution and helped make the country one of Asia's four 'Tiger Economies'. The Hyundai name remains a source of national pride. So far it has avoided the unease and suspicion that now surrounds FAANG and other tech titans.

All that might change, for the automobile is on the cusp of a revolution, one that will see it edge closer in spirit to the device in your pocket rather than the machine parked outside your house. Up until the turn of the last decade, Hyundai Motor focused on value-orientated products with tried and tested reliability. This ensured its swift rise to ubiquity, but brand recognition still eluded it. The company ultimately found its brand mojo through its long association with German designer Peter Schreyer, formerly head of design at Audi, then Volkswagen.
In 2006, Schreyer was hired first by Kia, before being appointed president of the company's various global design centres. Today he is the group's head of design management. Schreyer has an uncanny ability to distil automotive identity down to a few signature elements. He was one of the drivers behind the VW Group's sophisticated brand management, which used key designs – Audi's TT, the revived Volkswagen Beetle, the Bentley Continental GT – to steer its various wards towards strong individual identities despite increasingly shared components.

Initially, Kia and Hyundai Motor offered Schreyer a larger canvas but a more limited palette. He set his teams painstakingly to create a new family of distinctive cars, from small to large, modest to lavish. Both brands became bolder, creating products for Asia's fast-growing youth market and America's heartland consumers, most notably a series of compact SUVs and crossovers. These cars– including the Kia Soul and Sportage, and the Hyundai Tucson and Santa Fe – continue to sell well around the globe, bolstering corporate confidence for a brave next step.
What's next?
Like all heavy industries, car makers work many years in advance. Hyundai Motor's gears have been grinding in the background, for it entered 2021 with such a raft of new products and announcements that at times it was hard to keep up. Last year, Wallpaper* bestowed a coveted Design Award on the 45 Concept (see W*251), a sleek mainstream electric car that proudly bore the influence of Giugiaro's 1974 Pony Coupé concept – the precursor to the company's first production car. Schreyer has long admired the Italian master and the 45 paid homage without being slavishly retro. Instead, it made an emotional connection between the technology of tomorrow – the electric car – and the unencumbered optimism of the past. For the first time, a Hyundai expressed the emotional pull of design, that indefinable cocktail of form, function, innovation, even nostalgia.
The 45 has now reached production as the IONIQ 5, the first in a series of IONIQ-branded vehicles spearheading Hyundai Motor's push for full electrification. Next year it will be joined by the IONIQ 6, a saloon previewed by the swooping Hyundai Prophecy, a little-seen concept. Both cars share a platform but have very different body styles. Variation has always been a big selling point of a flexible EV platform, but Hyundai Motor is practically alone in its willingness to explore this. SangYup Lee, the brand's senior vice president and head of Hyundai's Global Design Center, used the Prophecy to make the point that the company is moving away from the decades-old 'Russian Doll' approach to car design, still exemplified by BMW and Mercedes-Benz. Instead, every model will be an outlier. Even Hyundai Motor's newest minivan, the Staria, shakes up this most conservative of sectors with a monolithically minimal approach to exterior design. As hire purchase gives way to subscription services, brands with design diversity are far more attractive to customers who choose their vehicle according to ever-changing needs.

Although EVs are the fastest road to a diverse product portfolio, Hyundai Motor is hedging its bets with a $6.7bn investment in hydrogen technology. The world's first mass-produced hydrogen fuel cell electric vehicle (FCEV) was the Hyundai iX35. The company currently sells the bespoke Nexo FCEV and is pushing for trucks, buses and cargo ships to pivot to hydrogen in the next two decades. Simultaneously, Kia is being transformed, with a new design language, corporate identity and brand manifesto. The thrust of the latter is that Kia will 'move beyond being a traditional car manufacturer to [become] a mobility brand'. This push is led by the new EV6, an elegant yet practical EV that marks a distinct break from preceding Kia models.
Hyundai Motor is also committed to far-reaching projects like urban air mobility, developing a mock-up of a personal air vehicle with Uber. Designed to connect with a network of landing hubs and shuttles that get passengers to their final destination, the company expects to be swooping over cities such as LA and Seoul by the end of this decade. With a background in engineering, Hyundai Motor is better placed than most manufacturers to predict the investment and infrastructure required for such a project. And in yet another sign that it is thinking far, far ahead, last year it acquired a majority stake in robotics firm Boston Dynamics, the world's most adept builder of androids.

In the space of 15 years, Hyundai Motor has transformed itself into a brand with a truly credible sci-fi pedigree. While we can expect a few more years of SUV dominance (there's no chance of an asteroid that'll decimate those dinosaurs overnight), the company is well positioned to benefit from mobility's transition from a product into a service. What's more, its scale suggests it can go it alone. The combination of design, desire and an ability to effect global change means Hyundai Motor is a name to watch
INFORMATION
hyundai.com (opens in new tab)
kia.com (opens in new tab)
Jonathan Bell has written for Wallpaper* magazine since 1999, covering everything from architecture and transport design to books, tech and graphic design. He is now the magazine's Transport and Technology Editor. Jonathan has written and edited 15 books, including Concept Car Design, 21st Century House, and The New Modern House. He is also the host of Wallpaper's first podcast.