The brilliant Honda e: (near) perfection in a small package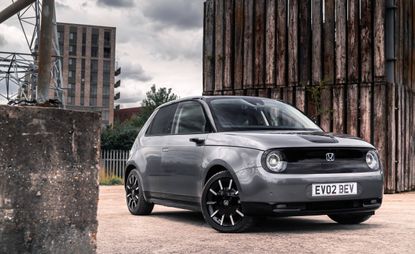 (Image credit: honda.co.uk)
The new Honda e is, remarkably, one of the first modern era electric cars to be explicitly pitched at urban drivers. Electric cars have been around for around 130 years but it wasn't until the 60s and 70s that entrepreneurs started to outfit microcars with rudimentary battery packs to help ride out the era's oil crisis and the imminent demise of the internal combustion engine. Things didn't pan out that way, leaving cars like the Zagato Zele and the Fiat X1/23 concept as intriguing design dead-ends that might have led to a very different future.
In 2017, Honda showed its Urban EV Concept, a meticulously conceived micro hatchback marked by a return to 70s-infused retro chic. With an interior overseen by Fumihiro Yaguchi and an exterior by Yuki Terai, the EV Concept eschewed Honda's occasional eccentric flourishes in favour of a lozenge-like simplicity, with chunky, toy-like proportions, and pared-back detailing. There's a strong hint of the original 1973 Honda Civic in the visual language, as well as liberal visual quotes from almost every other successful small city from the decades that followed. Just as Mazda's MX-5 took the essence of the characterful and compact British sports car and turned into a modern cultural phenomenon, Honda have revisited the golden age of hatchback design and given it a very modern twist. Above all, the Urban EV design was a bold rejection of macho car culture. In 2019 the company announced it would be transforming the concept into a production car.
The production version of the Honda e has kept the essence of Terai and Yaguchi's concept alive, inside and out, while losing some of the more outré design elements, like the big wheels, front bench seat and bumper-less body work. The e is arguably a little blander, but such is the strength and character of the original concept that it can't help but be different to everything else on the road. Now a more conventional five door, the production car still retains the concept's wing mirror cameras, with displays mounted on the dash, not the door, adding to the feeling of a slim, compact streetwise machine. The dash itself is a work of art, a long collection of touch screens that allow you to swap modes, give passengers a chance to select their own display, along with a Tesla-like gimmick (in this case a digital dash-mounted aquarium), with several chunks of suitably 70s-looking faux wood trim on the dash and centre console and a scattering of conventional buttons and dials.
In fact, we'll stick our neck out and say that the Honda E has one of the best automotive interiors on the market today. The irresistible combination of digital and analogue is paired with denim-like seat covers, a totally flat floor with no bulky transmission tunnel and an innate sense of quality. Only one thing blights the user experience, and that's the perverse grouping of DAB radio stations into their official 'ensembles', essentially chunks of data that happen to contain several station streams at once. It's vaguely useful to know that the BBC's prodigious output is bundled together in one of these 'multiplexes', but otherwise they are of little practical use, especially in a car. Simply dump every available DAB station into one long list, Honda, and we will figure out the rest. Honda isn't the car company guilty of doing this, but those that don't provide a much better user experience.
Apart from that, the Honda e has only one other glaring Achilles' heel; range. Fully charged, the e will only take you 137 miles. Although this is comparable to the new MINI Electric (145 miles) and rather less than Fiat's new 500 Electric (199 miles), it doesn't ever feel like enough, psychologically speaking. In practice, the e's electronic brain errs on the side of caution and those miles tick down far slower than you'd expect. Turning off a/c gives you an instant bump in range, so the connection between power consumption and user input is always foremost in your mind. As a small car explicitly pitched at short journeys, the Honda e will reward you well for not deploying the zippy acceleration at available moment. So until there's a revolution in physics and chemistry, the e does just fine for 90% of daily use. The smallish battery and fast-charge compatability also means you only 20 minutes or so to get a low battery back up to an acceptable level.
When compared with the big, brash machines that dominate modern roads, the Honda e stands out. The design oozes the ubiquitous Japanese pop cultural trope of 'kawaii', or 'loveable cuteness', a style that finds its way into everything from industrial design to fashion. Kawaii is about much more than retro design; it involves imbuing objects with a personality that transcends technology, materials, and function. This is not to be reductive or dismissive of the sophistication of the e, for it wears its technology with pride. The little e also garnered more appreciative comments and turned heads than most noisy supercars, such is its comparative rarity, but also because it is very rare thing; a car with character. A passing child described it as a 'a robot car from space,' and speculated loudly whether the occupants were, in fact, human. Although it's not quite an otherworldly interior, driving the Honda e certainly makes you feel part of a more optimistic future.
INFORMATION
Honda e, from £28,215
Jonathan Bell has written for Wallpaper* magazine since 1999, covering everything from architecture and transport design to books, tech and graphic design. He is now the magazine's Transport and Technology Editor. Jonathan has written and edited 15 books, including Concept Car Design, 21st Century House, and The New Modern House. He is also the host of Wallpaper's first podcast.