Honda e is a pleasantly surprising electric powerhouse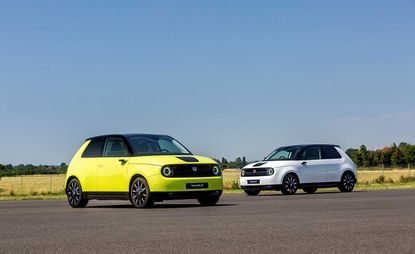 (Image credit: TBC)
Honda doesn't feature regularly in Wallpaper* because its products are usually a bit too 'regular'. Luckily, its first mass-production full-electric vehicle is anything but.

The Honda e is an undeniably cute-faced and product design-inspired city car aiming for a new kind of buyer who may not be so interested in Honda's go-faster Civic Type-R and NSX or indeed its practical Jazz or CR-V family cars either. Despite the e's apparent contrast to both of those vehicle types, the four-seater is actually surprisingly practical and nippy, as Wallpaper* found out on an early drive of the prototype, in advance of the final production unveil this autumn and deliveries in early 2020.
Sporting a body painted acid yellow contrasted against almost gloss black everything else – including a completely closed front grille, roof, A-pillar and most of the wheels – the car's exterior comes across as a cool life-sized toy. The flush front-door handles are body-coloured and pop-out, while the back-door handles, are gloss black and elegantly hide in front of the car's body-coloured rear pillar.

The car is high-tech beyond its electric powertrain too. Exterior wing mirrors are replaced by tiny camera pods which relay crisp images of the rearward views, to interior display screens either side of the dashboard. There's a further central rear-view mirror housing a screen showing what's directly behind the car too, but that can be switched off if you prefer to look via a regular mirror. Then there's a massive, almost dashboard-width infotainment screen to manage navigation, entertainment and more, accessible by either the driver or front passenger. Seat covers are grey marl-style smart and similar to the material you might find on a modern sofa in a boutique hotel while the brown seatbelts match the wood effect on the horizontal dash top and centre console. (The lack of real wood is the only obvious downside to the e's interior authenticity.)

Our early prototype's main infotainment screen was in static mode so we focused on how the car handled. Which, in two words, is 'surprisingly well'. Its rear-wheel drive set-up and quick-but-firm steering makes the car a doddle to drive fast, but also safely. You can slalom with ease around closely-spaced cones if you want to. So we did. The tiny 4.3-metre 'lock-to-lock' turning circle makes the city Honda super-easy to manoeuvre as well. Tight parking spots will be no problem.

Acceleration via the 150PS electric motor is rapid, linear and quiet. Official figures aren't out yet but Honda is suggesting a sub-eight second 0-60mph and that feels believable. When you only want to use that pedal, a press of another button allows for 'one-pedal' driving. With different levels of regenerative braking to slow the car down sufficiently whenever the driver lifts their foot off the accelerator, the physical brake pedal is barely necessary.

Honda's 35.5 kWh battery provides a realistic range of 124 miles, fast re-chargeable to 80 per cent in 30 minutes, which the firm says is suitable for its urban audience and a way of keeping weight down by avoiding additional batteries. Pricing is not yet fixed but expect the range to start at £35,000. That's not cheap compared to some small EVs with greater range, but with the e's bold exterior design and high tech interior, Honda is looking further upmarket to BMW's i3. All in all, very impressive.
INFORMATION
Guy Bird is a London-based writer, editor and consultant specialising in cars and car design, but also covers aviation, architecture, street art, sneakers and music. His journalistic experience spans more than 25 years in the UK and global industry. See more at www.guybird.com