Rolls-Royce puts the Phantom back on its lofty pedestal
A mid-life refresh ensures the flagship Rolls-Royce Phantom Series II is at the top of its game, a last hurrah for traditional engines before an electrified future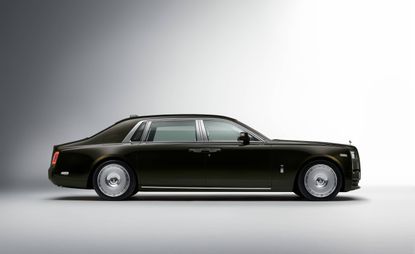 (Image credit: TBC)
There are few places in the world as insulated from reality as the back seat of a Rolls-Royce (opens in new tab) Phantom. For generations, the cossetting luxury of the Phantom's interior has provided refuge from the travails of the real world, presumably giving its lucky owners the restorative fillip they need to carry on with their arduous wealth acquisition. For the rest of us, the imperious sight of a Phantom remains the most effective visual shorthand for a certain kind of success.
Just five years ago, Rolls-Royce introduced the eighth car to bear the Phantom name (opens in new tab), a lineage that now stretches back almost a century. Now that model has been lightly refreshed, with tweaks inside and out to ensure it retains its rightful place at the pinnacle of luxury.
For the most part, the enhancements have been subtly executed, regardless of how complex it was behind-the-scenes. A good case in point is the new disc wheels, which add even more visual solidity to the already magisterial presence of the Phantom. They hark back to the solid wheel covers of yesteryear, while also looking forward to the new era of aerodynamic design arising out of electrification.
Not that the Phantom is electrified. Far from it. Notably, Rolls-Royce makes practically no reference to the powertrain at all, let alone tawdry details like acceleration or top speed. For the record, there's a sizeable twin-turbocharged 6.75 litre V12 under that long, long bonnet, a unit that puts out over 560hp and can hustle it to 62mph in about five seconds. It will also chew through a gallon of fossil fuel every 17 miles or so in a worst-case scenario and puts out a hefty dose of CO2 (351g/km, as opposed to the 75g/km generated by Bentley's hybridised Flying Spur).
The Phantom commits these environmental crimes with great stealth and discretion. You'd be hard pushed to hear the engine at all, even under hard acceleration, such is the level of refinement that the company's engineers exert over the internal combustion process.
No-one escapes legislation, however, and an all-electric Phantom is inevitable. The car's silent engine and effortless power should ensure a seamless transition from ICE to EV; let's face it, few Phantom owners actually park their own cars, let alone fuel them, so charging duty will simply be another task for the staff.
Other visual details are more subtle. The Pantheon grille can now be illuminated at night, and the Phantom's headlights have been enhanced with laser-cut bezels that imitate a galactic swirl of 'stars'.
Perched on the hillside terraces of the freshly finished Maybourne Riviera, the Rolls-Royce Phantom is in its element. In the winding streets down below, it's a slightly different story. Everything has got too big for Monaco. The boats, the buildings, Formula 1 cars, the boutiques, the bars; while the tiny Principality has stayed pretty much the same size (save for the odd land reclamation project), the physical language of luxury has continued to grow, year on year.
For now, bigger is still better. Rolls has always been admirably restrained when it comes to indulging its customers' most outlandish requests, maintaining that it is committed to their whims and desires above all else. The company's designers are cagey on matters of taste, gently suggesting that different cultures have different criteria as to what exactly symbolises elegance, luxury, and social status.
In other words, whether something is good or not is entirely subjective. Criticism is therefore irrelevant, but the eight different editions created for the Series II launch ran the full gamut from timeless elegance to contemporary bling.
What will electrification bring to Rolls-Royce? And how do more outlandish design expressions like concept cars and one-offs embolden the brand? We spoke to Rolls-Royce's head of exterior design, Felix Kilbertus, who has overseen the Phantom II project since he joined the company in 2017 following stints at Nissan, Renault, Fiat and Pininfarina.
Wallpaper*: How does Rolls-Royce use concept cars?
Felix Kilbertus: RR has historically created a series of experimental cars, or EX cars. These vehicles are often prototypes with a clear objective, to prove an untested idea or to test a new concept. Some were strictly for internal use, and some were communicated publicly. Many EX cars have become production cars in due course, or certain key elements. Would I want to see 103EX (opens in new tab) on the road today? That surely would be exciting, but in this case, the concept's mission was quite a radical proposition. It was intended to anticipate topics like pure autonomous driving, future materials and to provide a glimpse of the next one hundred years of Rolls-Royce.
I believe it is fair to say that the technology to make such a vision a reality today doesn't exist yet. Would we be happy to work with a client inspired by the vision of this concept car, or to build something beautiful and unique? Absolutely, and this is precisely what Rolls-Royce Coachbuild is all about!
W*: Is Rolls-Royce about revolution or evolution?
FK: Evolution and revolution are two core principles in the creative process – one speaks about making an existing idea better and one to invent something new where nothing adequate exists yet. In design you need both principles – the art lies in choosing which principle to use when. I think Henry Royce put it perfectly: 'Take the best and make it better.' But he added immediately afterwards: 'When it does not exist, design it.' Often the initial approach is to make things better, to further an already acclaimed proposition.
With Phantom, our continual dialogue with our clients tells us they are not yet yearning for revolution – rather the opposite – there was a common wish to preserve and protect a creation which is meeting their every need. I believe the key factors to pay attention to are changes in technology, taste and time. Technology is a very strong driver for design innovation, as change provides us with new possibilities in terms of shapes, materials and endurance. Form follows function after all, and new functions certainly give room for new form.
W*: How would you define good taste?
FK: Tastes do change, but good taste usually remains long after the technology it was born from has become obsolete. In my view, good taste is what ultimately makes things timeless – assuming masterful execution and relevant product substance.
Time, or specifically the passing of time, in a sense of how long things remain fresh, relevant, 'au goût du jour' is both the easiest and hardest to deal with. It is clear that any significant idea must be of its time, but it is intriguing how sometimes time seems 'stable', i.e. a given paradigm is not overthrown for a long time, and sometimes times are 'dynamic' where every few years a newer idea emerges or an old one is discarded.
W*: How does such an established brand like Rolls-Royce deal with the fast-moving modern world?
FK: I'm fascinated with these moments of change and stability. The sheer speed of everything we experience today, thanks to instant access to information from the past and present, has reduced the half-life of ideas and flattened trends. The cycle spins so fast now that the older, deeper, and sometimes archaic ideas re-emerge more strongly. At Rolls-Royce we are fortunate that we can look back over more than a century, distinguish more clearly between the superficial and the essential, and make design decisions more deliberately.
W*: How important is coachbuilding to Rolls-Royce today?
FK: When working very closely with our clients, particularly through Bespoke or our Rolls-Royce Coachbuild division (opens in new tab), all of these questions must be addressed in depth with the client. Different collaborations require different approaches, and an important responsibility we have as designers is to help our clients discover the possible and invite them to go beyond their initial vision. In this exchange the mutual learnings can produce extraordinary results!
W*: What defines a Rolls-Royce?
FK: We have the privilege of having iconic principles that we consciously continue to evolve. Perfect proportions, sheer monolithic volumes and essential surfacing, combined with the best materials and craftsmanship, allow us to create authentic and lasting solutions. On a more formal level, we have the presence, and familiarity, of the Pantheon grille and the Spirit of Ecstasy. Such brand pillars define the playing field that in turn, gives us great freedom to create new silhouettes, transitions, and extremely modern details for each new model.
For example, every Rolls-Royce in history is recognisable by its front grille, which has only gradually evolved over time. However, if you focus on the front lights, you will irrefutably recognise the specific time and character of the individual model, their radical shifts in form and technology going hand-in-hand.
Our cars have a long life expectancy, we must aim to give them as much modernity at conception as possible, working tirelessly to keep them relevant during their life. This is what you can see with Phantom Series II, bringing in new ideas to make a difference, building upon the modernity of Phantom's core character.
INFORMATION
Rolls-Royce Phantom Series II, price on application
Rolls-RoyceMotorCars.com (opens in new tab)
Jonathan Bell has written for Wallpaper* magazine since 1999, covering everything from architecture and transport design to books, tech and graphic design. He is now the magazine's Transport and Technology Editor. Jonathan has written and edited 15 books, including Concept Car Design, 21st Century House, and The New Modern House. He is also the host of Wallpaper's first podcast.