Classic electric restomods: iconic car designs with electric power
Classic electric restomods offer the chance for you to drive your favourite iconic car design, modified and overhauled with electric power. Here's our pick of companies electrifying classic cars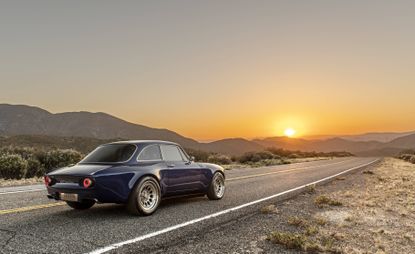 (Image credit: TBC)
Everrati and Ionic aren't the only companies in the business of electrifying classic cars. What started out as an extremely niche business is fast becoming a firm fixture in the classic car universe. Whether it's a simple conversion for an everyday sports car or a full-on rebuild that creates a silent super-luxury machine, here's our selection of companies dedicated to classic electric restomods – taking old cars into the 21st century and beyond.
Voitures Extravert
Martijn van Dijk's Voitures Extravert is based in the Netherlands. Not only does the company specialise in adding electric power to the Porsche 911, it's also an expert at taking a later model of the venerable sports car design, stripping it down and reshaping it as a 1970s-era classic, with period-perfect detail and colours. The process takes around nine months and the company will help you find a suitable donor car.
From €285,000
voitures-extravert.com
Totem Automobili
Totem Automobili has a singular focus on one of the most beautiful car designs of all time, the Bertone-designed Alfa Romeo Giulia GTA. Built from 1965 to 1969, the GTA was a performance-focused version of Alfa's exceptionally attractive two-door coupé. With a sparkier engine and lightweight aluminium bodywork, the 1960s GTA was an accomplished racing car. Totem's GT Electric takes the stylistic spirit of the GTA and recreates it with a carbon fibre body and an all-electric drivetrain. The Italian-based company will hand-build each example, and has placed a special emphasis on audio design, using a 13-speaker system to completely recreate the original car's sound, or something entirely new, should you so desire. Each interior is entirely bespoke, and the company has a partnership with leather specialists Amedeo Testoni for luggage and accessories. The light weight offers a promising range of over 240 miles, with fast-charging as standard.
Totem GT Electric, price on application
totemautomobili.com
Electrogenic
Another bespoke specialist, Oxford-based company Electrogenic tackles mid-range classics like the Triumph Stag and Morgan 4/4. These sympathetic conversions are both one-offs, and the company has also tackled the Jaguar E-Type, VW Beetle and Van, an early Land Rover and a 1970s-era Rolls-Royce. Swapping engines, fuel tanks and gearboxes for motors and batteries helps retain the original balance, while a modest range of around 150 miles can be achieved with Type 2 charging. The company's most recent conversion is a 1971 Citroën DS, the DS EV electronique, which includes a contemporary update for the car's pioneering hydraulic suspension system.
ECD Automotive Design
ECD Automotive Design is based in Florida. As well as restoring a wide variety of Range Rovers and Land Rovers, classic and modern, the company is now branching out into electrification. Its first zero-emission models include a first generation Range Rover, complete with Tesla drivetrain and total bare metal restoration, and an all-electric Defender. The latter has an estimated range of 220 miles using a Tesla power plant and batteries, and a frankly alarming zero-to-60 time of 5.5 seconds.
ECD Defender, price on request
ecdautodesign.com
Opel Manta GSe Elektromod
A one-off design study by Opel to celebrate 50 years of its classic Manta design. The GSe Elektromod provides a visual bridge between Vauxhall/Opel's new design language and the pioneering forms it was creating back in the 1970s. The Manta GSe is a traditional 'restomod', in the sense that the original car has been preserved with light styling tweaks, and the new electric motor has been designed to shift through the original gearbox. The front end has been replaced by a digital screen alongside the headlights and the car has a modest range of 124 miles.
Opel Manta GSe Elektromod, concept only
opel.de
Watt Electric Vehicle Company
Watt Electric Vehicle Company is launching its business with a design that's been a familiar part of the traditional restomod scene for decades, Porsche's 356. The WEV Coupé combines the timeless elegance of the 356 with all-new electric underpinnings. This proprietary bit of tech is Watt's Passenger And Commercial EV Skateboard (PACES), and the Cornish company hopes it'll underpin vans and other vehicles in due course. Right now, the WEV Coupé will be the technology showcase, with 21 examples of this compact, stylish sportscar offered from early 2022.
WEV Coupé, from £81,250
wattelectricvehicles.com AC Cars
AC Cars
AC Cars has a long history and a complicated heritage – official and unofficial versions of its standout 1960s classic, the AC Cobra, continue to proliferate. The original company is staking its claim to the name with the Classic Electric Cobra Series 1, a zero-emissions version of the classic that promises to deliver the same blistering performance wrapped up in a familiar body shell. A litmus test for whether engine sound is an important component of a classic.
RBW Classic Electric Cars
RBW transforms the ubiquitous MGB into a zippy and ultra-compact EV. Available in both Roadster and closed GT, the emphasis is not on speed or dynamics, but on silent, refined motoring with high levels of luxury in a compact and familiar package. The company is also working on an electric version of the classic Jaguar E-Type.
MGB Roadster, from approx £90,000
rbwevcars.com
Garage Italia
Garage Italia customises a wide range of classic and modern Italian machinery. Co-founded by Fiat scion Lapo Elkann, the Milanese firm is as adept at respraying the latest Ferrari as it is at giving fresh life to a more prosaic classic. That's the case in point with the Fiat Panda 4 x 4, one of Giugiaro's most celebrated mass production designs. The company is creating five examples of the Icon-e Panda in five different themes, including collaborations with tailors Vitale Barberis Canonico and fashion designer Marta Ferri.
Fiat Panda 4 x 4 Icon-e
garage-italia.com
Lunaz
Lunaz hit the headlines earlier this summer when it was announced that David Beckham had taken a stake in the company. Based in Silverstone, Lunaz pitched itself at the high end of the market from the outset, with an electrified Rolls-Royce Phantom, a 1950s-era Bentley and an overhauled Series 1 Range Rover in its line-up. This can be focused either on a more traditional 'Country' role, with an agile four-wheel drive system, or as a luxurious 'Town' model.
Range Rover Classic, from £245,000
lunaz.design
eClassics
This Volkswagen-sanctioned transformation of the classic Beetle convertible is undertaken by German company eClassics. The e-Käfer convertible uses the drivetrain from VW's modern e-up! electric city car, with all the other components completely overhauled. The company can also electrify the VW bus of your choice.
eClassics e-Käfer convertible, from €154,900
e-classics.eu
Renault 4 e-Plein Air
This collaboration between Renault Classic and Renault Design was a one-off celebration of the open-topped Renault 4 conversion favoured by the French beach set in the 1960s and 1970s. A direct competitor to Citroen's equally cult-like Mehari, the original Plein Air was introduced in 1968 as a holiday runaround, with doors and roof removed and replaced with canvas. The e-Plein Air is an electric restomod, and incorporates the running gear from Renault's dimunitive modern Twizy quadricycle.
Renault Classic
en.renaultclassic.com
Hemmels
The Hemmels Electric Pagoda takes one of Mercedes-Benz's finest creations – the 280SL, built between 1963 and 1971. The W113 Series was a huge success back in the day, particularly in the US market, and some 50,000 examples were sold. Still a popular classic, Hemmels believes it can bring the clean-lined open-topped car bang up to date, with a full restoration and a bespoke electric drivetrain. The Electric Pagoda is now in Series III production, after the first two issues quickly sold out.
Hemmels Electric Pagoda, from $239,000
hemmels.com
Icon 4x4
Jonathan Ward's Icon has been creating painstakingly meticulous updates of classic 4x4 models for two decades, supplying his glorious hand-built creations to the tech and entertainment set up and down the Californian coast. Icon also runs a 'Derelict' line, a service that underpins well-patinated classics with thoroughly modern running gear. In recent years these have run to unexpected electric conversions; our favourite is this 1966 Fiat Giardiniera.
Icon Derelicts, price on request
icon4x4.com
Jaguar E-Type Concept Zero
One of the original retro electric conversions, Jaguar's E-Type Zero was revealed in 2017 and garnered major publicity when it was used as the going away car at the wedding of the Duke and Duchess of Wessex, a neat marketing coup that sadly didn't translate into any sales, as the project was eventually canned. Aston Martin has also dabbled in the re-fitting game, with an EV version of its 1960s-era DB6 developed a few years ago. If you still want an electric E-Type, then you'll have go down the non-official routes.
Jaguar E-Type Concept Zero, concept only
jaguar.co.uk
Zero Labs
Californian company Zero Labs was set up in 2015 to sate the demand for rivet-perfect restorations of compact, early SUVs like the first generation Ford Bronco, and the Series III Land Rover. By slotting batteries into these utilitarian classics, Zero Labs is one of the many niche stories in California's rich history of electric motoring. Interiors are subtly upgraded in a minimal modernist style and the company can even finish the entire car in carbon fibre if that's your bag. Its special projects division will tackle any vehicle of your choice, at a price.
Bronco, from $225,000
zerolabs.com
Charge Cars
Charge is making a bold statement with its electrified Ford Mustang, one of the original muscle cars and a machine usually associated with all the sound and bluster of a traditional V8 engine. The company has big ambitions to build 499 examples of this all-American hero, with a 200-mile range (not far off the original thirsty petrol models) and upgraded user interfaces.
Ford Mustang Electric, from £300,000
charge.cars
Receive our daily digest of inspiration, escapism and design stories from around the world direct to your inbox
Jonathan Bell has written for Wallpaper* magazine since 1999, covering everything from architecture and transport design to books, tech and graphic design. He is now the magazine's Transport and Technology Editor. Jonathan has written and edited 15 books, including Concept Car Design, 21st Century House, and The New Modern House. He is also the host of Wallpaper's first podcast.