Will this UK company secure the future of classic cars?
Everrati, a specialist UK engineering firm hailing from the rolling hills of the Cotswolds in the UK, thinks it holds the key to classic car electrification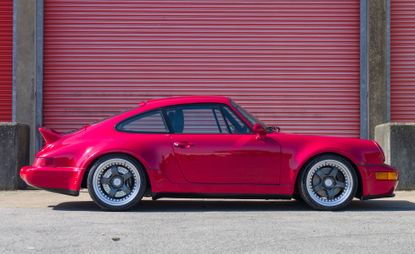 (Image credit: Porsche)
Wallpaper* Newsletter
Receive our daily digest of inspiration, escapism and design stories from around the world direct to your inbox
Thank you for signing up to Wallpaper. You will receive a verification email shortly.
There was a problem. Please refresh the page and try again.
The steep value curve of classic cars – even the most seemingly mundane example – suggests that by the time petrol is seriously scarce, most machines that still run it will be almost too valuable to use on a daily basis.

Justin Lunny runs Everrati, formerly Ionic, a specialist UK engineering firm based in the Cotswolds. After selling his Fintech firm Lunny was casting around for a business that combined automotive and technology. 'When I saw Jaguar's electric E-Type being used at Harry and Meghan's wedding, I realised there was something there,' he says. 'Very few companies are doing this in the right way.'
The future is electric
And so Everatti was born, a company designed to take much-loved existing classics and transform them into sporty EVs for everyday use far, far into the future. From the outset, Lunny and his team realised that this was a high-end proposition. Instead of simply 'splicing existing EV parts' into a classic car with 'dubious engineering,' an Everrati is designed from the ground up. 'Our intention is to take a vehicle and subtly transform it from a combustion engine to an EV,' he says, 'we're essentially completely re-engineering them. We 3D scan the vehicle to assess where the weight of the batteries should be placed. Then we custom design the new parts to fit into the areas where engine, fuel tank, etc., would have been.'
Everrati's flagship is currently a complete transformation of Porsche's 964-series 911, a car that was originally built between 1989 and 1994. Over 63,000 were built and there are plenty of owners, old and new, who like the idea of giving their car a new lease of life. 'With the Porsche, we can put a lot of power into it because we know the car can take it,' Lunny explains, 'for the Land-Rover and Mercedes models we do, the performance is much sedate.' Any electric vehicle, whether new or retro-fitted, has to balance the equation of weight, range and performance, and Everrati is no different.
Effectively, the company is offering a restoration service with a difference. 'It's about keeping the original feel of the cars as much as possible,' Lunny says, 'the interiors are just as important as the rest of the car. We strip everything back to the chassis and recondition it. The Porsche actually ends up lighter than the original car because we use carbon fibre panels.' The process also includes upgrading suspension where needed, as well as adding regenerative braking to charge the battery kinetically. 'Our customers determine whether a car has cachet or value and these judgements depend on their age. In a way, it's easier to do these changes to an older car but we're set up to deal with more modern vehicles as well.'
While Everrati stresses it can tackle practically anything, the systems for adapting the Porsche and the Land-Rover have been fully productionised. 'Then it's down to customer specification, and whether they want specific trim changes for example.' Asked if his firm would transform a particularly rare car, Lunny is evasive. 'If it was a very low mileage important car, we probably wouldn't take on the job. You have to ask, does the end result justify the price?' Some customers have asked for the oily innards of the original car to be preserved as an objet d'art, acknowledging that such engineering is often be extremely beautiful.
The company has also announced a new partnership with Superformance, a manufacturer of continuation models of Ford's 1960s era super sports car, the GT40. Development is underway for an electrified version of this iconic model, which both companies acknowledge as a nod to the Anglo American partnership that developed the original GT40 back in the 1960s.
The switch to electric mobility has many upsides, but a vocal minority of enthusiasts are finding the inevitable slow death of the internal combustion engine hard to take. With well over a century of automotive history seemingly condemned to a long, lingering extinction, is there any hope for the traditional classic car? Outside of museums, concours events and car shows, companies like Everatti are providing a second life for totemic designs that might overwise vanish from our roads. Although Lunny stresses that the whole process is reversible, he believes his approach ensures older cars stay relevant, used and well-loved. 'It appeals to those people who might not have owned a classic before and who don't want the hassle of breakdowns and servicing,' he says. 'Countries like France are looking into the benefits of doing this to older mass-market cars, so I think the process will definitely come down in cost.' For now, Everrati's Porsche, Land-Rover and Mercedes convertible, are a fascinating alternative to the mainstream.
INFORMATION
Porsche (964) 911, from £250,000
Receive our daily digest of inspiration, escapism and design stories from around the world direct to your inbox
Jonathan Bell has written for Wallpaper* magazine since 1999, covering everything from architecture and transport design to books, tech and graphic design. He is now the magazine's Transport and Technology Editor. Jonathan has written and edited 15 books, including Concept Car Design, 21st Century House, and The New Modern House. He is also the host of Wallpaper's first podcast.