Adam Kimmel is recharged and redirected as WeWork's creative chief
He was fashion's new big thing until he decided not to be. Now Kimmel is back, and is taking on desk space disruptor WeWork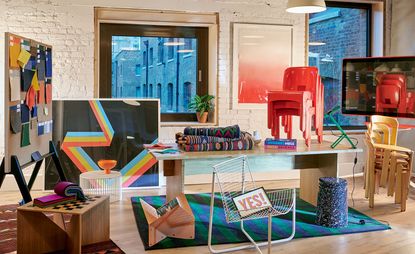 (Image credit: Jason Schmidt)
Wallpaper* Newsletter
Receive our daily digest of inspiration, escapism and design stories from around the world direct to your inbox
Thank you for signing up to Wallpaper. You will receive a verification email shortly.
There was a problem. Please refresh the page and try again.
As second-act professional re-routings go, Adam Kimmel's is an attention grabber. In the late noughties, the native New Yorker was the next big thing in men's fashion. Kimmel's designs reimagined and outfitted his kind of American hero, from cowboys to SoHo bohemians, Jackson Pollock to Snoop Dogg. He also helped revolutionise the way fashion brands communicated what they did and who they were. Circumnavigating the conventional catwalk show, he used film – a tuxedoed David Blaine swimming in a tank of sharks – and theatre, including a casino full of models wearing oversized masks designed by George Condo.

His now much-sought-after lookbooks were born of loose drop-in sessions and his clothes were modelled by everyone from hotshot young photographer Ryan McGinley to LA art eminence John Baldessari and actor/artist/photographer and counterculture totem Dennis Hopper. Kimmel, in a way nobody else quite had, suggested fashion was an integral part of the larger creative enterprise. But, in 2012, he shocked the industry by cancelling his spring/summer 2013 show. He wanted to take a year off, he said, to spend time with his young family, to experiment, to learn and grow. That year came and went and Kimmel all but disappeared from view (his reputation as a designer of contemporary fashion grew in his absence). Last year, though, he reemerged as the new chief creative officer of desk space disruptor WeWork.

Founded in New York in 2010 by Adam Neumann (now CEO) and Miguel McKelvey, WeWork has grown from niche darling of MacBook and backpack freelance hot-deskers to very serious supplier and manager of office space around the world, as disruptive in its market as Airbnb has been in hospitality. A new round of funding this spring from its largest investor, the Japanese SoftBank, will push WeWork's valuation to at least $40bn, making it one of the world's most valuable private companies.
As of December last year, WeWork had 400,000 'members' at 400 locations in 99 cities and 26 different countries. It already claims to be the largest private real estate tenant in London, Washington and New York, and those figures will have grown by the time you read this. The company is having a serious growth spurt. In 2018 alone, it added 200 locations in 34 cities and plans to keep growing at that kind of pace.

The company's business model sounds simple enough. WeWork takes long-term leases on big commercial properties, chops the space up into smaller pieces, and sublets on shorter, more flexible terms. The brand's secret sauce is those more flexible leases; the added extras (chic yet comfortable communal spaces, free coffee and ping pong tables); and perhaps, most crucially, the design. And that's where Adam Kimmel comes in.

Kimmel took up the WeWork post in autumn 2017. (He is not the only big name recruit: in May last year, Bjarke Ingels was signed up as chief architectural advisor). After six years out, toying with the idea of launching a sportswear, skate or surf line, WeWork offered Kimmel something he could commit to. 'It just started with a few conversations with Adam [Neumann] and it was like, "This is so interesting and such a cool thing",' says Kimmel. 'I just gave it a shot and it clicked with me. You can't control your fate. It finds you and you just roll with it.'

Kimmel is clear that Neumann's vision and notorious energy levels were central to him taking on the role. 'He is such a radical thinker in every department of life, constantly pushing and innovating,' Kimmel says. 'To keep up with and match that push with design for me is like crack, design crack. The innovation that happens here on a day-to-day basis, and the exciting things that are happening in the design, are unreal.'
Kimmel's career swerve isn't as violent as you might imagine. He studied architecture and art at NYU and, like his hero Helmut Lang, only got into fashion after friends asked him for versions of clothes he'd made for himself. Kimmel always thought about design in the broadest sense. 'I have always looked at the worlds of art and design as one pot,' he says. 'I'm fascinated by people who are multidisciplinarian. One of my heroes was Dennis Hopper. He wasn't appreciated as an artist and photographer, but he just strung all these things together – acting, directing, art. The main hook for me with WeWork is that I have to think about design, art, architecture, furniture – and I love furniture. I don't think there are many things that offer that mix.' He also realises the job is as much about function as fantasy. 'I am drawn to the utility of WeWork. It answers a need,' he says.

Kimmel talks about creating the right 'physical vibrations' at WeWork – 'the materials, the art, all the design choices that give you the final dish'. WeWork built its reputation on bringing domestic comfort to the shared office space. And while Neumann and McKelvey certainly didn't invent co-working spaces, WeWork has come to define their aesthetic. 'The universal design language here is comfort,' says Kimmel. 'We are at the precipice of a fundamental shift in office experience, and WeWork was at the forefront of that feeling of coming into an office that feels like a home.'
Kimmel is now refining that design, and the first of the Kimmel-signed spaces are starting to open. Inevitably, Kimmel's new look is evolution rather than revolution, but there is a definite lightness of touch matched with a new confidence with colours and materials (suppliers include Kvadrat, Vitra, Knoll, Hay and Hem). Kimmel also neatly swerves cliché and contrivance. Seating that could come off as too faux-1950s diner is made contemporary with sharp angles and natural materials, while phone booths that could err towards 1940s film noir are white and industrial. Kimmel is adding more vintage pieces, but they are perfectly judged. And for all the popping murals and neon (produced by an in-house art team) and table Pac-Man machines, these are spaces that feel far more grown-up than the tech-company playpen of legend.

WeWork is growing up fast. Way too fast some say. There are WeWork sceptics who question its extraordinary valuation, arguing that its business model leaves the company dangerously exposed to any downturn in the office rental market. They argue that solo-freelancers and small start-ups will abandon WeWork for the local café at the first signs of an economic downturn, leaving the company with empty space and long leases. This may underestimate how much that kind of client values a distinct workspace (and free coffee). More immediately, and given its relentless expansionist push, it is spending far more money than it is making. The company made $1.2bn in revenues in the first nine months of 2018 but it spent double that. The company's champions argue that doubters misread the company's full potential and Neumann's drive and imperial ambition.
WeWork sees its future with the big and the bluechip as much as the hipsterpreneurs. 'Enterprise clients', as WeWork tags its big, corporate customers, make up 30 per cent of the company's members (the average WeWork set-up is not, as some might suspect, vast plains of hot desks, sofas and coffee bars roamed by peripatetic millennials in hoodies, but distinct offices for operations large and small, with one company often occupying entire floors).

Corporations are beginning to understand that to attract the best and the brightest young staff, it needs to offer them a workspace with a little more pop and funk. Crucially, though, WeWork's pop and funk seems to more than compensate for reduced circumstances. A typical US office development allows for around 200 sq ft per person. A WeWorker gets around 60-80 sq ft.

Of course, WeWork is doing something way smarter than simply using smaller desks. Sensors and surveys constantly monitor how people are using that space, how long people are at their desks, and when and how they use communal spaces and meeting rooms. Data analytics – and it now has an awful lot of data – means that WeWork can engineer its spaces for maximum happy efficiency. Applying that insight is now a big part of Kimmel's new role. 'There is data on mobility, how people function and flow, how dynamics and layouts create the most productivity,' he says. 'And we look at all of that. But we have to couple that with thinking about how you feel when you are actually sitting in it. It's about taking that data and making it an environmental experience.'

WeWork is now leveraging those kinds of big data-driven smarts to manage office space for other people. Its Powered by We service offers to help big corporate clients design, build, kit out and even manage their own offices. This takes away a lot of the leasing liabilities that have commentators so concerned, and WeWork clearly sees the service becoming a key part of its future development. It is currently working on 220 Powered by We projects in seven different countries for more than 2,000 enterprise clients. Eventually it hopes to start developing entire corporate campuses for tens of thousands of workers.
It's fair to say that Neumann imagines WeWork as being as ubiquitous and essential a corporate service provider as Microsoft or IBM. But even that doesn't get to the full stretch of the company's ambition. It already runs two 'co-living' spaces, one in New York and one in Washington, that it has branded WeLive (Neumann has suggested that WeLive will eventually match or even eclipse WeWork in scale). In 2017, it opened Rise by We, a New York gym and wellness centre, and last year it opened WeGrow, a small Montessori school in the city. It has bought the New York-based Flatiron School, a dedicated coding academy, and is starting to roll out branches internationally, and it also runs a start-up incubator, WeWork labs. Neumann clearly imagines We micro-cities (all, cynics might say, sensored and surveyed to ensure maximum happiness and efficiency). At the beginning of January this year, WeWork rebranded itself as The We Company, with WeWork, WeLive and WeGrow acting as distinct units.

Kimmel, meanwhile, is charged with making sure something essential isn't lost as WeWork continues to expand. 'We need to maintain that sweetness of intention that the company started with,' he says. 'And that is really about localising each space. We have 160 interior designers stationed in eight regions and as soon as new space comes online, they get involved. They have to consider the neighbourhood, the community.

'One of our goals was to make things personal so, even though we opened 79 new locations this month [December], when you walk in, you should feel that we only had one space to work on and we spent a year designing it and we didn't just push a button in New York and chairs magically appeared.'

But it is WeWork's accelerated growth that really recharged Kimmel's ambition. 'It's growing like crazy and taking on a new audience really quickly,' he says. 'And that's part of the appeal – I just find it so exciting. That was the thing I liked in fashion, the speed of turning things around and offering something new. That's something you have to achieve in this environment with this kind of expansion. You have to keep creating new experiences, make sure that people are seeing new things and constantly trying to push the design.'
As originally featured in the March 2019 issue of Wallpaper* (W*240)
INFORMATION
For more information, visit The We Company website
Receive our daily digest of inspiration, escapism and design stories from around the world direct to your inbox