Architecture in the words of Paulo Mendes da Rocha
Great modernist Paulo Mendes da Rocha passed away on 23 May 2021 aged 92. Here, we revisit the interview he gave Wallpaper* in 2010 for our Brazil-focussed June issue, talking about architecture, awards and his home country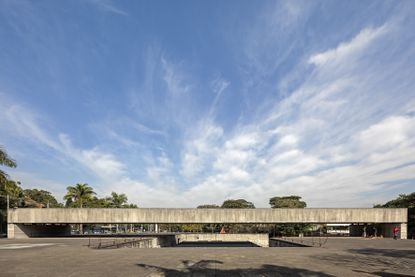 (Image credit: Leonardo Finotti )
Paulo Mendes da Rocha still channels the energy of a revolutionary. The 81-year-old architect's discourse, usually self-contradictory, is intense, much like the body of work that spans his 50-year career. Take his house in Butanta, for example, which he built in 1964. Even today, it's an architectural gesture against the culture of individualism. The banishing of circulation space, and the design of rooms with windows that open not externally but internally towards the common areas, represents a radical proposal of respectful co-existence.

Delicate paper models all around his office tell stories about his current projects; the Vitória Museum, already under construction; laboratories for Vale do Rio Doce in Belem do Pani; the Vigo University building in Spain; and the new Carriage Museum in Lisbon. The architect seems genuinely unconcerned about the current global economic difficulties. 'How can Europe talk about crisis aft er having overcome two World Wars and having rebuilt entire countries from scratch? We should allow capitalism to be discussed as well as reinvented,' he says.
'The best thing an architect can say is that he doesn't know what architecture is'
Mendes de Rocha's long service as a lecturer at Sao Paulo University would have been longer had the military dictatorship not banned him from teaching for two decades. He suggests today's more benign political environment will allow Brazilian architects to again spark urban revitalisation, just as the country's modernists did.
RELATED STORY
'I don't think there is a Brazilian architecture, there is just architecture in Brazil,' he says. He references Rio icons like the Museum of Modern Art by Affonso Eduardo Reidy and the Ministry of Education and Health, by a team that included Oscar Niemeyer and Lucio Costa. 'These are works of architecture that transform nature,' he says, and by "nature" he explains that he does not mean the simple natural landscape, but the whole socio-geographic phenomena .

Though he seems nonchalant about awards, Mendes da Rocha considers the Pritzker Prize he received in 2006 as recognition of how Brazil's attitude to architecture has had a positive influence internationally. But he suggests there are many challenges that Latin American architecture has yet to overcome.

'Latin America is still being discovered, but the biggest danger for Brazil would be to stand out before its time. lt would just lead to ephemeral fireworks.' But isn't contemporary architecture also, in a way, ephemeral? 'The best thing an architect can say is that he doesn't know what architecture is,' comes the reply.