Design-conscious co-working spaces around the world
Modern workspaces must be adaptable and ergonomically sound. Cast iron, plywood and hanging plants are also requisite. Dispatching from creative companies and desirable desk spaces, we track down the designers responding to our evolving working behaviours. Are you sitting comfortably?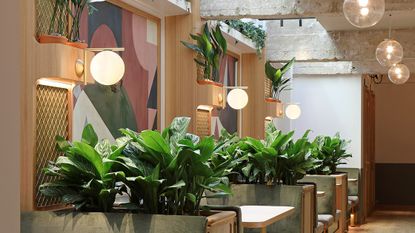 (Image credit: James Balston)
No 6 Babmaes Street, UK
Fathom Architects
The newly launched No 6 Babmaes Street in London is 'a new concept in social and flexible workspace,' explain its creators. This modern co-working space was designed by Fathom Architects for The Crown Estate, retrofitting a disused 1970s building in the upmarket St James area. An architectural, raw concrete shell unfolds into warm decor, rich planting and a range of facilities for its users. Offerings include from a wellness studio (doubling as space for exhibitions or pop-up events), to banquette booths, meeting rooms, dining spaces, lounge areas and a roof terrace. Working alone or as part of a group, this space caters for everything.
The Malin, New York, USA
Craftmanship and curated amenities define the latest coworking space in New York - The Malin. Set on Mercer Street and open to members, the venue caters for the creative community and is dressed with design-led objects and furniture to ensure a warm, yet contemporary environment. "We wanted The Malin to be a beautiful yet functional space that exists as the ideal place to work. During the pandemic I imagined what it would take to inspire folks to want to return to a workplace, and knew that it would have to be in an exciting neighborhood, with various zones that promoted different modes of working, with a design that was comfortable and inviting, yet elevated. From that, The Malin was born" explains one of the founders, Ciaran McGuigan.
B64N Co-working, Australia
Kosloff Architecture
Located in Melbourne Airport, 'one of the world's fastest growing airports and Melbourne's second largest employment hub', this co-working space is quirkily located in an existing hangar shed. Kosloff Architecture's clever renovation means that the hangar's 3000 sq m can now easily accomodate working, meeting and socialising spaces for users. A two storey structure installed inside, and carefully selected furniture, soften the hangar's industrial nature, without obscuring it.
Digital Garage, Japan
Snøhetta
Digital Garage is a serene workspace in Tokyo's bustling Shibuya district. The interior, created by Norwegian architecture studio Snøhetta, is described by its architects as 'boutique office space for digital nomads.' A central piece of furniture made of Japanese cedar wood dominates the interior and unites different areas, offering a space to sit, rest and work, transforming from bench to table, to partition, to bar counter. Specially design lighting on the undulating dark ceiling gives the impression of a starry night.
Assembly, USA
Campfire & Co
Housed in the historic former Ames & Brownly department store in Norfolk, Virginia, Assembly is a modern co-working set up created by Campfire & Co. Balancing old and new, as well as the varying needs of a contemporary, post-pandemic workspace, flexibility is key in this design - as are a sleek, yet warm design with lots of natural light and materials. Apart from meeting rooms, hotdesking areas and traditional office, amenities include a library, game room, a wellness/mother's room, a podcast/recording booth and bike share scheme and bike storage.
Plantworks, UK
Marek Wojciechowski Architects and Kono Designs
Conceived by financier Clemente Cappello and featuring a design by Marek Wojciechowski Architects and Kono Designs, Plantworks is the latest addition to the vibrant Kings Cross scene. Including some 10,000 plants in various forms and set ups, this development boasts to be 'the first urban farm office development'. Cappello says: 'Working amongst biophilia reduces illness, stress and mental health issues whilst stimulating positivity, creativity and teamwork and can reduce sick days by 20%. My vision is to harbour the benefits of plants to attract talent, reduce sick days and foster wellbeing within the workplace. The office is now very much part of a company's brand image and plays a greater role in attracting and retaining talent.'
Bureau, UK
Ror Barr
Launching with London Design District at the Greenwich Peninsula this month, Bureau is the capital's newest workspace offering. Balanced between office architecture and members' club, Bureau has landed to provide post-pandemic respite to the city's tired creative workforce – a step away from both traditional office space and working-from-home set-ups, and a clearly defined concept that stands apart from co-working space peers. With interiors designed by architect Roz Barr, this creative club is the latest evolution in its genre – a 'hybrid third space', combining the freedom and flexibility of home working, with the focused structure, support, and sociability provided by the office environment, its creators explain. Barr's ideas on what constitutes the perfect modern workspace were already in development, as the architect gathered notes from past, pre-pandemic projects, such as Selfridges' creative studios. But with Bureau and the pandemic, everything sped up. The architect told us back in February, when we previewed Bureau's space: 'With Selfridges it wasn't about fitting in desks for everyone, it was about creating a studio culture, pin-up areas, places for informal meetings, places you could take your laptop and work in peace. There were freelancers coming in and out, working on particular projects. All that experience fed into Bureau.'
The Department Store Studios, London
Squire & Partners
Set next door to the architecture practice's own, award winning office space, this new addition to Brixton's The Department Store is the brainchild of Squire & Partners. The Studios offers the perfect platform for 'hyperlocal' working and growing businesses. There are individual desks, private studios, serviced social and meeting areas and also a neighbourhood bar, restaurant and screening room on the premises. The design draws on the robust, existing Edwardian structure while adding a contemporary layer with sleek dark metal window frames, landscaped terraces and a Cross Laminated Timber (CLT) structural frame. 'We believe people are tired of conventional offices defined by standard industry benchmarks. The Department Store Studios is a loveable place to work, where people can work 'free range' in a generous space where they are part of a community which supports them to do more than just their jobs,' says Squire & Partners' senior partner Michael Squire.
Brock House, London, UK
SODA
Situated in the heart of London's bustling West End, Brock House is an oasis of calm, considered design. The brainchild of leading co-working company TOG (The Office Group), the venue draws on its historical building - formely a Philharmonic Hall, cinema and automobile showroom - with an added layer of contemporary design and all the mod-cons a modern flexible office space might need. The colourful architecture is created by dynamic London studio SODA.
Museum für Kunst und Gewerbe, Hamburg, Germany
Studio Besau-Marguerre
This workspace has a special twist - not only is the co-working office a bold and colourful statement of interior architecture, but it is also hosted in a unique cultural setting, inside Hamburg's Museum für Kunst und Gewerbe. Designed by local multi-disciplinary studio Besau-Marguerre, the space has strong graphic arrangements and powerful colour blocking. It is also created with supreme accoustics and zoning to ensure aesthetics match comfort, and an overall contemporary approach to interiors.
Clockwise, London, UK
Hawkins\Brown
London's Wood Green may not be as central as Bank, Hackney and other of the capital's workspace hubs, but it now can boast a new contemporary flexible office space in the shape of Clockwise. Created by leading architect Hawkins\Brown, this interior is clean and modern. 'The new site takes its design cues from the thriving local community and area, working in collaboration with neighbourhood artists to capture a genuine local perspective,' they say.
34 Boar Lane, Leeds, UK
Kinrise
This contemporary workspace in Leeds city centre, owned and operated by Kinrise, is designed with environmental friendliness and collaboration in mind. Offering carefully designed interiors that promote both flexible working and wellbeing, 34 Boar Loane runs on 100% green energy. 'The outdoor rooftop terraces have been designed with the environment in mind, with activities like planting and beekeeping both planned and actively encouraged. Other innovations include the use of sustainably sourced British sheep's wool to insulate the building and the introduction of storage and shower facilities for cyclists,' Kinrise adds.
Spacial, Montreal, Canada
Ivy Studio Inc
What used to be a Jiu Jitsu gym and a beauty salon has now transformed into a state-of-the-art co-working space in Montreal. Titled Spacial and located on an existing building's second floor, this workspace captivates through its colours and patterns. Facilities range from meeting rooms to co-working areas and private, rentable offices to suite any need.
Victoria House, London, UK
Hutchinson & Partners
Workspace specialists LABS have joined forces with London-based architecture studio Hutchinson & Partners to transform Victoria House, the Grade-II listed neoclassical building in the heart of Bloomsbury, into a modern co-working space. The architects drew on the historical building's scale and grand design, applying modern notes and touches throughout. Amenities include a state-of-the-art gym, multi-use studio, lecture room, boardroom, meeting room suite. Furniture was designed especially for this site by Fred Rigby.
Paddington Works, London, UK
Threefold Architects
Threefold Architects have been researching wellness in architecture for their work and have applied their findings on their latest co-working space project in London. Paddington Works is inspired by Brunel's eponymous station and its heroic train shed. At the same time it's a workspace fit for the 21st century, full of clever, functional design details and a crafts-based approach. Additionally, 'the air circulation system (air socks) bring at least 25% more fresh air into the building effectively cleaning the air in the communal spaces every 22 minutes - making it a very safe place to work covid wise,' say the architects.
Liberty House, London, UK
SODA Studio
TOG (The Office Group) has collaborated with SODA Studio to create the brand's latest workspace in the heart of London. Situated in the heart of town and just opposite the famed Liberty London store - which gives the new venue its name - this co-working space features all the hallmarks of its creators' expertise - ample space, generous amenities, lots of colour and clever use of crafts and material. Drawing inspiration from its dynamic context and the vibrancy in Liberty London's aesthetic, this office blends colours, patterns and sculpted forms. Liberty House follows TOG's recent launch of Oper46 in Frankfurt.
NeueHouse Bradbury, Los Angeles, USA
DesignAgency
Located in downtown LA's iconic Bradbury Building, this is the latest outpost of the sophisticated private flexible workspace brand NeueHouse. Created by DesignAgency, the interiors include a café/bar, a communal gallery and atelier workspace, a wellness room, meeting rooms and desk space. The Canadian studio lovingly restored the existing 1893 National Historic Landmark building, maintaining features such as its high oak framed windows and exposed wood ceiling joists, while matching it with modern furniture and fittings. Communal areas are versatile in order to accommodate a variety of events and needs, bringing together hospitality, social club, and workspace into a single, contemporary space.
PUBLIC Hall, London, UK
Sella Concept
At One Horse Guards Avenue in Westminster, Sella Concept has created a 'heritage-meets-modern' design for a GovTech co-working space initiated by venture firm PUBLIC and workspace accelerator Huckletree. The French Renaissance style architecture of the building from 1884, and its storied past as an apartment block and the an MI6 HQ during World War I, played an important role in the design process. Sella Concpet played with materials such as French cane on the reception desk, balancing ornate fireplaces and cornicing with bold colour palettes and bold design choices. 'We added a contemporary layer that merges both worlds with a discreet elegance that can make you feel calm, at home, and inspired to create,' says Tatjana von Stein, co-founder, Sella Concept. The open-plan space with plenty of communal areas was important to facilitating collaboration between innovators, civil servants and Westminster policymakers.
Firma + Cantine II, Brussels, Belgium
Baroness O.
Baroness O. converted this vacated office building, formerly home to Brussel's regional office for employment, into a temporary and minimalist co-work, art and lunch space. Collaborating with architecture firm Keper Architecten, Baroness O. was guided by the temporal time span afforded to the concept (open until 2021) when designing the material pallette. Cost-efficient and reusable materials, including transparent walls and textiles, give spaces modular flexibility. 'Our creative community is in need of lectures and inspiring events in a central, easy to reach location,' explains Baroness O. founder Anne Van Assche. 'We're organising our first events this summer already.'
Shui-On INNO SOCIAL, Shanghai, China
Aim Architecture
The ever-developing, public character of Shanghai informed Aim Architecture's interior overhaul of this art deco building in Yangpu district. Catering to the freelancer, corporate business and everything in between, the Shui-On INNO SOCIAL co-working space offers 65,000 sq m of workspace across two buildings. Wood interiors weave around social spaces hosting kitchens and sleep pods, complemented by splashes of pastel hues across walls and furniture. A courtyard at the facility's heart features a 'community loop', connecting the offices with retail stores and cafes. The architects hope this space will foster new interactions and working relationships.
MATES, Munich, Germany
Studio Alexander Fehre
Stuttgart-based interior design studio Alexander Fehre responded to the concept of MATES – a co-working space created as a platform for exchange between young creatives – with a bright, relaxed interior. Inviting rubberized cork-lined boxes on the exterior glazed wall with desks inside are ideal for working in small groups, while smaller boxes with alternative arrangements – such as a comfy chair with desk, or a small table with two chairs – are designated for more focused work. Brightly coloured furniture – such Muuto's fiber armchair with swivel base in Dusty Red – contrast the wood floor and neutral walls.
SOHO 3Q WuJiaoChang, Shanghai, China
Ippolito Fleitz Group
Buzzing with energy, this co-working space, commissioned by SOHO China, a leading private real estate developer, is aimed at millenials (China's largest demographic). An unused 1980s department store has been revitalized into a workspace that seeks to break convention with its varied and colourful design of terrazzo floors, open ceilings and wooden surfaces. Designed for flexibility and growth, all areas are scalable from two to 30 workstations, with the whole co-working space seating 2,500 people. The jewel is a two level hub connected by a sculptural spiral staircase designed for bringing the whole community together.
Allbright, London, UK
Suzy Hoodless
Despite being a female-only members club, the Allbright in Mayfair keeps its 'girly' details to a minimum. With interiors designed by Suzy Hoodless, the space has been transformed from an old office with 1980's-style drop ceilings to a bright and breezy co-working environment that has the working woman at the forefront of its mind. Colourful elements come in the form of Gubi Beetle chairs, while art from an all-female lineup has been specially curated by Beth Greenacre. As well as great spots to knuckle down and concentrate, the five-floor building impressively encompasses two roof terraces, a spa and salon, a fitness studio and an 80-seat restaurant.
InfiniteArea, Treviso, Italy
Zanon Architetti Associati and Squared Architects
Located in Montebelluna, Italy, at the heart of an industrial campus, this co-workring space has been designed as a 'glocal' office for innovation and new business opportunities. An abandoned factory was renovated and redesigned, and now boasts 150 desks, eight meeting rooms and an event space seating 200. Polished concrete flooring and timber, glass and metal dividers were contrasted with colourful office furniture. Green space surrounds the building and connects co-workers to the outdoors through floor-to-ceiling glazed exterior walls.
Warszawski Ul, Warsaw, Poland
Beza Projekt
Taking inspiration from American period drama 'Mad Men', avant-garde design studio Beza Projekt has redesigned a co-working space in Warsaw with 1960s style. Situated inside a 1920s tenement house, the space hosts four private offices, a conference room and kitchen, completed with a bathroom and shower. Richly hued rosewood panels line the walls and are complimented by brushed gold accents, all enhanced with ambient lighting.

Through the hidden doors covered with veneer, a customised prussian blue kitchen features partially glazed walls to provide natural lighting, without compromising the privacy of the surrounding space. Semi-circular tables, mirrors and stools by Misa Form add a feeling of elegance to a somewhat mysterious-looking co-working space.
Beauty Shoppe Terminal Building, Pittsburgh, USA
Beauty Shoppe
Co-working company Beauty Shoppe opens its eighth co-working space in Pittsburgh inside the Terminal Building, a historic spot in the Highline, a cargo warehouse redevelopment in the city. As well as work spaces, the 12,000 sq ft space also includes a series of maker studios, which have inspired the Bauhaus-themed design which features local craft pieces – such as the tapestries by the 'Midnight Weaver', artist Laura Gross, pictured here – and modernist furniture. The maker bays make this co-working space unique; activated through a partnership with a local craft business accelerator Monmade, they open up to the street and invite the community to look inside.

The in-house design team led by Morgan Stewart, Beauty Shoppe's director of design, celebrates the original building with exposed brickwork and masonry. This characteristic canvas for co-workers is layered with locally sourced custom furniture including seating by Bones and All, and a concrete table by DJ Tokarcyzk of D.N.A Company. A public café named Astroid reflects the same design interest in Bauhaus – in both its design and menu, with locally handmade coffee mugs designed by Jenna Vanden Brink.
Fora, Reading, UK
Piercy&Company
This is Fora's fourth co-working space, located within Thames Tower in Reading. The modern interior spans three levels and was designed in collaboration with London based architects Piercy&Company. The concept is more akin to a hotel than a workspace, offering club style facilities for its users, wrapped in a calming, contemporary design in the architecture studio's signature style.
The material palette includes Crittall style glazed partitions, bespoke fabric curtains, and solid timber flooring. 'We think about offices like internal landscapes, says Stuart Piercy, explaining the architects' aim to create bespoke areas for distinct tasks within a coherent whole. Founded by hospitality-entrepreneur Enrico Sanna and The Big Chill festival co-founder Katrina Larkin, Fora is a company to watch.
The Frames, London, UK
Squire & Partners
Following up on their hugely succesful Department Store in Brixton, Squire & Partners have just unveiled their latest co-working offering in Shoreditch. This creative workspace focuses on small and creative businesses in the area and spans five storeys and some 7,500 sq m. Alongside elegant, flexible desk areas, the building also includes shared meeting rooms, break-out areas, tea points, cycle storage, shower facilities and a café. Clad in brick, metal and glass, the design takes its cue from the wider South Shoreditch Conservation Area's warehouse typology and aesthetic. Adding highly crafted details was key to the overall design quality, so for example there are bespoke twisted dark grey perforated aluminium fins at the top two floors of the building, polished concrete floors inside, as well as exposed soffits, corten-clad lift cores and a striking folded steel staircase. The complex also features a two storey bespoke artwork by renowned street artist Mr Jago. Writer: Ellie Stathaki.
The Wing, San Francisco, USA
Alda Ly and Chiara de Rege
Architect Alda Ly and interior designer Chiara de Rege have created an upbeat and beautifully detailed space for The Wing's first West Coast space in San Francisco. Women-focused and community-orientated, The Wing now tallies five spaces in total in the US (opens in new tab). Located in the Financial District, set across the second floor of a late 19th-century French Beaux Arts-style building, The Wing has decorative interiors that complement the historic detailing of the original architecture, including a marble-topped pale oak reception desk and Sabine Marcelis' resin Candy Cube coffee tables. New to the San Francisco edition is The Wing Cafe, that partners with local artisans and small businesses from cheesemakers to craft breweries with the aim to empower women in the Bay Area.

Thoughtful details champion women across the space. As well as a whole host of female designers – the rugs are sourced from Brooklyn-based, woman-owned Cold Picnic and Pieces – there are meeting rooms named after notable women, one in honour of Dr. Christine Blasey Ford, an all-women art gallery and a library curated by The Strand Bookstore. Members can read books on feminist theory and contemporary women's literature, as well as titles exploring San Francisco and a juicy coffee table collection for perusal from Rizzoli.

Making working life run all the more efficiently, there's a mothers' room wrapped with wallpaper from Maison C – owned by de Rege and partner Costanza Theodoli-Braschi – for 'pumping in peace', and a beauty room fully stocked with CHANEL products. In the main workspace, furnishings are from Italian designer Cristina Celestino, and LA -based Voila!, while sofas are covered in Raf Simons for Kvadrat fabric and the sconces are Atelier de Troupe.

Read more about The Wing's female-focused concept here (opens in new tab)
The Nest, Warsaw, Poland
Beza Projekt
Blurring the line between work and play was the aim of the game for Warsaw-based studio Beza Projekt when they designed the interiors for The Nest. Through colour, materials and texture, the design embraces the flexibility of working in the creative industries, where a latte can turn into a business idea, or a cocktail into a pitch. Inspired by the atmosphere of a club, Beza Projekt created different functions for each of the six-floors of The Nest – varying from an event space, to a child-friendly zone, casual coffee bar and conference room. Two systems of bespoke furniture were designed to create two distinct styles of working for users; a group of tables and sofas combine to create soft islands with space for standing plants, while a set of desks, cabinets and bookcases refine space for solo focus.

Working within the architecture designed by Polish architects G5 Architekci, Beza Projekt chose a warm, rich palette to counterbalance the angular walls and windows. Custom materials contrasted colour with texture, including ceramic tiles, wallpapers, carpets and a coloured MDF combined with real veneer. Inspired by the Nest's branding identity, a marbled texture designed by Kasia Korzeniecka was rolled out across levels over the structural columns of the space to create a continuous identity across The Nest.
Fora Borough, London, UK
Fora and Hassell
Inspired by the energy of nearby Borough market, Fora's latest co-working space designed in collaboration with Hassell brings 3,000sq m of co-working space to London, just south of the river. Guests arrive into a warm, colourful entrance designed with the marketplace in mind – there's an opportunity to pick up a coffee, people watch while waiting for a client, or pull up a stool for an informal meeting. Full of materiality, the design features art on the walls, custom designed rugs, tactile seating areas and furniture by Danish designer Hans Wegner. Fora was founded by The Big Chill festival co-founder Katrina Larkin and hospitality-entrepreneur Enrico Sanna, who wanted to create working spaces to improve productivity and enhance wellbeing. As well as purpose-built, flexible working spaces to camp out during the working week, Fora Borough also offers its members the Residents' bar with roof terraces and Borealis, a Nordic inspired restaurant from Soren Jessen, of London dining spot 1 Lombard Street.
WeWork Champs-Élysées, Paris, France
WeWork
The in-house design team at WeWork created a bright and colourful interior design at the Champs-Élysées location. Bright blue, electric sunshine yellows and vibrant burnt oranges were drawn from a palette inspired by Yves Saint Laurent's Jardin Majorelle in Marrakech – the architecture, the foliage, pots and clay paving. Subtropical plant species are found across the flexible workspace helping to purify air and transport workers to Morocco. White perforated metal panelling patterned to reflect the carved stone can be found on decorative shutters and ornamental railings. While textiles such as upholstery and carpets also reflect patterns inspired by Morocco. Some areas in the space have chairs facing outwards to the windows and views across Paris – these areas also have no power outlets to encourage members to take a break, unplug, sit back and enjoy the city beyond.
Ministry of Sound, London, UK
Squire & Partners
Ministry of Sound has grown up as London has grown up. The stalwart of the city's nightlife scene is opening a new club this July – but it's not what you might expect. The Ministry (a stone's throw away from the original London Bridge venue which opened 25 years ago) will be a chic, shared working space-cum- private members club. Designed by south London native, Squire and Partners (which operates out of nearby Brixton), The Ministry will feature an impressive (if gratuitous) 21m-bar spanning the entire ground floor. Other facilities include a full table service restaurant, immersive technology studio, 36-seater cinema, soundproof production suites and serviced meeting rooms where you can order lunch at the push of a button.
The Shop, New Orleans, USA
Eskew+Dumez+Ripple
A cutting-edge co-working space has opened across the 3rd and 4th floors of New Orleans' 113-year-old Contemporary Arts Center building. The architects opened up over 3,700 sq m of space, revealing the original timber structure and maintaining the architectural history of the warehouse district in downtown New Orleans. The Shop caters to creative co-workers across a mix of different sectors who have access to the 69 fully-furnished offices, seven conference rooms equipped with the latest technology and a range of amenities such as a roof deck with views across the city. Social space for informal meetings with art on the walls to inspire stretches across 1,400 sq m of the co-working hotspot, crossing two floors as well as the roof deck. With its open plan, high ceilings and large windows The Shop crafts an airy and enjoyable working experience.
WeWork Galaxy, Bengaluru, India
WeWork
Co-working pioneer WeWork has announced its first flagship Indian location in Bengaluru, located on the site of the city's historic Galaxy Theater. Working with the original building, the team's main challenge was to open up the existing structure in order to enhance functionality and encourage communications between users.

The space features a generous rooftop terrace with a pool and gym, as well as the signature WeWork mix of hot desks and private offices. The workspaces have been designed around a striking five-storey communal atrium, pictured here. The WeWork design team worked with commonly used Indian materials, such as wood, steel and marble. These have been incorporated into each space to create the perfect balance between Indian character and luxury, and the contemporary WeWork aesthetic.
The Nest, London, UK
Gensler
Gensler has created a brand new co-working hub for photography, film and TV production company Cherryduck Studios. Named The Nest, the project is situated in Wapping, East London. The venue spans some 8,000 sq ft and is pitched specifically at boutique production and post-production clients. Poised to fill a growing gap in the workspace market, The Nest was designed to offer a one-stop-shop that covers its clients' needs.
Ampla House, Ghent, Belgium
Valerie Vanermen
Housed in a former patrician's residence alongside a canal that connects the river Leie to the canal Ghent-Bruges, Ampla House is the Flemish city's first state-of-the-art collaborative workspace with an individual design outlook. Valerie Vanermen (one half of the Belgian accessories brand Marvais) received carte blanche from the project's founders, and applied her signature sense of colour to the custom-made desk chairs, desks and overall interior design by combining unusual and rich hues to create a homely and serene environment. An original classicist marble stairway is the axis around which flex desks, shared desks, private studies, meeting rooms, food corners and a library can be found, spread over three floors. With a bistro overlooking the city garden, a fitness space, showers and inhouse events, Ampla House takes seriously its inspirational mission to provide a 360° hospitality service for its members. Writer: Siska Lyssens
The Bureau, Paris, France
Atelier MKD
A sophisticated hub of shared coworking spaces and design-led closed offices, The Bureau sets out to meld the superlative business centre facilities, a boutiquey hotel atmosphere and the convivial, community-driven quality of a shared workspace. The 30,000 sq ft Parisian space is housed in a striking art deco pile overlooking the Seine on Cours Albert 1er, and was designed by the French interior architecture and design agency Atelier MKD (headed up by Marika Dru) and lifestyle/interior design tastemakers The Socialite Family. In addition to the coworking and private office areas, The Bureau boats a range of communal meeting rooms (from the sizable seminar-ready Conference Room, to the deep red, power-luxe Deal Room, complete with champagne button) a slick midcentury modern-styled café and a well-appointed gym for blowing off steam.
Second Home Holland Park, London, UK
SelgasCano
Second Home's second London location marks SelgasCano's fifth collaboration with the innovative co-working space brand. The Spanish architecture studio's high-energy and holistic design continues the colourful, biophilic aesthetic set across other Second Home locations, yet at Holland Park the mindful restoration of existing architecture by SelgasCano also brings with it a unique cultural heritage that will no doubt inspire a brand new blossoming of fresh entrepreneurs across the creative industries. The five different buildings that have been combined to make up Second Home Holland Park have lead a fascinating former life, serving as the studio of British fashion photographer John Cowan in the 1960s, a film location for Michelangelo Antonioni's Blow Up in 1966 and then as the London office for architect Richard Rogers. SelgasCano adapted the design for its new life by opening up roof lights to bring in copious amounts of natural light, adding colour and texture through new roof surfaces and injecting innovative greenhouse technologies into the design. Second Home's west London location differs from the east London outpost in offering a more intimate environment for co-workers, featuring meeting rooms aimed at smaller teams of up to eight people, as well as a restored art photography studio on the top floor of the building. The friendly and warm space is defined by its biophilic design, a theme set by SelgasCano across other Second Home locations, which is championed by the 35 trees planted directly into the floors and the layering of freestanding plants and climbing vines.
Nomad Workspace, Copenhagen, Denmark
Natalia Sanchez
Housed in a former courthouse, originally designed by famed Danish architect Thorvald Bindesbøll and dating back to 1863, Nomad Workspace is a recently restored co-working environment for creative nomads. Aptly nestled in the heart of Copenhagen's multicultural Nørrebro district, the 1,500 square metre space was founded by entrepreneur Oliver Bernhard and clothing brand founder Peter Madsen with the intent to house small businesses. The duo tasked interior designer Natalia Sanchez of Spatial Code to transform the expanse into a kaleidoscopic world that draws influences from the world over, including Barcelona, New York and London – places Sanchez has called home herself. Spanning over two-storeys and combining full-service office rooms (seating up to 195 people) with a café and art displays, the expressive interiors meld a confident colour palette and patterns to create an inspiring working environment. Mixing vintage pieces with bespoke items designed by Sanchez herself, most notably a HAY sofa she upholstered in a sumptuous velvet fabric, exclusively made for her by Kvadrat, the interiors pay homage to its past and reflect the passage of time. Meanwhile, walls are adorned by pieces from artists including Justin Morin, Magni Borgehed and James Viscardi, delivered by Last Resort Gallery, while a café serves up coffee from local roaster Risteriet. Hoping to form a place that would express its own personality, arouse curiosity yet still feel familiar for those visiting, Nomad Workspace is a showcase of nomadic beauty defying categorisation. Writer: Jessica-Christin Hametner
Hermann's, Berlin, Germany
Freehaus
In a former East Berlin block, London-based architecture and design studio Freehaus have designed a co-working space for food innovation. Working alongside German food company Bahlsen, the team at Freehaus created a versatile, pastel-toned and plant-filled working environment with a range of different spaces equipped for food innovation, gastronomic demonstrations, audio and visual production, co-working and pop-up events. Initially intended as a space for Bahlsen to test products, the concept for Hermann's grew into a broader purpose to serve the public, the local food production community and to provide a place to discuss contemporary food issues. Freehaus explored the 125-year-old archive of the family-run food company, finding inspiration in the curiosity of the founder who was fascinated by topics from Egyptology, to mathematics and art. Freehaus expressed the multiple functions of Hermann's through designing adaptable spaces and reconfigurable furniture. A central 'greenhaus' provides a meeting room for workers, while maintaining connections to the activity in the space and solid oak tables integrated with power supply can be separated to be used for an events reception desk, pop-up stall or smoothly joined to make a boardroom style meeting table.
Fosbury & Sons, Antwerp, Belgium
Going East
Fosbury & Sons has taken up residence on the first floor of the WATT-tower in Antwerp, a building by modernist architect Léon Stynen. The 3000 sq m space is supported by concrete columns and provides a means for a great variety of professionals to come together. Company founders Stijn Geeraets and Maarten Van Gool wanted to tailor the space to the needs of our generation, enabling a new and effective way of working. Membership to the workspace grants access to a professional office as well as comfortable sitting areas, the services of a hotel and free time activities such as a pool table. By encompassing all of these elements, Fosbury & Sons hope to raise their customers' quality of life during and after work. The generous space overlooks King Albert park and also includes seated areas, large tables, a library of books handpicked to broaden and inspire, showers and a laundry service. Coffeelabs opened its second branch here and serves an assortment of healthy food along with a daily dose of caffeine. Noise-suppressing headphones by Sennheiser are available for those who appreciate total silence while at work. Writer: Phoebe Jayes.
Ellie Stathaki is the Architecture Editor at Wallpaper*. She trained as an architect at the Aristotle University of Thessaloniki in Greece and studied architectural history at the Bartlett in London. Now an established journalist, she has been a member of the Wallpaper* team since 2006, visiting buildings across the globe and interviewing leading architects such as Tadao Ando and Rem Koolhaas. Ellie has also taken part in judging panels, moderated events, curated shows and contributed in books, such as The Contemporary House (Thames & Hudson, 2018) and Glenn Sestig Architecture Diary (2020).