Roz Barr explores post-pandemic office architecture at London's Design District
A new workspace, Bureau, is about to launch at the Design District in London. We talk to its creator Roz Barr about how it responds to pandemic-induced changes in the ways we work and what office architecture means for this new creative hub at the Greenwich Peninsula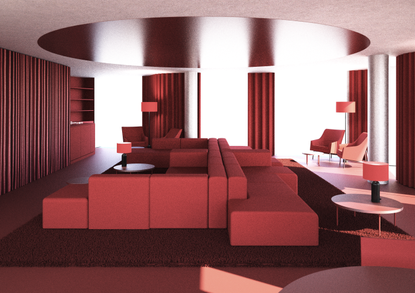 (Image credit: TBC)
Just under a year ago, Roz Barr Architects was charged with designing a new co-working space on Greenwich Peninsula. More than a request to draw up one more piece of office architecture, Bureau would be the twin-site centrepiece of an entirely new creative quarter with 16 buildings designed by eight of Europe's more interesting architects – including 6a, SelgasCano, Barozzi Veiga, Mole and David Kohn. Together, these buildings would offer 150,000 sq ft of affordable office architecture, studio space and dirty workshops for creative businesses, an initiative unmatched in scale and ambition probably anywhere in the world.

Deliberately tightly packed in a car-free arrangement of courtyards and alleys, the Design District buildings were imagined as non-identical pairs. Additionally, the architects were largely ignorant, blissfully or otherwise, of what the other practices had planned. Barr was given two building interiors to work with, each from different architects: 17,000 sq ft and four storeys of striking white undulating form topped with a roof terrace, designed by HNNA; and a light-filled (potentially) five-storey, 14,000 sq ft building by Architecture 00, offering floor-to-ceiling windows and open-air workspace terraces.

Realising a coherent design across two very different buildings, with all the dynamism, flow and flexibility required, was challenge enough, especially as Barr was given under six months to do it. But the commission also came just as Covid-19 was forcing millions into professional retreat. A forced experiment in mass remote working had just begun and it was unclear when and how any return would take shape.
The pandemic and the now multiple lockdowns introduced in its wake presented obvious challenges. 'We didn't even get on site until last July,' says Barr. 'In terms of the design, the whole project has really been run on Teams. We designed it all without physically being in the spaces.'

But Barr had a clear idea of what she wanted to create. The practice had already designed a co-working space at London's Building Centre, and Barr's designs for Selfridges' creative studio centred around flexible working. 'With Selfridges it wasn't about fitting in desks for everyone, it was about creating a studio culture, pin-up areas, places for informal meetings, places you could take your laptop and work in peace. There were freelancers coming in and out, working on particular projects. All that experience fed into Bureau.'

When it opens this spring, Bureau will offer everything you would expect of a cutting-edge co-working/flexible workspace: hot desks, fixed desks and micro-studios for teams of up to eight, meeting rooms, as well as phone booths, lounges, storage facilities (big enough for a fold-up bike), breakout areas, large tables for the scattering of works in progress and unrolling of drawings, and a café/restaurant. And once collective but Covid-conscious huddling is allowed, Bureau will offer all manner of events, talks and workshops and creative-centric professional support.

Both buildings have natural ventilation and software will be used to keep members up to speed about how busy the building is at any one time. It has also adapted to Covid-related shifts in the way we work. Smaller meeting rooms have been acoustically equipped to ensure that private video conferences – surely a continuing fixture of working life for most of us – remain private.
What lifts Bureau way above the norm is Barr's sophisticated, detail-obsessed function focus and a mastery of materials that make sense. Barr's spaces are designed to work, and work beautifully, but with no unnecessary fuss, fluff or faux embellishments. 'It needs to be serious space,' says Barr. 'It's designed to attract people who want to be around beautiful things that are very well detailed.'

It is also a flexible space, designed to be easily reconfigured. Galvanised steel partition walls and fibrous cement board panelling work more as screens than permanent fixtures. 'It's like a kit of parts that can be added to or adapted as time goes by. The micro studios can be easily opened up or sub-divided, depending on what people find they need.'

Around that super-functionalism, Barr has added colour and texture. Forbo's Marmoleum lino – a CO2-neutral combination of natural raw and recycled materials – has been used on floors and walls and softened by digitally printed carpets and rugs. Barr has worked with Kvadrat to find tactile felt panels to keep noise levels down to an energising hum rather than a cacophonous din. 'We really take elements that are quite utilitarian and give them a twist, a different meaning,' says Barr. 'And we weren't frivolous with materials in any way, making sure there was as little waste as possible. The furniture mix, meanwhile, includes pieces from Hay and designers Richard Lampert and Philippe Malouin.

That fluidity, flexibility and multi-functionality works across the two buildings. 'So the café is not just a café, it can be used for pop-ups and events in the evening,' says Barr. 'It can go from day to night and back. There are island sofas that can be broken up and used for screenings, communal tables can be broken down, there's a 12m-long work table that could be used for dinner parties. There's a duality and sense of theatre to it. It's getting as much out the space, and the offer to the members, as possible.'
RELATED STORY
Bureau is designed to be a central part of Design District's larger creative eco-system and hothouse, and engender and encourage collaboration and cross pollination. 'We wanted to create a space where we can nurture and nourish the creative industries, somewhere that creative freelancers could find a home and meet colleagues,' says Design District director Helen Arvanitakis. 'It will give you all the tools and the space to grow, from a sole practitioner to a small team – and beyond.'

Bureau will also house the reception to the whole district, and it has to communicate that larger purpose instantly. 'Hopefully it will give you a flavour of the whole campus, and it is a campus,' says Barr. And she knows that the buildings will have to continue to adapt, to be alive and responsive to how people are using them and Design District more generally. 'Bureau and the whole Design District is new, so we really have to see how people move around and use and occupy it. Some people may prefer one building over the other, but we look at it as a kind of landscape of spaces.'

It's clear that the pandemic has created massive potential for co-working and more flexible office architecture. Creative companies of all sizes have been forced to think about what kind of space and how much of it they actually need and for how long. At the same, and as much as we are all now experienced Zoomsters and Teamsters, creative companies understand that physical collaboration is vital.

Barr says that the Covid pandemic didn't shift her fundamental thinking about how Bureau should work. And that its effect and after-shock will make what Bureau offers more compelling. 'Some creative companies are thinking, well, we may give up our studio, but we may want to book somewhere for a day a week or two days a week where we can go and work,' says Barr. 'That might be a group of desks, or a meeting room where there's pin-up space and a screen. But there will definitely be a need for more flexibility.'
The possibilities and permutations for creative companies now seem endless, but we do seem to be heading for a future where many larger operations downsize expensive, centrally located HQs and open flexible, satellite spaces closer to where their employees actually live. And smaller companies work in a state of fluid semi-permanence, mixing remote working with quality but more occasional together time.
But if time and space become more flexible, they will also need to be more carefully managed. 'We have moved from a culture of "presenteeism" in the office to greater autonomy while working remotely, with people empowered to decide where and when they work most effectively,' says Rosie Haslem, a director at the research-driven design and architecture practice Spacelab and new research studio Labthinks. 'As we arrive at a more hybrid way of working, individual choices will need to be balanced with what works best for teams, and companies. This will take a degree of structure, and communication.'
It is easy to see that some mix of remote working, hot-desking, a smaller permanent or even shared space and the regular use of meeting rooms will become the new model for creative businesses. And Arvanitakis has been quick to respond to these potential shifts in demand. Bureau is also offering what it calls On/Off Office leasing, with companies able to lease office/studio space for between one and three days a week.
Office architecture was in a state of rapid evolution before the arrival of Covid-19 and it has accelerated many existing trends. But it also raised more unexpected questions about the way we work, the nature of collaboration, how much we do, or don't rely on physical and social interaction. And it has also thrown up interesting opportunities. Many would argue that mass video conferencing – once we all learned how to screen-share and turn on our microphones – made collaboration quicker, easier and more efficient. It has allowed people to rethink their working lives and remake them as more civilised and efficient.
We may now travel less but soon, working from home will become working from anywhere, our workspace being wherever we unpack a laptop and phone. But collaboration and common purpose will still mean being in the same place at the same time, at least some of the time. And flexible office interiors, such as Bureau, do seem like a good fit with this new oddly shaped, unfixed creative life.
INFORMATION
rozbarr.com (opens in new tab)
bureau.club (opens in new tab)
designdistrict.co.uk (opens in new tab)