WeWork and BIG reimagine education with WeGrow, a new school in New York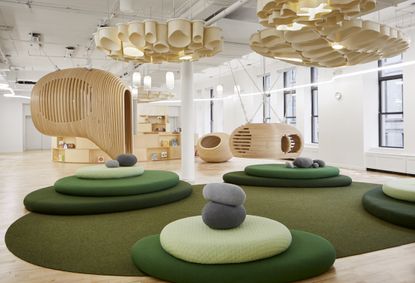 (Image credit: Photography: Dave Burk)
Class is back in session this autumn as WeWork reveals its first foray into education: WeGrow, a school reimagined as an educative playscape at the heart of New York City, for three-to-nine year olds.

Realised in partnership with Danish architects Bjarke Ingels Group, (Ingels himself joined WeWork as chief architect earlier in 2018), the 10,000 sq ft school is housed inside the co-working network's Manhattan HQ, and resonates its passion for connectivity, growth and collaboration, refreshed and updated for a younger generation.

Creativity is the new education hub's cornerstone, a key trait upheld by WeWork and BIG as fundamental to a child's development. Driven to encourage and stimulate creativity within, the two firms re-evaluated the learning landscape from the perspective of a child. Educative spaces are therefore modular to support the spontaneity of the imagination, and include an array of super-elliptic cubbyholes that encourage movement, play, contemplation and reading.
WeGrow features modular and flexible spaces. Photography: Laurian Ghinitoiu
Community sits at WeWork's heart, and this translates fluently at its educational counterpart. Classrooms, flexible workshops, a multi-purpose studio, art studio and music room orbit a central communal space, which brings together two learning spaces and a verdant, focused study space called the magic meadow. Here, custom-designed mushroom shelving units are levelled for each corresponding age group, and puzzle tables and chairs by BIG come in both child and adult sizes, breaking down the age hierarchy between children, teachers and parents.

Natural imagery is further planted throughout to advocate a harmonious relationship with nature. A Laufen-tiled vertical garden hosts plants which are stimulated to grow by Gople lamps, BIG and Artemide's innovative, plant-focused piece of lighting technology. Elsewhere, overhead acoustic felt clouds assume fingerprint, coral, landscape and moon patterns, teaching children about the many facets of our planet's ecosystem.

'WeGrow was created to unleash the creative potential of all generations through design,' states Bjarke Ingels. 'With this first location in New York City, we have created a space to facilitate and accommodate WeGrow's transformative approach to learning because as life evolves, so should the framework in which we live in.'

WeGrow is the latest in a new wave of WeWork projects, which includes its new Rise by We gym and wellness club, which also debuted in New York in 2017.
INFORMATION
For more information, visit the WeGrow website (opens in new tab), the WeWork website (opens in new tab) and the BIG website (opens in new tab)
ADDRESS
110 West 19th Street
Chelsea
Manhattan
New York, NY 10011
VIEW GOOGLE MAPS (opens in new tab)