Suits you: we're trying Tibi's menswear line out for size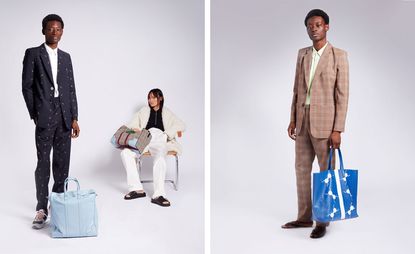 (Image credit: Tibi)
'Last spring, I found myself drawn to a lot more feminine colours,' says Amy Smilovic, founder of Tibi, gesturing to a rail upon which clean oversized blazers in hues of fresh lemon and pale dusky pink hang. 'If you saw a runway show of all these pretty pastels, you wouldn't necessarily assume it was Tibi. So I thought the best way to masculinise them is to put them on men.'

In September 2018, at Tibi's spring/summer 2019 show — held in a disused bank on Wall Street just around the corner from the brand's studio on Broadway — a handful of male models walked down the runway wearing relaxed tailored trousers, oversized suit jackets and knitted polo shirts in shades of caramel, sky blue and soft pink. But contrary to what the catwalk suggested, this wasn't Smilovic announcing a new menswear line. It was a mere styling trick. 'We thought, if the audience saw the womenswear pieces on men, they weren't going to think that Tibi has gone really frilly,' says Smilovic, who founded the New York-based label in 1999. 'They were going to see it the way we wanted it to be seen.'

As it turned out, Canadian e-tailer SSense saw exactly what they wanted to see, too — advanced suiting for men, distinct from the traditional Italian tailoring brands and streetwear labels dominating the current menswear scene. 'SSense came to us after the show and said it was what they were missing,' she says. 'We found out about this gap in the market in a roundabout way.' Initially launched as a trial with SSense, the range was so successful Smilovic has had to put pieces back into production in the middle of the season, after SSense sold out.

'We're now expanding it to other retailers,' she says. Amy Smilovic plans to build the offering slowly, incorporating it into the Tibi flagship store in New York and taking on a select few retail partners — it won't yet have presence on the Tibi website. The 20-piece collection will span the categories, including a coat, two blazers, sweaters and trousers. 'It's a capsule that really ticks off all the parts of your day and your lifestyle,' she says. 'That's what makes it unique.'

What's also unique is this symbiosis with the women's collection. The menswear offering will be the same, altered slightly in size to account for narrower hips and longer limbs. 'The adjustments are really slight because all of our patterns always start with such a menswear feel,' says Smilovic, of the brand's signature suiting that is always made from menswear fabrics. 'We were geared up to rebuild all the gradient scales for sizing, but our womenswear pieces are so loose anyway that we didn't have to. The shoulders on our blazers are already 50 inches, for a US size four.'

It helped that Smilovic's pattern makers trained in menswear. But she did draft in a male fit model, and next on her agenda is hiring a permanent menswear specialist to help oversee the design and wear-test the prototypes. 'My team and I live in the clothing, we put the samples on our body so we know if we are fidgeting or uncomfortable,' she says. 'I'm not a guy so I cannot bring this to the table. I don't want to all of a sudden convince myself that that's not important.'

For now, she's tapping into the men she does have in the studio, who have been wearing Tibi's menswear pieces for the past few months. Its official introduction is a natural evolution of a brand which is renowned for its playful yet functional approach to everyday dressing. 'I'm excited to explore a new customer but it's so uneventful at the same time,' she says. 'Menswear has always been so important to me and to the brand.' Without it, Tibi wouldn't be Tibi — whether it's a woman wearing the suit, or a man.
INFORMATION
tibi.com