Loewe celebrates figurative German painter Florian Krewer
Loewe's latest take on its show-in-a-box concept, for its S/S 2022 menswear and Resort 2022 collection, includes a monograph of paintings by artist Florian Krewer that immerse us in the dynamic energy of urban life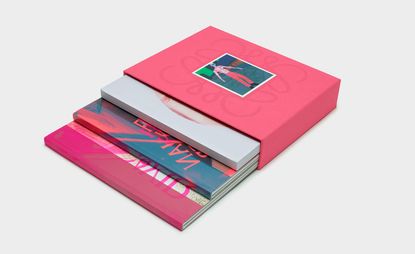 (Image credit: press)
Living at one step removed has been the experience of many during the Covid-19 pandemic. Isolated, we've fixated nostalgically on the past, able only to reminisce about the sight of a buzzing crowd in a city, the humdrum satisfaction of people watching, the voyeuristic thrill of seeing others interacting on the streets. Now, presented through a Loewe collaboration, the evocative work of New York-based German artist Florian Krewer immerses us in a vision of urban dynamism.

'In one way or another we have all being living vicariously over the past year,' says Loewe creative director Jonathan Anderson, in the foreword to a monograph of Krewer's work, which is part of a collector's item box designed to accompany the launch of the Madrid house's S/S 2022 men's and Resort 2022 women's offering.
The project is the next installament of Anderson's show-in-a-box concept, a Duchamp-inspired way of bringing the multi-sensory buzz of a fashion show into someone's front room. For S/S 2021 womenswear, the brand released a 'Show on the Wall' portfolio, complete with a roll of wallpaper designed by artist Anthea Hamilton, a paintbrush, scissors, and a canvas tool bag. For A/W 2021, the brand's 'The Loewe Show Has Been Cancelled' concept featured a time capsule-centric metal tin, complete with a newspaper mock-up and a literary extract from Danielle Steel's latest novel The Affair.

Krewer's impressionistic paintings, formed in bold brushstrokes of oil on paper, linen and canvas, focus on predominantly male figures and animals, in indistinct urban landscapes. In Dance II (2020), a figure in a pastel-pink hoodie and slouchy tracksuit bottoms stands behind a dog against a backdrop of tower blocks. In untitled (2020), two topless men stand opposite each other against a fiery landscape, inflected with flecks and brushstrokes of orange and yellow paint. 'Florian's paintings are like portals into other worlds,' Anderson adds in his foreword to Krewer's monograph. 'As our cities have turned into dislocated places, these paintings capture the possibilities these urban spaces still offer.'

The attention to clothing in Krewer's pieces, sometimes the most strikingly detailed elements of his paintings, reflects his focus on depicting the contemporary climate. 'Part of my work reflects my direct environment, the friends I hang out with, the city I live in,' he tells Wallpaper*. 'It's the silhouettes of the clothes that have my attention when I work on a composition. Not a specific brand or sneaker I am interested in, but rather the aspects of a garment's shapes for a particular situation I want to paint. It's a mixture of what we wear and what comes to my mind. I guess you can say it's the moment in time we live in that speaks through my work.'
Krewer's monograph is presented against another volume of images, shot by photographer David Sims. The third element of Loewe's S/S 2022 show concept is a box brimming with ephemera, fold-out posters, collection images, a canvas bag stuffed with stick-on glow-in-the-dark stars. For his monograph, Krewer selected paintings, drawings and previously unseen photographs, which draw predominantly on New York City. 'I focused on the most recent works from 2018 until today. Having lived in NYC for the past two years, you can see how the city has changed my work, the compositions and palette. The city has an intensity and immediacy that I really like, but also comes with a heightened pressure in all aspects of everyday life. This directness and dynamic, and the impact of that on my environment, can be found in the work when you look at it across a period of time.'

For those keen to submerge themselves in the artist's urban portals, Krewer has a show at Michael Werner Gallery London, which opens in September 2021. But there are subtle allusions to Krewer's works in Loewe's ecclectic and prismatic collection too: flashes of neon, slouchy sportswear silhouettes, circular details – and ultimately a sense of freedom we're more than ready to embrace.
INFORMATION
loewe.com (opens in new tab)