Louis Vuitton to Dior: standout S/S 2022 menswear shows
Sit back and settle into the sartorial splendour of the S/S 2022 menswear shows, featuring physical and digital catwalk collections from brands including Dior, Louis Vuitton, Burberry, JW Anderson, Fendi and Prada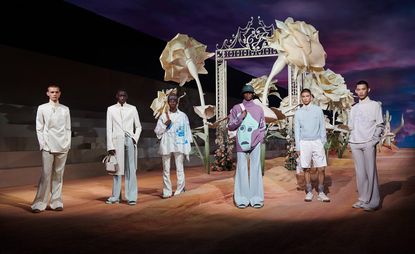 (Image credit: Brett Lloyd)
As the Covid-19 pandemic continues to curtail the fashion week schedule, we round up the brands which are bringing sartorial sway to the S/S 2022 menswear shows, whether presenting collections physically or online, from London, Milan, Pitti and Paris.
Kiko Kostadinov
Designing during a third lockdown and fighting the restrictions of Brexit, Kiko Kostadinov found the process behind his S/S 2022 collection creatively exhausting. Lacking the ability to travel and organically absorb inspiration, her took a personal parkour into memory, layering up fragments of narratives and influences that related to his diasporic design journey. Browsing an auction website, he stumbled across a Futurist teapot designed by Futurist artist Nikolay Diulgheroff, who Kostadinov was surprised to learn was a fellow Bulgarian, who settled in Italy in 1926.

The designer's fascination with Futurism began early in his fashion design journey, when Kostadinov began reading a book on socio-political manifestos, and he has found enduring influence in one of the Italian leaders of the movement, Giacomo Balla. The collection referenced the patchwork waistcoats beloved by Balla, also translated into shirting and coats spliced with panels of colour and shorts with pointed fronds in turquoise and brown. The textural brushstrokes in Balla's 'Dynamism of a Dog on a Leash' (1912) was also echoed in transparent blazers in circular folds of lace. Kostadinov was also keen to open his show – an interactive digital experience at Brixton Market – with a vest silhouette that slung low across the torso, a reference to the childhood memory of his father's interest in body building. 'All these points allowed me to dive into the visual aspects of the collection,' he explained. 'It's very easy to go to a museum or mark something in a book. I need to layer and layer everything in my head.'
Thebe Magugu
Magugu interweaves the facets of his South African heritage into his clothing, and for S/S 2022, the honorary guest designer of Pitti Uomo 100 was inspired by whistleblowers who challenge and stand up for corruption, who are often portrayed as pariahs rather than pioneers. Mandy Wiener's book 'The Whistleblowers', which offers raw and evocative accounts of South Africa's whistleblowers by drawing on first-hand narratives, inspired Magugu, who also looked to symbolic dressing traditions in Western films and the white hat-clad heroes and black hat-sporting bandits. Suiting and denim denoted tropes of masculinity, and silhouettes were swathed with archive illustrations by the political cartoonist Jonathan Zapiro. A cowboy-meets-equestrian boot also marked Magugu's first shoe design for his label.
'We are living in a suspended moment,' mused Ami's Alexandre Mattiussi over Zoom, considering the purgatorial position in life that the pandemic has placed us in. For S/S 2022 the designer served up optimistic, upbeat and party-focused clothing, for stepping out in when we can live in the moment again. For women, this meant sheer mesh dresses twinkling with crystals and lurex bikini tops paired with slouchy tailoring. For men, tuxedo suits paired with louche transparent shirts and vests and leather suiting layered with twinkling net t-shirts. Mattiussi staged his brand's show film at a funfair, explaining that for him, the setting exemplifed 'a beautiful escape'. He added, 'the collection is about a promise of new beginnings'.
Martine Rose
'Controlled chaos is given full attention,' read the collection notes to Rose's S/S 2022 offering, which celebrated the diverse mix-and-match facets of personal style and ecclecticism over unity. For autumn, this meant traditional tailoring fused with relaxed sporty shapes, for an offbeat take on elegance, flirting with bad taste, like hairy wool wrap blazers paired with sparkly diamante studded denim, flared popper-detail tracksuit chaps teamed with a neon polo neck and smart jacket and bleached jeans paired with colour blocked cagoules. 'Textures like crushed velvet and velour, satin and faux snakeskin are filled with the innuendo of naffness,' the release continued.
Jil Sander
Fresh from unveiling a naturalistic collection with Birkenstock, Jil Sander showcased a collection that revelled in contrast, tactility and fabrication. 'This is a sharp urban collection about the right, and duty, to individuality and imagination,' read Lucie and Luke Meier's collection notes, which featured silhouettes with surprise personality-boosting twists, like workwear shirting accented with a pearlescent brooch, parkas layered with leopard print jackets and magenta neck scarves, brushed mohair t-shirts layered with a chunky chain necklace and sleeveless knitted jumpers imagined in colourful mistmatched panels. 'Eclectic is a both vision and a value,' the notes concluded. What a liberating vision for spring.
Y/Project
It's been a busy S/S 2022 for Glenn Martens. Fresh from unveiling his debut Diesel collection as artistic director, the designer's spring offering for his own label Y/Project, also featured a collaboration with Fila. The link up is the next iteration of Fila's 100th anniversary celebratory capsule collections. Here, Martens has taken signature Fila staples, including the polo-shirt dress, windbreaker and hoody, and spliced and diced them into hybrid, versatile silhouettes which is synonymous with. How each piece is worn is up to interpretation, and features a mash-up of logos, and lines to drape and wrap around the body.
Phipps
Wrestlers, basketball players, footballers, new age hippies, hikers, climate crusaders: masculine stereotypes were top of the moodboard for Spencer Phipps' S/S 2022 offering, an optimistic, humorous and high-energy collection which played with stereotypes, tribalist motifs and the archetypal energies of mankind. In a time-and-location-defying show film, which used XR technology masterminded by ATO Designs, and flitted from forests to colosseums to spaceships, Phipps light-heartedly analysed what makes man today, riffing on the wardrobe of Dennis Rodman (think a gold beaded Chicago Bulls jersey and loin cloth) or a Viking rocker (cue a studded technical jacket and kilt). The designer also spoke of 'really returning to the roots of Phipps', a label synonmous with an outdoorsy, intrepid and DIY spirit. Fabrications in the collection were technical and highly performing, and the brand worked with a factory that produces pieces for brands including The North Face. A colourful patchwork off road jacket and trousers, with leaf motif patches was functional. 'It's windproof and rainproof,' Phipps explained. 'Those leaves are actually fully protective shoulder guards.'
Dior
When Christian Dior travelled around America in the mid 1940s, he journey from New York to Dallas to meet the Neiman Marcus family. For S/S 2022, Kim Jones looked at the lasting impression that the Texan landscapes made on the maison's founder, bringing a contemporary flourish to the creative connection by collaborating with Houston-born rapper Travis Scott. At the brand's IRL show in Paris, complete with a catcus-lined catwalk scene, models strode in Jones' and Scott's collaborative creations: intarsia vests bearing a reinterpreted monograph incorporating the 'Cactus Jack' initials of Scott's record label, sweaters with horn-clad figurative illustrations and flared neon suiting sparkling with catcus shaped brooches. There was a languid ease to tailoring, saddle shoulder bags were reimagined as bum bags strapped to the hip and the Dior logo reinterpreted with a scrawl and dotted with a desert flower. The collection also boasted a collaboration with artist George Condo, on a series of colourful hand-painted shirts.
Hermès
There was an elevated uplift to the brand's S/S 2022 menswear offering, which saw a return to a physical show at the Mobilier National building in Paris, after a two year absence. In the maison's show notes, Véronique Nichanian used the words, 'optimism', 'energy', 'harmonious', 'freedom', to describe a collection brimming with contrasted colour and luxurious lightness, offering reinvented versions of timeless wardrobe silhouettes suited to our post-pandemic world. On sweaters, intarsia knits exploded with geometric daisies, shorts were cut into a relaxed Bermuda shape, celadon-green cotton shirts had zip-up Tunisian collars and two button suits were constructed for durable wool canvas. Chocolate juxtaposed faded rose, raw silk offset cotton serge. Nichanian added, '...this creative collection is bursting with the vitality of a world reclaimed.'
Paul Smith
Escapist Mediterranean tones inspired Smith, who for S/S 2022 was fascinated by an optimistically rich colour palette, transcending from dawn until dusk. 'It's about that pale sun yellow of the morning going through to the bright blue sky of an afternoon,' Smith – who owns a home in Tuscany – explains. The brand's offering of relaxed sports-inspired shapes, subtly nodded to the great outdoors, like transparent parkas with a zig-zag stitch evoking the details of Hobie Cat boat sails, fisherman's hats and jackets and cycling jerseys in Smith's signature kaleidoscopic stripes. Light shirting was also swathed in bold sunflower prints, nodding to the fields of flowers next to Smith's Italian home. The collection also marks a collaboration with Japanese accessories specialists Porter on a series of striped shoulder and duffle bags. 'The son of the Porter Yoshida family was one my best friends and one of the reasons why I did well in Japan in the early days,' Smith says. 'It was lovely making the decision to put our mixed up stripes onto the brand's bags.'
Lemaire
Layering was integral to the laid back lilt of Lemaire's S/S 2022 men's and women's offering, which served up a sublime selection of easy monochromatic ensembles screaming to be worn on bustling city streets, from utilitarian workwear to tailoring. Cue loose dark denim suits and ruched shirt dresses, oversized shirting and funnel neck jackets in caramel, stone grey, moss and navy. Following on from the brand's S/S 2021 artist collaboration with Martín Ramírez, for S/S 2022, the label have also unveiled a capsule collection swathed with artworks of American Outsider Artist Joseph Yoakum.
Rick Owens
The S/S 2022 shows have been hit with a heavy does of hedonism. Cue the Metalheadz-inspired silhouettes at Louis Vuitton, the raver-worthy neons at Loewe and the dawn till dusk beach goers at MGSM. 'With a post-covid in view there might be a sense of frustrated appetites demanding to be doubly satisfied this summer, that might make for a voraciousness forgetting the humbling experience we all just went through together,' Rick Owens wrote in his spring show notes, reflecting on the sense of spiritual and physical abandon to come. For his fourth collection showing on the beach of Venice Lido near his home, Owens offered up a vision of considered hedonism, a hippy-centric collection abounding in dragging denim, laddered knitwear and Pagoda-shouldered structure. Owens was also interested in taking tailoring and pulling it apart, offering up its internal construction. His revellers marched with jackets with ripped sleeves and deepened armholes, reflective shield sunglasses and platform boots.
Louis Vuitton
'Amen Break', a seven second four-bar drum loop central to seminal hip-hop and jungle, that filtered across genres and mainstream music to become the most popular loop in musical history, was a metaphorical symbol of Virgil Abloh's S/S 2022 epic collection video - directed by Mahfuz Sultan and starring Lupe Fiasco, Goldie, Saul Williams and GZA - which focused on the concept of transmitted ideas across generations and facilitating waves of change. Inspired by the life of Lupe Fiasco's father, an African drummer and member of the Black Panther Party, who grew up on the Southside of Chicago, Abloh's story centred on a father and son united by loss and crossing into a dream world. On their path, whether winding through woods of silver birch trees or witnessing samurai combat, they encounter figures of the elder and younger generations, marked by hybridised tailoring, sportswear and streetwear silhouettes, from belted suits sported with crumpled top hats to bovver boy baggy denim and rainbow leather bomber jackets.
Homme Plissé Issey Miyake
A huge rotated lamp positioned on high illluminated the S/S 2022 designs featured in the Homme Plissé Issey Miyake collection video. In style synonymous with the technical Japanese brand, the collection was divided into several categories, including the 'Body Movement' series, featuring fluid silhouettes like sleeveless jackets and leggings with a paint and sand print tracking the undulating lines of the human body. Plus the innovative 'Leno Stripe' series, which employs karamiori (leno weave) a traditional weaving technique that creates net like structures. These grids were transformed into vests with interior pockets and loose shorts, enhanced with a stripe detail formed by the label's signature pleating.
Burberry
Pierced, buckled up, leather-clad, there was a rebellious riff to the models who strode to an intense rave soundtrack amongst Burberry's sand dune-lined setup at London's Royal Victoria Docks. 'I wanted the collection to capture that free spirit of youth and its honest and daring attitude, that sense of experimentation and fluidity.... It's a very raw energy that's infectious, exciting and full of life. Like an awakening,' said chief creative officer Riccardo Tisci, of the men's and women's collection, which abounded in bodily affirmation, raw seduction and experimentation. For men, oversized tees were transparent, signature trenchcoats sleeveless and decosntructed, trousers utilitarian and buckled and pocketed. For women, strap dresses had a fluid metallic appeal, outerwear was imagined in clear vinyl and with zebra print inflections and bikinis wrapped in ties around the body. In the wake of the Covid-19 pandemic, young generations around the world have lost out on adventure. For Tisci, they'll be coming back with a bang.
Courrèges
'I was inspired by the archive fabric and shape wise, looking at the codes of the house but never copying them' says Nicola de Felice of his debut menswear collection for the heritage Parisian house, which looked to update archetypal silhouettes like a workwear jacket, 'valuable for one to wear'. De Felice nodded to the first men's iteration of a short Courrèges jacket, softly shouldered with mulitple pockets, and paired with a vinyl tank top and cap and fluid ribbed trousers. There was a contemporary sensuality to his sophomore women's Resort silhouettes – an extension of his debut for A/W 2021 – which nodded to subtle A-line silhouettes and bold cut-out designs, like sunshine yellow pinafores with a hole stamped from the chest and flaring mini-dresses paired with thigh high boots. The designer spoke or bringing a 'sharp aspect' to styles that might appear vintage, focusing on a white women's coat inspired by a 1976s style, the back crafted without a seam, subtly cocooning.
Lanvin
In the opening to the video for Lanvin's Resort women's and men's S/S 2022 collections, a sunglasses-clad female model sits in hair and make-up, scrolling through escapist beachside images on her phone. Cue the viewer being transported into a trippy, tropical vista, courtesy of a hazy Noughties soundtrack thanks to All Saints' Pure Shores. There was an effusive, nostalgic atmosphere to a collection defined by bold, travel-inspired pieces, which had an easy mix-and-match aesthetic. Think Japanese wave painting print scubas suits paired with plaid coats and exaggerated thong flip-flops, floral print dresses with tassel trim, retro tracksuits and cropped boucle jackets teamed with mini skirts. In a beachy wooden cabin, models lounged in hammocks, played backgammon and engaged in a giggly Chinese whispers. It's exactly where you want to be.
JW Anderson
Many of us have felt nostalgia for the clothes and silhouettes we sported pre-pandemic, or for the mundane moments in life which now appear so simple and carefree. Nostalgia was also on the mind of Jonathan Anderson, who for his third photographic collaboration with Juergen Teller, mounted images of his eponymous brand's men's S/S 2022 and women's Resort collection in the foiled cardboard frames you often find edging kitsch school photographs. He was also taken by the privacy and freedom of dressing up alone in your bedroom, reinterpreting mundane silhouettes, like a striped top, slacks or camisole through a 'voyage of newness'. Fleece tracksuits, beaded dresses and vests were splashed with a strawberry print inspired by a eighteenth century painting of a squirrel nibbling on berries, ubiquitous rubber sliders were splased with the 'JW' anchor logo, jogging bottoms puddled like harem pants and retro sports jackets were emboldened with florals. 'Glorification of being who you are,' Anderson added of the offering's impetus.
Giorgio Armani
Customarily, Giorgio Armani hosts his runway shows at his brand's HQ Teatro in Milan, a majestic minimalist structure designed by Tadao Ando. It was one of the first locations to be shut down last February at Milan Fashion Week as the Covid-19 virus began spreading throughout Italy. It was prescient therefore that for S/S 2022, Mr Armani showcased his collection away from a stadium seated theatre, and in the intimate garden of his home, where his early shows were held. Titled 'Back to where it started' the collection was an elegant ease-fuelled offering of insouciant tailoring, new suiting silhouettes, and sportswear shapes: white rolled up chinos paired with a foulard-lined single button navy blazer, Ikat jacquard waistcoats and Bermuda shorts, glossy silk safari jackets and preppy V-neck sweaters. Relaxed and refined, and debuted in a domestic setting, what could be more fitting for the new normal of today's world?
Prada
A simple summer holiday: clear sea, warm sand, a touch of tan, a concept which once seemed almost mundane in its ease, which is now so scant. Miuccia Prada and Raf Simons played on this dichotomy for S/S 2022, describing the collection as a 'utopia of normality' and transporting Prada's viewers to a Sardinian beach landscape, which models strode into via a surrealist red tunnel. It's a skin-revealing Prada packing list for summer (a theme which has run throughout the Milan shows, perhaps a response to being shrouded under sweats for so long), featuring fuschia towelled hooded jackets, organic deck chair stripe vests and thigh-flashing all-in-ones and wiggle-detail woolen micro shorts layered with mini skirts. There was a subversive spin to these silhouettes, which also featured more traditional tailoring pieces, like ribbed cardigans, baggy suit trousers and pinstripe jackets. The soon to be most coveted piece on the beach? Bucket hats with sporty built-in sunglasses or zipped pouches for your spare change.
Fendi
Confined to one space, one city, one country for so long our personal sense of perspective have never felt so prescient. Silvia Venturini Fendi drew on this concept for S/S 2022, transporting Fendi collection viewers to the brand's Roman headquarters inside the Palazzo della Civiltà Italiana, which boasts panoramic views of the seven hills of Rome, the Apennine mountains and the Mediterranean Sea. There was a light sense of freedom to the collection, which revelled in both loose and body-flaunting silhouettes in sugary, pastel tones, from navel-revealing cropped jackets to long shirts sported with bare legs, transparent trench coats to pocket-detail shorts. Prints had a panoramic appeal, including a cartographic print of Rome and abstract patterns which resemled the striking strata of rock or marble, splashed over city coats or shaped into fleece. There were 'It' accessories that appealed too, including micro Baguette bags worn as necklaces and bucket hats turned upside down and transformed into bags.
Tod's
Unsurprisingly, escape has been on the mind of many a brand for S/S 2022, whether Canali is lusting after Los Angeles or Dior is dreaming of Texas. Showcasing its collection on the staircase of the winery Cantina Petra in Suvereto – designed by architect Mario Botta – Tod's is getting a taste of Tuscan sun for spring. The Italian brand's collection was drenched in rich Mediterranean tones and revelled in silhouettes fitting for an urban safari, from washed chambray shirting to preppy V-neck sweaters. Collection highlights include a biker jacket with elbows studded with Tod's signature Gommino pads, an utterly luxurious suede hoodie and camera bags, for when life on inner-city safari gets scintillating enough for a quick snapshot.
MSGM
Italian DJ Lorenzo Senni created the heady and hypnotic soundtrack for the Milanese brand's S/S 2022 video, centred on a sun-drenched beach, and featuring models sprawled on craggy rocks, standing in shallow water on on the shoreline and floating out at sea. Founder Massimo Giorgetti looked to Stephen Milner's photographs, from the Spiritual Good Time series, are the inspiration behind the offering, which have a surf-meets-rave sensibility, swathed in colour and print. Think off the shoulder striped sweaters, conch shell intarsia cardigans, neon shorts, Lycra leggings and cargo pants all paired with beach ready accessories, like zesty sliders, bucket hats and chunky framed sunglasses. Giorgetti is ready for the beach and he's not leaving till sunrise.
Canali
The sun-soaked setting of Los Angeles inspired the Italian tailoring label, who looked to California-cool Nineties dressing codes for S/S 2022. This culminated in louche tailoring and elegant daywear in oceanic and sunrise tones, from fuschia to moss green, aquamarine to sand, and luxurious fabrications like buckskin leather and suede. For summer, the Canali man, whether meandering in Milan or driving down Sunset Boulevard, will be sporting slouchy bomber jackets, floral silk bowling shirts and natty neck ties. The most outré ensemble? A hot pink suit paired with a white tee.
Dolce & Gabbana
The world has experimented with a series of self-care methods in the wake of Covid-19. For S/S 2022, Dolce and Gabanna turned their attention to 'light therapy', and to the South Italian tradition of light festivals, were areas are illuminated with a seemingly infinite array of colourful lights. The near-100 look strong catwalk collection was presented IRL at the brand's Metropol Theatre space in Milan and featured Noughties-inflected sportswear and tailoring, swathed in prismatic beads and gems. Metallic jacquards, stained glass and paint-splattered prints also featured in the offering, which abounded in nostalgic silhouettes, like oversized denim, slouchy bomber jackets and flesh-revealing shirting.
Woolrich
The American label brings an intrepid touch to any location, and for S/S 2022 it had its sights set on both the city and the country. This meant durable and versatile men's and women's designs, with a utilitarian flair, camoflage-meets-florals print parkas in vibrant tones, grey melange tracksuits, dusty pink workwear jackets and pocket-detail shorts. The brand has used spring to celebrate its heritage, with the second drop in the offering titled 'Reimagined Americana', featuring oversized outerwear and paisley shirting.
Ermenegildo Zegna
New social spheres, new dressing codes, new normal: Alessandro Sartori mused on the new routes we find ourselves meandering within in a post pandemic-world with a film featuring models navigating different realms, from the paths of mazes to the steps of ampitheatres. The artistic director has spent the last couple of seasons musing on new requirements of tailoring, sartorial codes that merge sophistication with ease, function with flair. For S/S 2022 this was translated into silhouettes with a light elan, like collarless kimono shapes, utilitarian chore coats, long dusters, oversized overshirts and silhouettes without padding or internal construction. Fabrics were gauzy and luxurious, like featherlight nylon, silk and fluid glazed wool, tones had a water-inspired liquidity from calcite to grainy white and practical flourishes were seen in the form of padded paper leather slippers, foldable backpacks and canvas work bags.
Brunello Cucinelli
The Italian luxury house masterfully merges sartorial codes, bringing the finest materials to elegant-yet-infinitely insouciant silhouettes. For S/S 2022 this take came courtesy of tailoring which had a laid back lilt, like double-breasted pinstripe suits paired with denim shirts, Prince of Wales check jackets layered with loose jeans and white chino trousers sported with a shirt, tie and soft leather biker jacket. Softly padded suede gilets, pocket detail Bermuda shorts and plaid shirts were also Cucinelli's summer check list, with pieces imagined in organic shades, from washed aquamarine to sand.
A-Cold-Wall*
Samuel Ross has long postulated on human kind's relationship with external design forces, whether musing on man's affiliation with Brutalist architecture or how people are affected by constant geological shifts. The London-based designer summarised his brand's S/S 2022 collection in four words: 'Motion. Form. Oscillate. Converge', tenets that have new meaning after 18 months of isolation and restriction. For spring, the brand's streetwear-inflective protective silhouettes, were rendered in bold and elemental hues, with pieces like technical capes, cagoules and padded vests, cocooning the body. In the label's collection film, models strode through an urban metropolis, pacing metal staircases and tarmas, in aquamarine, orange and lime sportswear, with shielding pocket and straps, their silhouettes layered up, with totes, shoulder bags buckled to the torso and pouches strung around the neck.
Diesel
In Diesel's S/S 2022 collection film, a model surveys the red sky of a rocky planet, a symbol of the Italian brand's vision for the future, spearheaded by Belgian designer and Y/Project founder Glenn Martens. In a preview to the collection, Martens discussed his desire to reintroduce a 'core' collection to the label, explaining that in just three months he'd streamlined the brand's supply chain into more sustainable channels, relocating manufacturers and operating through certified suppliers. Martens has bought an easy sense of the avant-garde to the brand's DNA, which spans everyday denim and sportswear. Think 5-pocket denim jeans with inbuilt Cowboy boots, jackets with a recycled paper print inspired by delivery boxes and trompe l'oeil effect tights and tops, plus hybrid designs which reflect the designer's splice and dice approach at Y/Project, like aysmmetric skirts shaped from coats. 'I wanted the belt to be the backbone of a garment,' Martens added, nodding to bandeau tops, t-shirts and jackets in-built with chunky buckles.
Arnar Mar Jonsson
The London-based utility expert nodded to Japanese and Italian designers of the Eighties, who merged 'sport and modern luxury.' This translated into technical silhouettes riffing on early mountaineering wear, including zip-detail nylon jackets and balooning trousers, jersey hoodies with circular inserts, silver cagoules and panelled jackets. Jonsson used a variety of high performing fabrications, from Loomstate Ventile and PU coated cotton, with materials naturally dyed using native Icelandic plants, Common Lady's Mantle and Thistle. Adding to this organic air, the brand's technical creations were paired with softly crocheted shoulder bags.
Qasimi
There was a soft sense of wrapping, draping and cocooning to Qasimi's S/S 2022 offering, which was presented in the grounds of St Ann's Court in Surrey, a modernist country house built in 1936, designed by renowned architect Sir Raymond McGrath in collaboration with celebrated garden designer Sir Christopher Tunnard. Architecture was essential to the structure of the collection which nodded both to stark Brutalist lines and 'muqarnas' –a geometric style of vaulting found in Islamic design. Shirting in exotic fuchsias and oranges draped in asymmetric cuts around the torso, 'tarbousha' – a woven tassel which is intrinsic to the wardrobe of a male Emirati, was used to accent khaki jackets and sweeping A-line skirts, while renchcoats were laser cut like militaristic net canopies. Lines and curves existed equilibrium, tones were head-turning and design references roving.
Erdem
An imaginative sense of narrative inspires Erdem Moralioglu's collections, which nod to imagined adventures of both royalty and bohemians. For the brand's debut menswear collection, this sense of story was paramount, and nodded to the little sea-bound brother of Moralioglu's women, featuring ensembles inspired by figurative and textural Patrick Prockter paintings or the wardrobe of artist Derek Jarman, pottering in the gardens around his famed Dungeness seaside retreat Prospect Cottage. The youth-focused and ease-fuelled offering nodded to Jarman's knitted tank tops, worn cords and boiler suits, reinterpreted in cotton jacquard and floral printed cotton. Roll neck cable knit jumpers and striped vests had a nautical appeal, and toile de Jouy bucket hats a boyish sensibility. Moralioglu imagined city-meets-city silhouettes, with his imagined protaganists leaving a black tie affair in London, bound for the coast, sporting Cummerbunds with bright knitwear and sandals and billowing blousons and shorts.