The 1990s lustre of Fendi's pearl Baguette bag
The Fendi Baguette has been rigidly reimagined in Plexiglas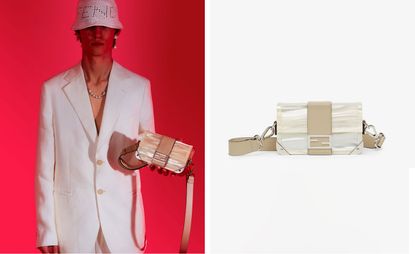 (Image credit: Josh David Payne)
Indoors living decreed that the handbag diminish in terms of our day to day get ups, as we stretched our legs or popped to the shops with little else than a credit card and face mask. So it's no surprise that as we're welcoming more need for an arm accoutrement, we're looking to something standout. Giving us real lustre for life is Fendi's luxurious take on its classic Baguette bag, a style first introduced in 1997 by creative director of accessories, menswear and children Silvia Venturini Fendi, which takes inspiration from how the French carry bread under their arm.

Fendi (opens in new tab) marked the bag's 15th anniversary with an exhibition of embellished and embroidered Baguette designs, at storied Parisian concept store Colette. In 2019, the brand even launched a scented version of the style, infused with its 'FendiFrenesia' fragrance and this year it has also launched a limited edition series of embellished and textured Baguette styles, which have been created in collaboration with skilled Italian artisans.
RELATED STORY
Fendi pearl baguette bag: the world's most lustrous lunchbox?
Swapping pain for mother-of-pearl, this minaudière-centric men's style has a lustrous lilt. The Baguette has been rigidly reimagined in Plexiglas with a pristine pearlescence, and instead of slotting under the arm, can be carried hands-free with a cross shoulder strap.

Silvia Venturini Fendi (opens in new tab) designed the brand's S/S 2021 collection during lockdown in Rome, a collection that had a lighter-than-air escapism, featuring organza shirts with breezy window pane prints and suiting with shadowy floral motifs. The accessories in the collection had an outdoorsy spirit, including wicker picnic baskets, roomy tote bags affixed with water bottles and small suitcases. We think this Baguette bag style has something of the luxurious lunchbox about it. Before you clip its metal 'FF' logo clasp shut, just make sure your snacks are firmly wrapped in cling film.