Paris Fashion Week Men's S/S 2023: Loewe to Hermès
From Jonathan Anderson's exploration of technology and nature at Loewe – complete with grass-sprouting clothing – to an Hermès collection which conjured 'a bright, vibrant summer' on a rainy day, the best of Paris Fashion Week Men's S/S 2023, as it happens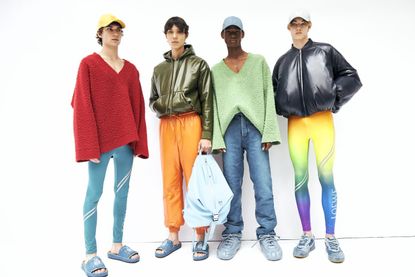 (Image credit: Molly Lowe)
The menswear season continues this week with the arrival of Paris Fashion Week Men's, promising a full-to-the-brim schedule spanning both local heavyweights – Dior, Givenchy and Louis Vuitton among them – and a new generation of talent redefining the city. Expect spectacles across Paris' various arrondissements – from Rick Owens' blazing spheres of fire on the Palais de Tokyo forecourt to a verdant garden of wildflowers at Dior – and an array of propositions for the S/S 2023 season ahead. Here, in an ongoing report, discover the best of Paris Fashion Week Men's S/S 2023, as it happens.
The best of Paris Fashion Week Men's S/S 2023
Sunday 26 June
Celine Homme
In January 2002, the Palais de Tokyo was unfinished; amid the construction of the contemporary art museum – which stands inside a monumental deco building created in 1937 for the Paris International Exhibition – Hedi Slimane showed his A/W 2002 collection for Dior Homme. On Sunday 26 June 2022, to close Paris Fashion Week Men's, the French designer returned to the venue, albeit in different circumstance – now, he is the creative director of Celine across both men's and womenswear, while the thousands-strong crowd of teenagers outside (most waiting for the arrival of Lisa, from South Korean pop band Blackpink) testified to the cultural weight which Slimane now wields. Taking place inside one of the wings of the museum that flank its vast forecourt, beneath hanging gold Calder-esque mobiles (imagined by Slimane himself), the collection was a high-octane evolution of the designer's codes at the house, melding high luxury with a rebellious rock and roll sensibility (he titled it 'Dysfunctional Bauhaus'). The show began with a highly embellished suit jacket – trails of beads, pearls and crystals hung from its exterior – worn with a white shirt and black tie, its pin-thin shape reminiscent of those shown in the space by Slimane 20 years prior. The designer's hallmarks were evident throughout the collection: narrow leather trousers, dark sunglasses, suiting in python, sequins and pinstripes, alongside new flourishes – among them swishing ankle-length skirts, tasselled ponchos, and ladylike chain handbags, slung over the shoulder. Soundtracked by New York-based band Gustaf, it was a collection that continued to refine Slimane's singular vision for the historic house, built in his image but with an ever-increasing – and undeniably seductive – appeal.
Kenzo
The Kenzo showspace was hung with pennants – the triangular flags waved at college sporting events in the United States – setting the scene for Nigo's sophomore collection for the brand, which the Japanese designer noted was inspired by the concept of a passing out ceremony or graduation. The original reference came from a collection by Kenzo Takada, while the house namesake was still at the label, which had evoked a school sports day. Here, Nigo melded it with memories of the the 'DC brand boom' in 1980s Japan (the DC standing for 'designer' and 'character'), which saw youth in the country embrace playful new ways of dressing in opposition to their traditional parents, while a raft of Japanese designers made inroads in Paris during the same period. It was this opposition – 'a local influx of casual, pop-driven character labels' in Japan versus 'a yearning for the fashion culture of Paris' – which Nigo said invigorated the collection, combining poppy motifs (cartoon 'boke' flowers, patchwork snakes and tigers, sailor hats) with silhouettes inspired by Takada's collections in Paris. The result was a collection that captured the spirit of Kenzo in its original iteration, a label energised by cross-continental exchange.
Saturday 25 June
Hermès
A brief flurry of rain on the cobbled pathways of Manufacture des Gobelins did nothing to dampen a sunny outing from Véronique Nichanian, who continues to delight after over three decades in her position as artistic director of the house's men's universe. Indeed, the collection began with a setting sun on a vivid cashmere knit, Nichanian noting that she wanted to conjure 'a bright, vibrant summer, the joy of being together'. Such a starting point led to a collection of lightness, in shades the house called lemonade, melon, lilac, bubblegum and lagoon, each one an expression of the designer's unique eye for colour (Nichanian and her team develop all fabrics themselves in order to create a distinct seasonal palette). Easy hooded parkas and blousons – in various textures, from technical satin to suede calfskin – lightweight shirt jackets, crinkled linen tanks and cotton shirts added to this summertime mood. Completing the look was a version of the house's 'Haut à Courroies' bag with distorted checks – evoking, as Nichanian noted, the tiles of a swimming pool, as seen through the water.
Loewe
Over the horizon Jonathan Anderson's models walked, descending a vast white ramp into view. The setting, Anderson elaborated backstage, was about the power of backlighting to distil a silhouette. This 'HD' silhouette was a defining facet of a sharply constructed collection from the designer: a melding of the expansive and the skin-tight, puffed-up leather shirts and cocooning jackets meeting flush-to-the-body Loewe-branded leggings and shrunken shirting and underwear, as if doused with water. Also central to the collection was an exploration of nature and technology – real grass grew from jackets and shoes, while on the opposite end of the spectrum, video clips of bees, tropical fish, and daffodils appeared on screens strapped to faces across models' chests (of the last, he talked about the idea of our faces being consumed by iPhone screens). As with many of his collections, this was a working through of ideas from the deep-thinking designer, who likened the process to a moment in the 1970s when people would take LSD in order to come up with solutions for how to continue in a rapidly changing world. 'I think in a weird way we are getting trapped in a kind of dogma,' said Anderson. '[This collection] is not a viewpoint of what is happening in the world, but it's more about if we experiment then we might be able to find different methods within fashion to be able to progress.'
Craig Green
Craig Green held his second Paris Fashion Week show at the Musée de l'Homme; afterwards, he said the location had informed a collection which explored the idea of the 'decorated man' – those, mostly soldiers, awarded medals for feats of bravery and honour. As such, the opening section had a feeling of military rigour – albeit through Green's conceptual lens – with suited models loaded with various accessories, their moulded shapes inspired by the dust covers that were placed over watches during the Second World War (larger sculptural forms that sat over the clothing also comprised ladders, riding stirrups and saddles). 'The meaning of [a decorated man] sounds strange, that you are decorating something to look better,' Green said. '[Here] we were trying to make a very useful man, so we added a saddle and a ladder. But also conceptual objects – cans you cannot drink from, or suitcases you cannot get into.'
It set the tone for a collection in which Green riffed on various archetypes of menswear – among them denim (low slung with cotton 'underwear' sewn into the waistband), British sportswear (the designs on colourful capes inspired by school sporting shields), and tailoring (here covered with stiff bows that reached outwards for a unique silhouette). He said he was thinking about that moment when you decide who you want to be when you are 'older and wiser' – 'at what point in life do you stop aspiring to be Batman?' he mused backstage. If this suggests Green was being drawn back to the quotidian, the end result was anything but – billowing tent-like structures strapped onto models' backs, vivid swathes of colour and crisp metallics all added to a collection not just about reason and reference, but emotion and instinct. 'The men have a distant new summit to ascend,' read the accompanying notes of a collection whereby Green himself began to scale new heights.
Friday 24 June
Officine Générale
Officine Générale founder Pierre Mahéo accompanies each of his collections with a letter, an earnest and oftentimes heartfelt declaration of where he is now, and what to expect from the season ahead. For S/S 2023, held in the serene courtyard of the Musée des Archives Nationales, Mahéo wrote he didn't 'feel the urge to change everything' in the collection, a statement that could well be a mantra of his longtime approach, defined by a slow evolution of signature garments over chasing seasonal whims. That said, for this collection – which was also the label's tenth anniversary – Maheo noted he was enjoying 'more freedoms in menswear', finding a 'delicate nonchalance' that blurred the boundaries between his women's and menswear pieces through cut, fabric and print. 'These novelty pieces have been a delight to wear,' he said.
Comme des Garçons
The theme music of a number of cult horror movies – among them Halloween and Psycho – provided the soundtrack for Rei Kawakubo's latest men's collection, which arrived with a sense of occasion (the show was Comme des Garçons' first in Paris since before the pandemic). In typically sparse collection notes, Kawakubo called the collection 'another type of punk', citing court jesters of the Middle Ages as a kind of inspiration. 'Often they would be close advisors to the king... coming from a different world with original ways of thinking, they would have the right to speak freely and give honest insights and advice. I imagined that these jesters probably had a punk spirit,' she said. As such, models walked the runway with strange, face-distorting masks, each one an antique (some were over 100 years old, said a further correspondence from the brand), while other garments had a clown-like sensibility – from harlequin diamonds and clashing checks to round-toed shoes in shades of yellow and red. Elsewhere, Kawakubo proved her mastery of silhouette and cut – a jacket might have a second pair of sleeves, a frock coat flared towards a stiff, lampshade-like hem – something much-missed in Paris over the past two years.
Dior Men's
Each of Kim Jones' collections at Dior traces a link back to the house founder; here, he looked towards the seaside villa of Granville, Normandy, where Christian Dior grew up. It is perhaps best known for its rose-filled garden – a perennial inspiration to Monsieur Dior throughout his life – originally tended to by his mother, Madeleine. In a vast white box in Paris' Val-de-Grâce, Jones reconstructed the home, surrounded by a garden of its own – banks of grass and colourful wildflowers, all planted for the occasion (a backdrop appeared like the ocean beyond). On the other side of the space, was another house, evoking Charleston, West Sussex, in which the Bloomsbury set (Jones' own perennial inspiration) lived and worked in the early 20th century. Among them was artist Duncan Grant, himself an avid gardener, who owned the home with Vanessa Bell and whose works inspired a series of sweaters in the collection. 'A fascinating journey through space and time,' the notes described of these imaginative leaps, through which the garden became central: the apron refigured as an asymmetric tabard, gardening gloves embroidered with delicate flowers, cage-like sun hats reminiscent of Dior's Cannage motif. Most impressive, though, was a series of tailoring based on Dior's 'Bar' jacket; crafted in near-transparent silk organza each blazer revealed the intricacies of craft beneath like a ghostly apparition, the house's incomparable history reimagined anew.
Paul Smith
Backstage at his S/S 2023 menswear show – the British designer's first in Paris since prior to the pandemic – Paul Smith said he was witnessing a resurgence in desire for tailoring, particularly among younger consumers. 'A suit used to equal a job interview or a formal occasion, but now the suit is cool again,' he said, noting that with this came a loosening up of traditional codes (he gave the example of one family friend's son, who purchased a bright orange suit for his graduation ceremony). Central to Smith's own reimagining of the archetypal garment was a new proposition for the three-piece suit, replacing the waistcoat with a clean-lined V-neck tabard that fastened with a zip along the side seam. In shape, Smith said, there was an element of the 1980s to the silhouette – 'low notch, a bit oversized' – while colours spanned lavender, pale grey, pistachio, putty and 'a very good dark navy'. Other pieces were inspired by what the designer called 'a day in the art gallery, a modern working wardrobe' cut with the same ease of line as the tailoring.
Junya Watanabe Man
Junya Watanabe returned to Paris with a collection that played tribute to 'pop art in a playful way'. As such, across Watanabe's signature pieces – workwear-inspired jackets, patchworked denim, boxy tailoring – appeared prints from a slew of artists synonymous with the genre, including Andy Warhol, Jean-Michel Basquiat, Roy Lichtenstein, and Keith Haring, while the appearance of Coca-Cola, Honda, and Netflix logos riffed on pop art's desire to mimic and subvert the icons of consumer culture. As in recent seasons, Watanabe also used the collection to introduce numerous other collaborations, here including Levi's, Brooks Brothers, New Balance and Karrimor, providing a complete proposition for the everyday.
Thursday 23 June
Ami
The film Amélie is backdropped by the bohemian streets of Paris' Montmartre neighbourhood; at Ami S/S 2023, she – or, at least, the actress Audrey Tatou, who immortalised the character on screen – returned to her old stomping ground to open a show that took place on the steps of Sacré-Coeur cathedral (known for being one of Paris' highest points, the city stretched out below the runway). The actor's appearance led the way for a high-wattage cast, including models Karen Elson, Mariacarla Boscono, Sasha Pivovarova and Liya Kebede, in a collection that saw creative director Alexandre Mattiussi pay ode to Parisian style across 1960s-tinged men's and womenswear collections – classic trench coats, double-breasted navy blazers, Breton stripes and the like. Shots of colour (like one particularly vivid pink overcoat), contrasting abbreviated and oversized silhouettes, and sportswear-inspired elements modernised the look. 'Everywhere I have lived in Paris, I could always get a glimpse of the Sacré-Cœur from my windows,' said Mattiussi of the collection's starting point. 'Montmartre is a concentrate of the spirit of this city, of its candour and energy, of its intertwined bourgeois and bohemian identities.'
Dries Van Noten
'Unusual elegance' began the accompanying notes for Dries Van Noten's S/S 2023 menswear collection, words which could just as well describe the Belgian designer's output at large (in his clothing, a sophisticated exterior often belies a more unexpected inspiration beneath). This season, Van Noten – who showed the collection on the concrete rooftop of a multistorey car park, sun setting over the skyline beyond – looked towards historic male subcultures, in particular the Zazous, a group of jazz-loving revellers who emerged in Paris during the Second World War ('the youth in their considered finery dancing their troubles away'). As such, clothing had a louche, after-dark quality – wide-legged pinstripe tailoring, unbuttoned silk shirts, camisole tops – clashing with the tougher, DIY spirit of the Buffalo movement of 1980s London (python-print cowboy boots, motocross jackets, a riot of clashing prints). Against a euphoric soundtrack, it was a combination that seemed to distil the magic of the heart of Van Noten – that 'unusual elegance' – and made for a welcome return to the Paris Fashion Week runway by a fashion great.
Louis Vuitton
Virgil Abloh's first collection for Louis Vuitton was held on a yellow-brick road; here, for the final collection by the late Abloh's design team – a new creative director will be named later this year – that yellow-brick road became a vast twisting ramp complete with loop-the-loop along which attendees sat. It was a fitting tribute to the boundless, near-childlike imagination of Abloh at the house, whose vision continued to resonate in this season's looks: a jacket was decorated with dozens of paper planes, models carried monogrammed speakers on their backs, a biker jacket wiggled along its front, and a bold use of colour and form was utilised throughout. It was a testament to Abloh's enduring – and immediately recognisable – visual signature. A soundtrack came courtesy of the Florida A&M University marching band, and the musician Kendrick Lamar who, wearing a crown of thorns, provided an ode to Abloh over the microphone: 'Long live Virgil,' he repeated until the show's end.
Rick Owens
Rick Owens' latest collection began with a recent trip to Egypt. 'I found great comfort in the remoteness and scale of its history,' said the designer. 'My personal concerns and discomforts felt petty in the face of that kind of timelessness.' He titled it 'Edfu', after an Egyptian temple, here presented in a dramatic manner befitting the inspiration, seeing guests gather around the grand deco forecourt of the Palais de Tokyo. In its central pool was a crane; as the show went on, a gathering of technicians clipped on vast spheres that were then set alight, raised up, and once burning dropped from on high into the water (the process was repeated three times). 'A blazing sun crosses the sky, falling to crash to the ground over and over again… senseless destruction since the beginning of time,' said the designer. Amid this apocalyptic scene, Owens proposed clothing defined by 'order and discipline': sharp-lined tailoring in rip-stop nylon (including the use of Dyneema 'the strongest fabric in the world'), silhouettes cinched at the waist with narrow belts, and skintight tops in colourful viscose and leather.
Homme Plissé Issey Miyake
'Design is not for philosophy, but for life,' goes Issey Miyake's motto, perhaps best encapsulated by Homme Plissé, the main-label offshoot of technical pleated garments that are wrinkle-proof and fold down small for travel. They are also made for movement – such is the ease of design, wearing the various garments can feel akin to the freedom of sportswear. This particular facet was demonstrated in the brand's S/S 2023 show, whereby a troupe of performers undertook increasingly impressive feats of acrobatics in the latest collection (others simply ran back and forth). A continued thread of design linked this collection to Homme Plissé signature pieces, though here, new motifs emerged, including a series of flap pockets that lent the garments a new feeling of utility, or a jacket that could be folded and secured at the hem to give it a shorter length. Twisting and curved lines were utilised throughout the collection, a nod, the brand said, to the contrasts between flowers and vases.
Wednesday 22 June
Y/Project
Glenn Martens is the type of designer who likes to follow an idea through a collection, riffing on particular fixations in a way that feels like play. Indeed, backstage at his S/S 2023 collection yesterday – a co-ed outing that also featured items from his collaboration with Jean-Paul Gaultier – he said such experimentation is how he wants his customers to interact with his garments once they are off the runway and in their wardrobes ('We always try to invite our customers to enjoy the garments and play with them,' he said). Case in point: a series of pieces embedded with wire – belts, gravity-defying vests, denim skirts – which could be reshaped by the wearer into bold new forms. Elsewhere, trompe l'oeil was the collection's defining motif, with Martens playfully printing his past Y/Project looks onto new garments – a way, the designer said, of exploring the label's hallmarks anew.
Givenchy
In the centre of the running track at the historic École-Militaire, Givenchy erected a vast white box emitting a cool haze of fog; around it, a shallow pool of water reflected the grey of the sky. This body of water would become the runway for creative director Matthew M Williams' first solo menswear show, models splashing across its surface (it provided an apt counterpoint to the designer's own-label 1019 Alyx 9SM, shown at Milan Fashion Week Men's last week, where models walked around a derelict – and empty – swimming pool). Such spectacle is befitting the might of a house like Givenchy, here backdropping a collection that comprised an exploration of contemporary menswear through the savoir-faire of the maison's ateliers. Williams noted he was looking towards the uniform of his home country of the USA – as well as the musicians and creatives who are in his orbit – elevating Givenchy-emblazoned sportswear with moments of glamour and elegance (a crystallised Western belt, for example, or a leather jacket intricately stitched with the house name and monogram). Sleekest, though, was a series of wide-shouldered overcoats and tailored tabards that emerged towards the end of the show – a demonstration of what can be achieved when the Givenchy atelier is used to full effect.
Hed Mayner
Hed Mayner is known for the expansiveness of his cut – blown-up tailoring, a generosity of fabric – which the designer defined this season as a way of 'destigmatising [his clothing] from class, gender and formality'. His collections evolve this idea season on season; for S/S 2023, there was renewed focus on the suit jacket, 'magnified, reviewed over and over until it sits on the body like a found object'. Indeed, a wide-shouldered pinstripe jacket was entirely exposed at the back, creating the appearance that the garment was balancing across the model's chest (Mayner calls such an effect 'two-dimensional' clothing, whereby something distinct from the front is 'decadent 'at the back). Other archetypal menswear was also explored and expanded in its proportions, whether a flap-pocket workwear jacket, already appearing worn in, or a vast denim jacket and matching jeans. An opposing feeling of delicacy was communicated through fabric choices, including broderie anglaise, inspired by antique linens found in both Paris and Tel Aviv by the designer, evoking here – as the notes described – 'the sensation of feeling enveloped by fresh sheets in the early morning'.
Stay tuned for more Wallpaper* coverage from Paris Fashion Week Men's S/S 2023
Jack Moss is the Fashion Features Editor at Wallpaper*. Having previously held roles at 10, 10 Men and AnOther magazines, he joined the team in 2022. His work has a particular focus on the moments where fashion and style intersect with other creative disciplines – among them art and design – as well as championing a new generation of international talent and profiling the industry's leading figures and brands.