Sensuality and strength: Olivia Arthur photographs Saint Laurent for new exhibition
Olivia Arthur is one of six photographers taking part in the latest chapter of Saint Laurent's 'Self' project – this time, an exhibition in collaboration with Magnum Photos. Here, she tells Wallpaper* more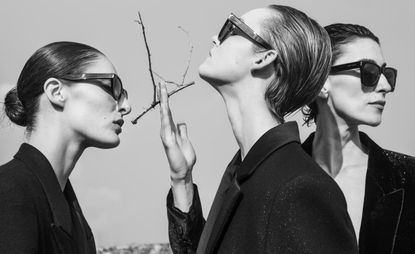 (Image credit: Olivia Arthur)
'Sensuality, attraction and strength,' says British photographer Olivia Arthur of her associations with Saint Laurent, the historic Parisian house helmed by Anthony Vaccarello since 2016 (those familiar with the designer's work will find this an apt description of his own collections, with muses spanning Paloma Picasso to Catherine Deneuve).
Arthur is one of six photographers taking part in a worldwide exhibition spanning six cities, marking the latest chapter of Saint Laurent's ongoing 'Self' project whereby various image- and filmmakers are invited to channel the house's spirit in original works. Each is hand-selected by Vaccarello, individuality of expression is encouraged, and past results have been wide-ranging – from a short film by Wong Kar-Wai to collaborations with Daido Moriyama, Brett Easton Ellis, and Abel Ferrara.
Olivia Arthur for Saint Laurent 'Self 07' curated by Anthony Vaccarello
This time – marking the seventh edition of 'Self' – Vaccarello has united with legendary photographic agency Magnum Photos to select the photographers, whose work will be displayed simultaneously in outdoor 'galleries' around the world from 9 – 12 June 2022 (three photographers are part of Magnum, the others are the agency's guests). Alongside Arthur, Harry Gruyaert, Daesung Lee, Takashi Homma, Alex Webb and Birdhead will show their contributions, respectively, in Paris, Seoul, Tokyo, Los Angeles and Shanghai (the last digitally), while Arthur's works will be on view in her home city of London at Observation Point, Southbank.
'Physicality' is the central tenet of Arthur's proposal for the project; in the resulting black-and-white images, a focus is placed on the body – hands held aloft, pebbles clutched against the chest, a sweater pulled up to reveal a nude body beneath. She notes that originally she began with a wider scope – her recent personal work has begun to explore the complexities of technology being integrated into the body, something she thought she would continue here – before honing in on a more simple evocation of physicality, one of touch and feel.
'I wanted to make a project that could make people feel the skin of the models, the texture of their hair and the way they connect to each other,' she tells Wallpaper*. 'But also to see them as strong individuals, not just mannequins. I think that strength and particularly the strength of women is key to the feeling of Saint Laurent and is the part that attracts me.'
This depiction of strength intersects with Arthur's personal work, which has seen her travel widely, photographing mostly women subjects in Saudi Arabia, India and Europe (as a documentary photographer, she admits there was 'a lot to learn' shifting to fashion, though a focus on portraiture remains a constant). Notable projects include Private/Mumbai (2016 – 2018) which explored sexuality in India, while Portrait of a City saw her photograph young people in Hull to coincide with its 2017 City of Culture award.
'Throughout my work, I have always photographed women from many different backgrounds and cultures and it has always been key to me to show their strengths and that they make the most of whatever limitations society may have put on them,' explains Arthur. 'Beauty in physical and emotional strength rather than fragility is key to my work – something I also think is important to Saint Laurent, as well.'
She describes London – her home city to which she has recently returned, a focus on large-scale portraiture bringing her back to the UK – as 'very physical, with textured layers in its architecture', much like the view from Observation Point, where her work will be displayed (located on the River Thames, it looks out towards St Paul's Cathedral and the vast glass towers of the City of London beyond).
'It's a city which draws [people] in. Although since Brexit people have left the UK, I feel that London still has the energy, the feeling and openness needed to attract interesting and varied people to it. I hope that will never change.'
Jack Moss is the Fashion Features Editor at Wallpaper*. Having previously held roles at 10, 10 Men and AnOther magazines, he joined the team in 2022. His work has a particular focus on the moments where fashion and style intersect with other creative disciplines – among them art and design – as well as championing a new generation of international talent and profiling the industry's leading figures and brands.
With contributions from